More Avengers Were Originally Going To Appear In 'Spider-Man Homecoming'; See The Concept Art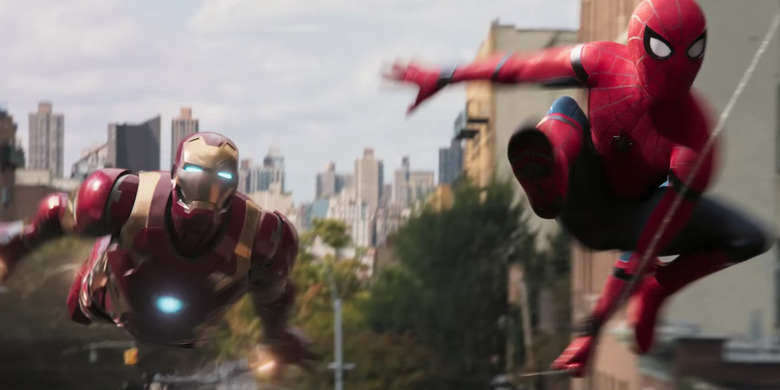 Spider-Man: Homecoming was Spider-Man's big break into the Marvel Cinematic Universe, thanks to a deal between Sony and Marvel Studios. And it was milked as much as possible.
Not only did Robert Downey Jr.'s Tony Stark play a pivotal role in Spider-Man: Homecoming, acting as a reluctant mentor to Tom Holland's teen Peter Parker. It was a clear-cut continuation of their relationship from Captain America: Civil War, in which Tony plucked Tom out of obscurity and a pajama costume to fight in the big leagues against Team Captain America. But Tony almost wasn't the only Avenger to appear in Spider-Man: Homecoming.
Though Peter Parker is just a kid from Queens, he still lives in the same City That Never Sleeps that the Avengers live in. Or at least, the three Avengers left over after the destructive clash in Civil War. Avengers Tower is a shining beacon in Manhattan, and the residence of Tony, Rhodey aka War Machine (Don Cheadle), and Vision (Paul Bettany). So it would make sense that Peter would run all of them at some point, right?
He almost did, according to newly unveiled Spider-Man: Homecoming concept art:
New unused #SpiderManHomecoming concept art reveals that the movie's script once included Vision and War Machine helping in the ferry scene! pic.twitter.com/qYvY5zwJ0X

— MCU – The Direct (@MCU_Direct) July 19, 2017
Spider-man Homecoming Concept Art
In the blurry photos, we can see Vision lifting a car out of the water during the ferry scene, and War Machine helping to repair the ship's holes alongside Iron Man as Peter stumbles during his first big rescue.
While it was probably tempting for Marvel to pair their most popular superhero with the Avengers he once fought alongside again, it was a good call to slim down Homecoming as much as possible. It's Peter's story, and it was already a little much to have Tony play as prominent a role as he did in both the film and Peter's arc. The biggest appeal of Spider-Man — at least in his early days — is that he is a scrappy underdog who has to rely on his intuition to save the day. Though Iron Man never fully out-shadowed Peter's story, if he were joined by two other Avengers, he most definitely would have. You can save that for Avengers: Infinity War, out May 4, 2018.
Spider-Man: Homecoming boasts an already loaded cast of Tom Holland, Michael Keaton, Zendaya, Donald Glover, Jacob Batalon, Laura Harrier, Tony Revolori, Tyne Daly, Bokeem Woodbine, Marisa Tomei, Robert Downey Jr., Jon Favreau, Martin Starr, Kenneth Choi, Michael Mando, Selenis Leyva, Isabella Amara, Jorge Lendeborg, Jr., JJ Totah, and Hannibal Buress. To add a few more would have tipped it dangerously into an Avengers-sized movie.