'Thor: Ragnarok' Was 80% Improvised; Clancy Brown Is Voicing A Villain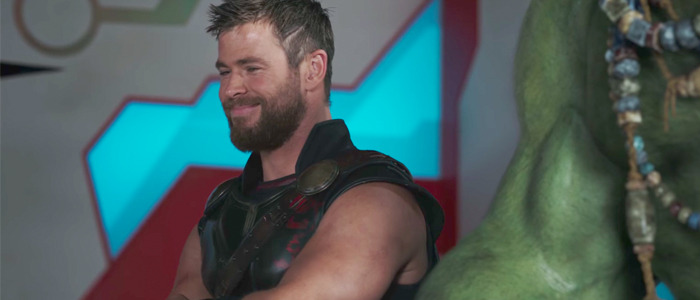 After two Thor films that rank pretty low on my personal list of Marvel Cinematic Universe movies, I never imagined I'd be excited to see Thor: Ragnarok. But hiring director Taika Waititi to put a comedic spin on these characters seems to have paid off in a big way for Kevin Feige and Marvel Studios, and based on the Comic-Con trailer that was released this past Saturday, Waititi has put together a colorful, unexpected sequel that should turn a lot of heads when it comes out later this year.
You might think that a blockbuster film of this size would need to be rigid and strictly structured to meet its release date, but in a new interview, Waititi says that Thor Ragnarok improvised 80 percent of the film. Plus, The Shawshank Redemption actor Clancy Brown has been added to the movie's cast. Find out who he's playing below, and read more of Waititi's comments about his approach to making this eye-popping sequel.
Speaking with MTV News, the filmmaker revealed a surprising statistic:
"I would say we improvised probably 80 percent of the film, or ad-libbed and threw in stuff. My style of working is I'll often be behind the camera, or right next to the camera yelling words at people, like, 'Say this, say this! Say it this way!' I'll straight-up give Anthony Hopkins a line reading. I don't care."
The director didn't clarify exactly what he meant about the amount of improvisation, but I assume he means that 80% of the dialogue in his current cut is an alternate, off-the-cuff lines that were improvised or ad-libbed on the day. From the outside looking in, that seems like an astonishingly high percentage, and if it's accurate, Waititi must have shot this thing like a Judd Apatow comedy: the actors say the lines as written in Eric Pearson's screenplay, and then he gives them some time to freestyle a little and play around to maybe find a better version of the same thing.
Interestingly, that's an approach that got Phil Lord and Chris Miller in trouble with Kathleen Kennedy and the Star Wars overlords on the Han Solo movie, but it appears that Feige was more willing to let his director dictate this film's tone. (To be fair, Feige is currently riding an unprecedented string of connected blockbuster successes, and Lucasfilm is still attempting to find its footing as they jumpstart the Star Wars franchise again.)
That bit about Waititi giving Hopkins a line reading is fantastic and seems like another reason he's the perfect person to make this movie. Elsewhere in that interview, he spoke about the collaborative community he tried to build on the set, likening the vibe to his smaller films like The Hunt for the Wilderpeople and What We Do in the Shadows in that he wanted a loose environment where people could feel free to toss out ideas as if they were among old friends. The results look excellent so far.
Meanwhile, Waititi chatted with ComicBook and revealed that character actor Clancy Brown had joined the cast of Ragnarok. He'll provide the voice of Surtur, the Balrog-esque fiery demon that lives in the MCU's Hel. Also worth noting: in addition to providing motion capture work for the character of Korg, Waititi himself also did the mo-cap work for Surtur. The fire demon is something like a thousand feet tall, but that doesn't stop the Hulk from jumping straight at him in the last moments of that Comic-Con trailer. Should be fun to see how Hulk and Thor battle a creature of that size and strength in the film...sounds like he could be a nice warm-up battle for their upcoming brawl with Thanos in Infinity War.
Brown's most famous film role is as Captain Hadley in The Shawshank Redemption, but he's also done tons of voiceover work for shows ranging from SpongeBob SquarePants to Star Wars: Rebels. Fun fact: Brown has also voiced the character of Red Hulk in three animated series thus far: Avengers Assemble, Ultimate Spider-Man, and Hulk and the Agents of S.M.A.S.H. His deep baritone should be a great fit for this intimidating character.
Thor: Ragnarok hits theaters on November 3, 2017.