'Thor: Ragnarok' Trailer Breakdown: Analyzing The Cosmic, Comic Sequel Frame-By-Frame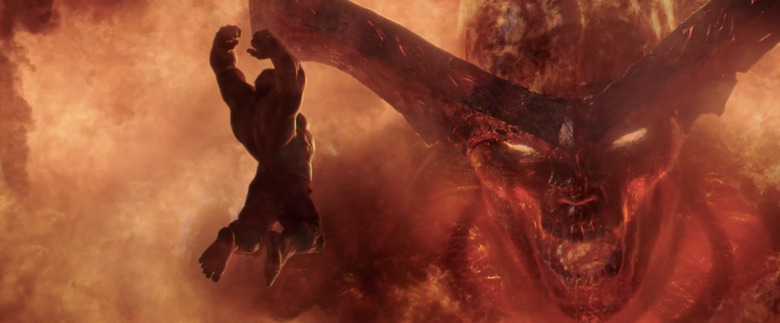 Now that the dust has settled on all the big San Diego Comic-Con news that broke throughout last week and weekend, we wanted to take a deep dive into one of the big trailers that hit the web shortly after debuting during the Marvel Studios panel in Hall H.
Thor: Ragnarok was one of the prominently featured films during the panel, and it's the only Marvel Studios movie teased that released footage shown at Comic-Con immediately after it. If you've seen the trailer (make sure you watch it here), you might be wondering about some of the new reveals and details that can be glimpsed within. Thankfully, we've got one of our helpful trailer breakdowns to help clear things up and offer some speculation.
Find out what you missed and what we've surmised in our Thor Ragnarok trailer breakdown.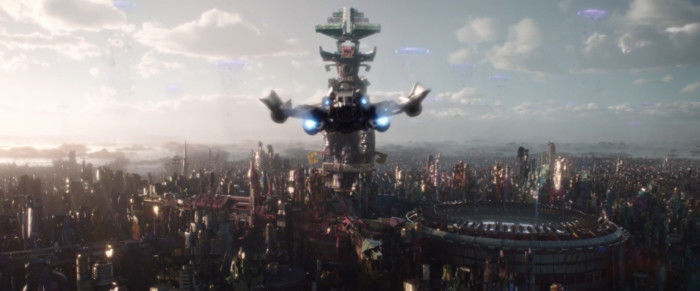 This is the planet Sakaar, which we were introduced to in the first trailer. The planet is surrounded by a bunch of portals where stuff flies in all the time, which is why there appears to be a lot of junk lying around in various other shots of scenes that take place on the planet. The ship in question seems to belong to Valkyrie, who is likely transporting Thor to see The Grandmaster as a possible contender for his gladiator games. You can see the arena where those fights take place on the lower right hand side of this shot. As for that tower, if you get a really high resolution screen grab, you can see faces on it, and some believe they may belong to Marvel characters like Beta Ray Bill and Fin Fang Foom. There might even be one of Hulk on there, so maybe the tower is a tribute to gladiator champions.
Just in case you forgot, Thor reminds you that Hela broke Mjolnir, which he acknowledges happened pretty recently and it's still kind of a fresh wound for him. It's just one of the many changes that hit Thor hard and take him out of his element.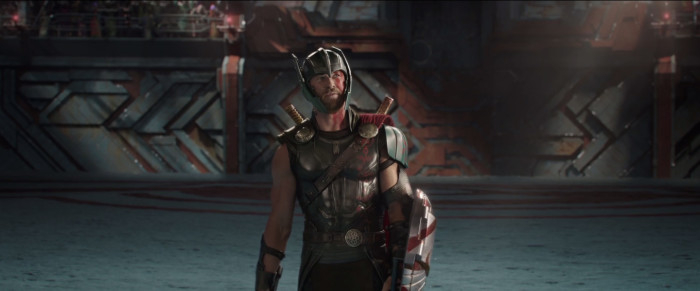 Thor seems to be recounting this event in the gladiator arena after finding out that The Grandmaster's undefeated champion is Hulk, who Thor hasn't seen since Avengers: Age of Ultron. In fact, as we learned at Comic-Con, it's been four years since then, and two of those years Bruce Banner has spent entirely as Hulk, as he hasn't been willing to transform back into the puny scientist. So they have a lot of catching up to do, but Hulk likely isn't up for any chit-chat in the arena.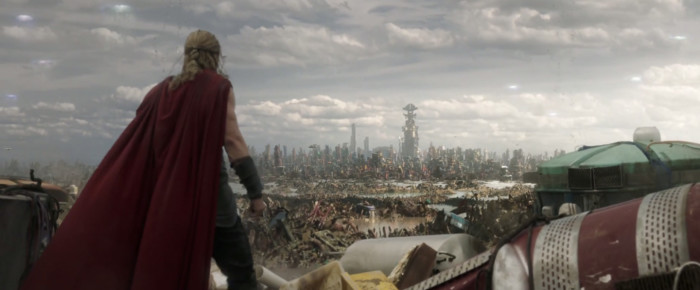 Thor mentions a "journey of self-discovery" as we see him with his long hair still intact in this scene, seemingly having just arrived on Sakaar. This is before he gets captured by Valkyrie and taken to that tower we see in the distance, which belongs to The Grandmaster. However, we don't know what the journey of self-discovery is that Thor references, but maybe it has something to do with that opening shot where Thor is wrapped in chains on some kind of dark, fiery realm that may or may not be the extradimensional plane of Muspelheim.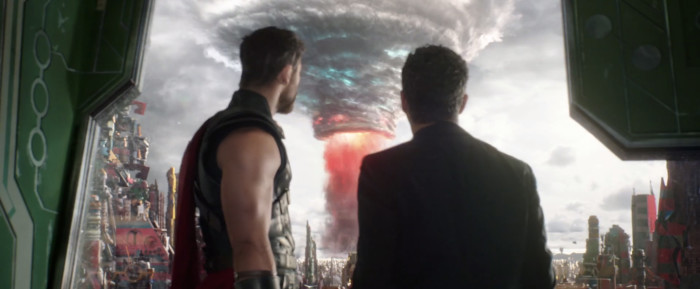 Following a synth musical interlude from the song "In the Face of Evil" by the group Magic Sword as the Marvel Studios logo appears, we see Thor and Bruce Banner looking out over Sakaar at some kind of giant swirling cloud. It appears to be a portal much bigger than all the others surrounding the planet, but that's just speculation on our part.
The real takeaway here is that Bruce Banner is human again, but because he's spent all his time on Sakaar as Hulk, he has no idea where he is or what's going on. Thankfully, Thor is filling him in.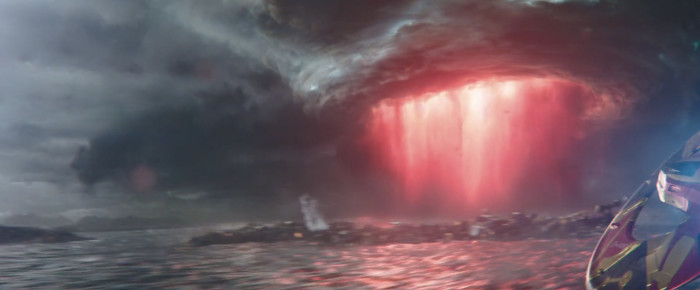 Here's another look at that swirling cloud, but a little closer. Notice that ship that's flying towards it. That ship will be seen more and more later in this trailer, and it appears to be quite important in the movie since it appears on the hat that Kevin Feige wore during the Marvel Studios panel at Comic-Con this past weekend. That hat just so happens to be the Thor: Ragnarok crew hat.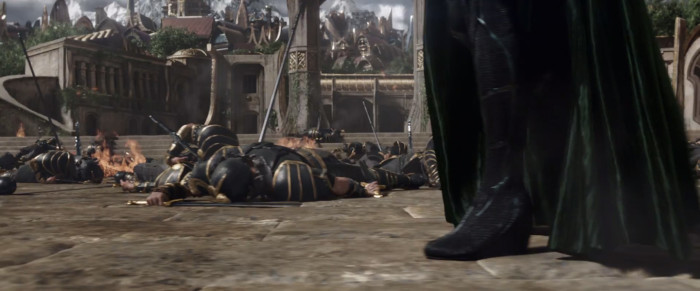 Thor continues to catch Mark Ruffalo up on what's been happening, and that includes the fact that Hela the goddess of death has invaded Asgard. We see that she's done quite a number on the place by decorating it with dead bodies and fire.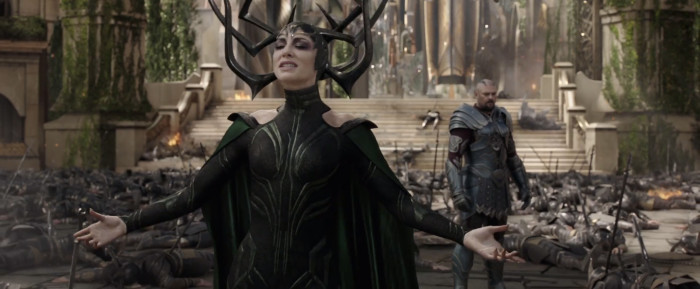 There are even more bodies strewn around in this shot as Hela glamorously proclaims how much she's missed bringing about this kind of death and destruction, indicating that wherever she's been before now, she's been stuck there and unable to act upon her desires to destroy life. Karl Urban is standing beside her as the secondary villain Skurge. We'll see more of him later.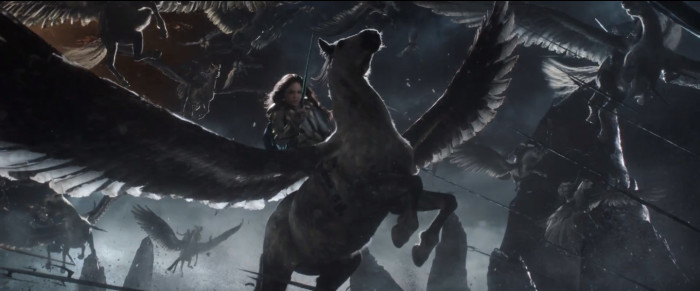 Hela's past appears to be hinted at in a quick sequence of shots. This was a sequence that was teased in the first Thor: Ragnarok trailer, but it's shown in even more details here. That's Tessa Thompson as Valkyrie on the back of that flying horse. We saw her falling through the sky off that horse along with other warriors knocked off their steeds in the previous trailer.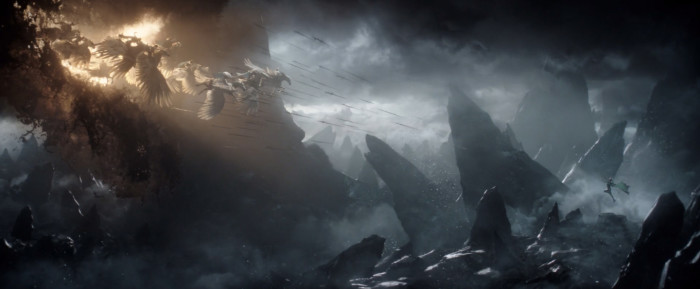 That's likely because in this shot, which looks like a gorgeous painting, they're flying towards Hela, who is all too ready to take them on, as we'll see a little bit later.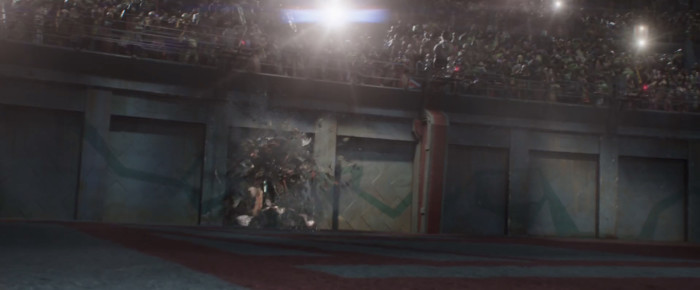 Back to Thor's voiceover, where he reminds Bruce Banner that they just had a fight while he was the Hulk. Above is Thor getting slammed into the arena wall, leaving a gaping hole.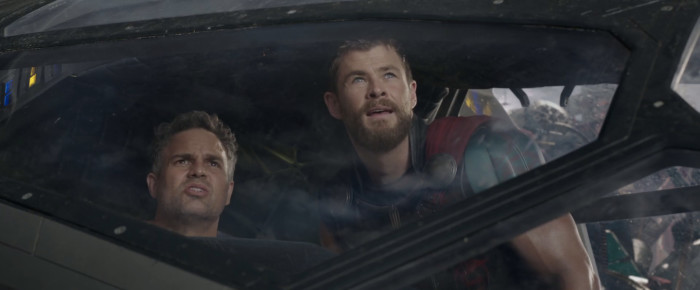 Bruce Banner wants to know if Hulk won, but Thor lies to him, clearly wanting to keep up his image. However, I'm wondering what Bruce and Thor are doing while this scene takes place. They're clearly in a ship of some kind rather than in a building in the Sakaar skyline. So where are they going and what are they doing?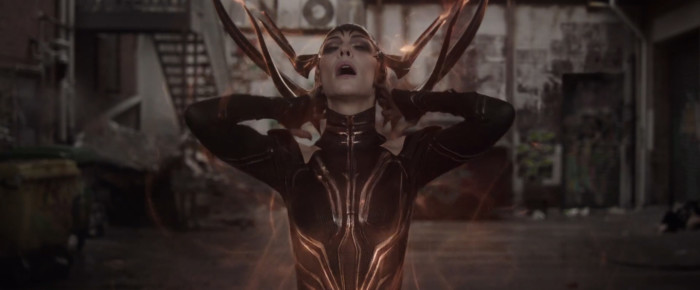 Good lord, pretty much every single shot of Cate Blanchett as Hela looks glorious. Here she is enjoying herself as a glow of some kind dissipates around here. This appears to be the same alley where we saw her encounter Thor in the previous teaser trailer, the same setting where she breaks Mjolnir. We've assumed this is New York since previous set photos showed Thor and Loki there, which is where they will likely get help from Doctor Strange.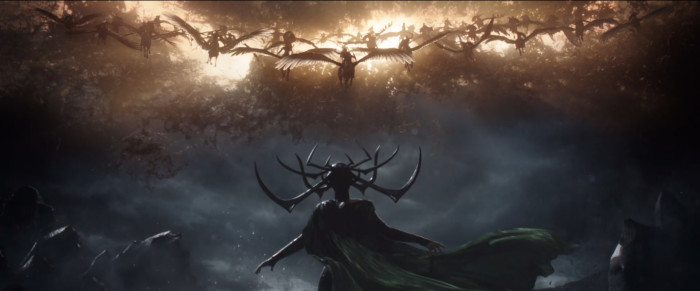 Here's another stunning shot of Hela from that sequence we saw earlier, featuring Valkyrie and a bunch of other warriors coming to battle the goddess of death. This entire scene is likely a flashback where we learn about Valkyrie's background and how she came to be a bounty hunter on Sakaar instead of a revered Asgardian warrior.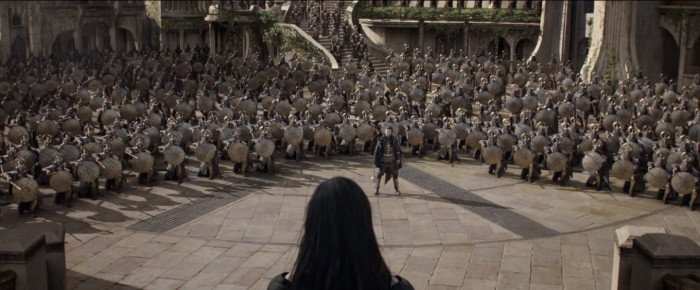 Back on Asgard, Hela faces an entirely different army. It's hard to tell, but I think the person that stands in front of the Asgardian army is Tadanobu Asano as Hogun, one of the Warriors Three, though it does beg the question as to where Fandral and Volstagg are during what appears to be a final stand against Hela as she takes over Asgard. She says she plans to recreate it in her image, but Thor says that she will bring about Ragnarok, the end of everything.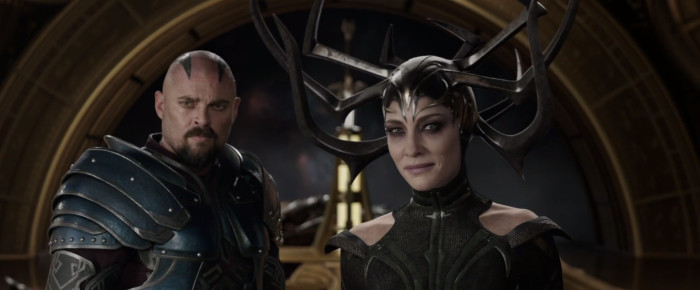 This seems to be a mostly unremarkable shot from the trailer, until you realize that Hela and Skurge appear to be the room in which Heimdall previously controlled the Bifrost Bridge, allowing Asgardians to travel to other realms in the galaxy. It looks like Heimdall's sword is situated firmly in the mechanism that activates the bridge. What are these two preparing to do? We might have an answer in a series of shots from later in the trailer, but we'll get to that in a bit.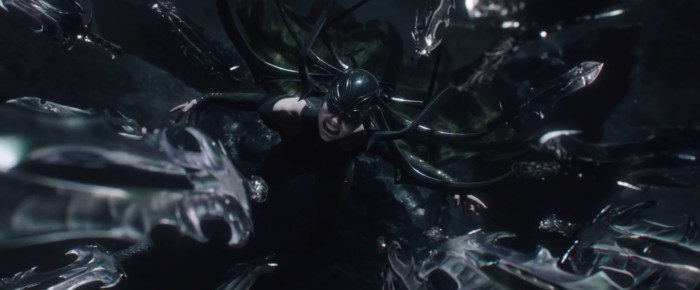 Here's one more shot of that sequence where Hela is being attacked by Valkyrie and a ton of flying warriors. It appears they all get taken down by Hela throwing an insane amount of swords at them. This seems to be her signature movie because we see her doing it later in the trailer as well.
Honestly, there's nothing cool happening in this shot, but I love that Bruce Banner is enough of a socially awkward guy that he tries to high five Thor when he's offered a fist bump. These two are going to be an awesome team, which is exactly what Thor says he's putting together to fight Hela since he seemingly can't do it by himself after having his hammer destroyed by her.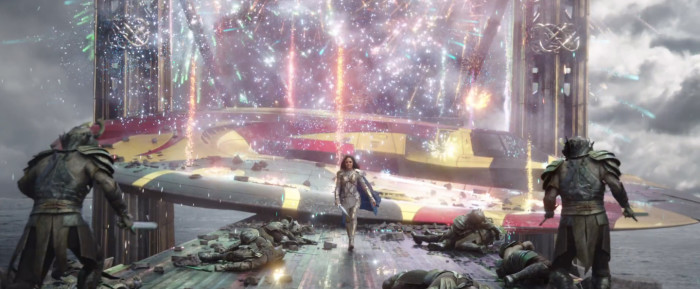 Valkyrie will be on that team, though I'm sure she'll need some convincing to go back to Asgard after leaving there for whatever reason. Tessa Thompson looks more like an Asgardian warrior in this shot than she does in the wardrobe she dons while capturing Thor. She's got silver armor and a small blue cape. It appears she's just crash-landed this ship on the rainbow bridge of Asgard as some of Hela's minions lie dead around it while others wait to fight her.
It wouldn't be a Thor movie if the god of thunder wasn't forced to trust his mischievous step-brother Loki for a period of time, creating some uncertainty as to whether he'll really help the team or end up betraying them. It's probably a mix of both.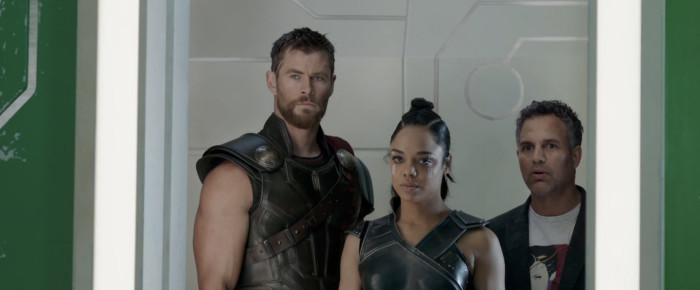 I love the look on Bruce Banner's face in this scene. The last time he encountered Loki, it was as Hulk, and he beat the hell out of him. During the trailer's premiere in Hall H, I believe there was a brief exchange between Bruce and Loki referencing their last meeting, but it didn't make the cut of the online version. I could be wrong, and maybe I've somehow made it up in my head, but I'm pretty sure that's the case. There were some other small differences in the editing of the trailer that ended up online and what was showing during Comic-Con, so that would make sense.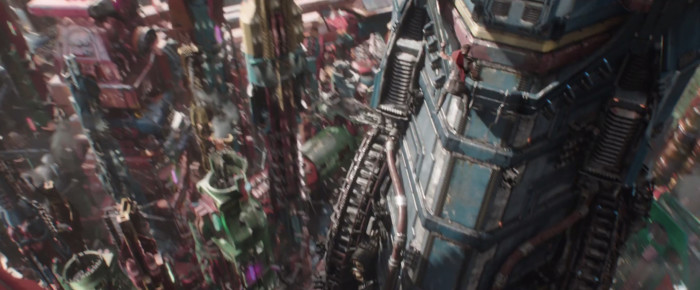 In the upper middle area of this shot, that's Thor leaping across the skyline of Sakaar. He has just leapt through a glass window, but we're not sure where he's leaping from or what he's jumping towards. Is he trying to escape?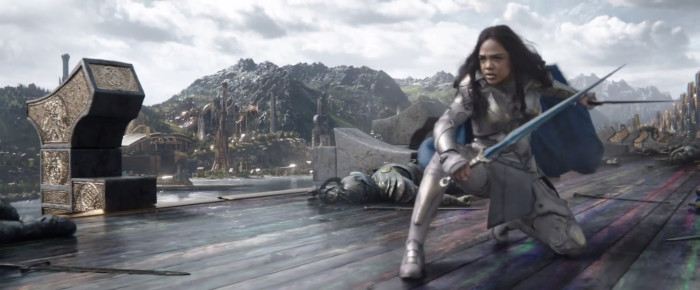 Much like very shot of Cate Blanchett of Hela in this trailer is majestic, almost every shot of Tessa Thompson as Valkyrie makes her look like a certified badass. I can't wait to see more of her in action in this movie. Here she's sliding backward with her sword at the ready. We're on the rainbow bridge, and that's Asgard in the background. This appears to be from the final battle that we see the set-up for later in the trailer.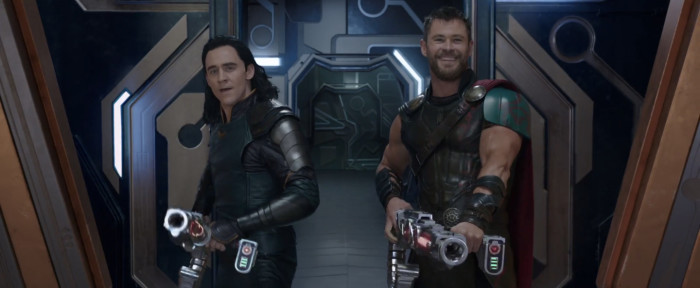 You gotta love when Thor and Loki team up for a short time. Here they are armed with big laser cannons to take out some of The Grandmaster's guards.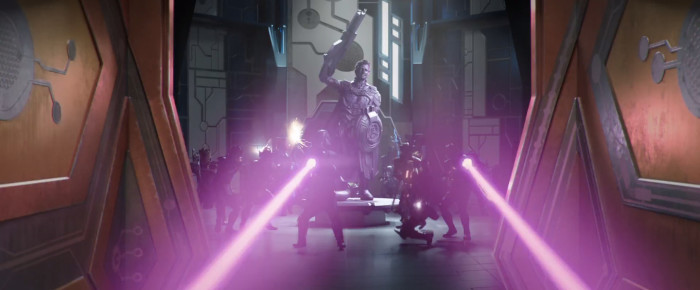 The reverse shot of this sequence shows the guards getting blasted by the purple beams as they stand around a statue of Jeff Goldblum as their fearless leader, an image of the man that has surely been exaggerated to make him look like some kind of warrior hero.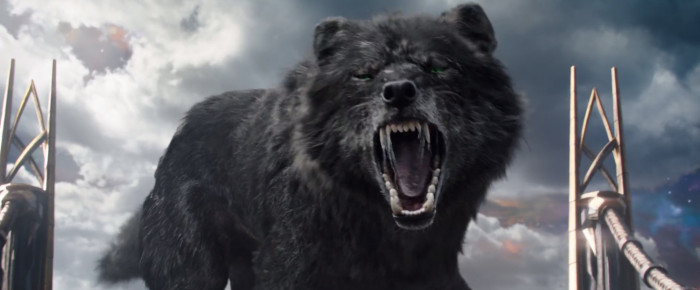 Here's our first look at another new character from Marvel Comics. That's the Fenris Wolf, who is said to be the offspring of Loki and a giantess named Angrboda. I'm not sure that background of the Wolf will be used in Thor: Ragnarok though. More than likely this will just be a giant creature that Hela summons to help bring about Ragnarok. Though I suppose they could use this to make a joke about Loki being reckless in his behavior following taking over the throne of Asgard at the end of Thor: The Dark World and somehow creating a huge wolf with a giantess.
Hulk is ready to take on the big wolf head-on, not hesitating for a minute to grab it by the jaw in a big fight that is taking place in Asgard as well. Plus, the big guy is sporting a new haircut too. This is another battle that appears to be happening towards the end of the movie.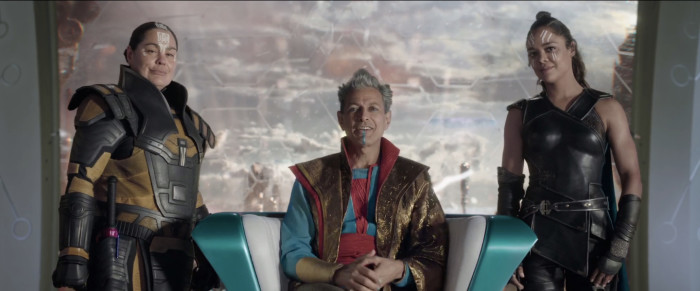 This almost looks like a postcard for Sakaar, but it's actually a shot of The Grandmaster surveying Thor after Valkyrie has brought him in as a possible contender for the gladiator games. That woman on the left is Rachel House, the child protective services officer from Hunt for the Wilderpeople. Director Taika Waititi has called her his lucky charm, and in this movie, she plays Topaz, who appeared to act as The Grandmaster's assistant in some extra footage from the movie that was shown during Comic-Con.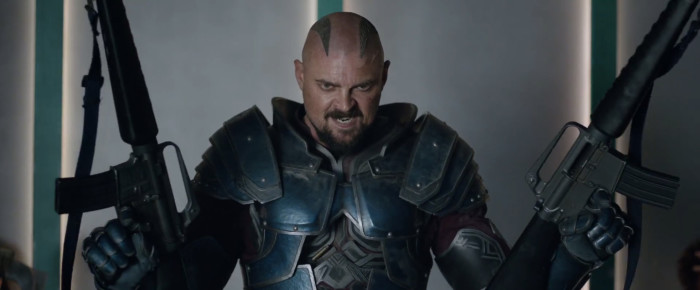 Here's another good shot of Skurge getting ready to shoot off those two assault rifles, as we saw him do in the first teaser trailer for Thor: Ragnarok. I'm not sure what a villain like that is doing using human weaponry, but I suppose it doesn't really matter.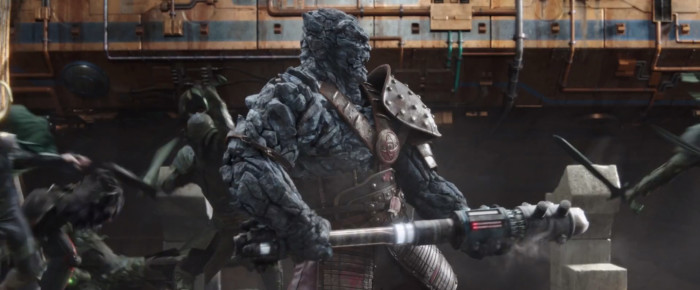 Here's a good look at another new character in the movie. That's Korg, a character who we thought Thor killed in Thor: The Dark World. He's been forced to be a gladiator on Sakaar too, and he fills Thor in on what the gladiator games are all about. Director Taika Waititi lends his voice to the character, which he said is based on soft-spoken Polynesian club bouncers he's encountered before. If you look on the left side of this image, you can see the horn of Loki's helmet as well as his green wardrobe. This may be the sequence where Thor, Loki, Valkyrie and Bruce Banner all escape Sakaar.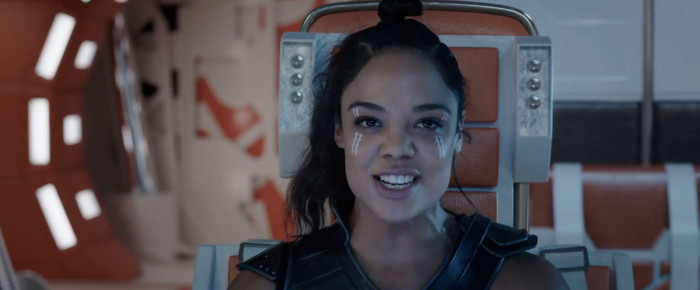 Valkyrie sits in one of the seats of the cockpit of that ship we highlighted earlier. Though this appears to be before she crash lands it later in the movie.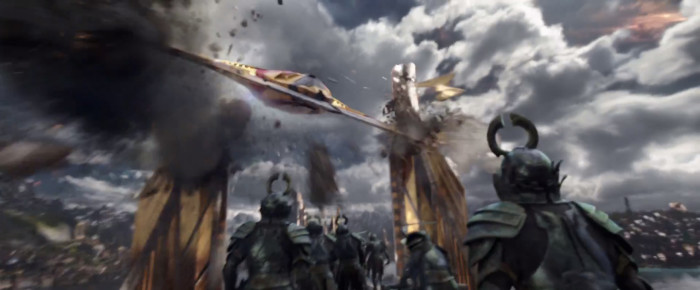 Speaking of which, here's that show of the circular ship crashing onto the rainbow bridge on Asgard, knocking down a couple of the pillars as she flies through.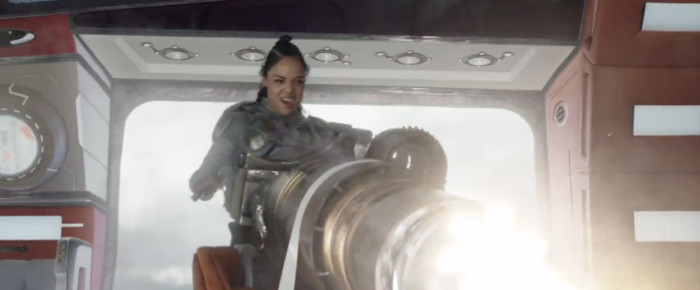 Valkyrie again looks like she's going to be a total badass in this movie, hopping on the turret of a big gun firing bullets at quite the rapid rate. I'm glad she'll be sticking around to get into some action in Avengers: Infinity War.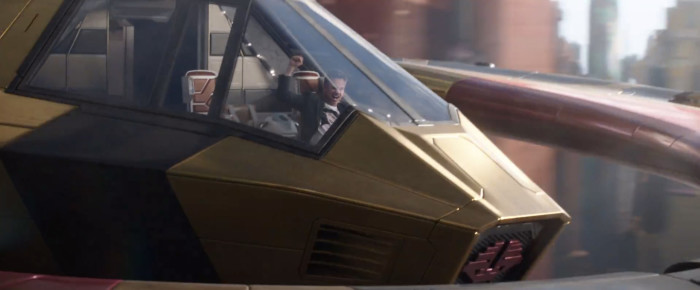 We can't just ignore Bruce Banner cheering and fist-pumping into the air as he flies this ship through Sakaar. This has to be during their escape from Sakaar since the ship ends up being taken to Asgard later in the movie to battle Hela and her minions.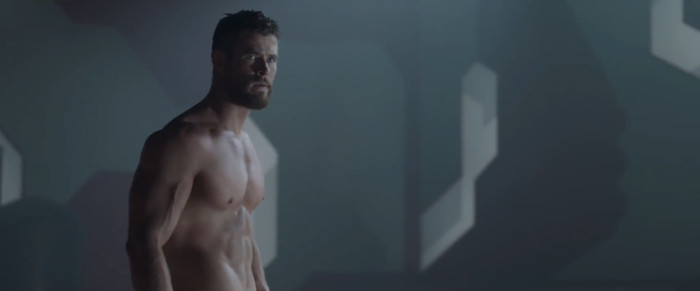 Before we get to that, here's the mandatory shot of Chris Hemsworth with his shirt off for everyone to ogle. It's probably a rule that Marvel has for every Thor movie, and I'm sure everyone out there who thinks Hemsworth is a dreamboat is happy to have it.
Here's Hela on Asgard on the rainbow bridge. She throws her hands forward in this quick shot, though it's not clear if it's because she's using some kind of power she has or to summon those minions we see fighting throughout the end of this trailer.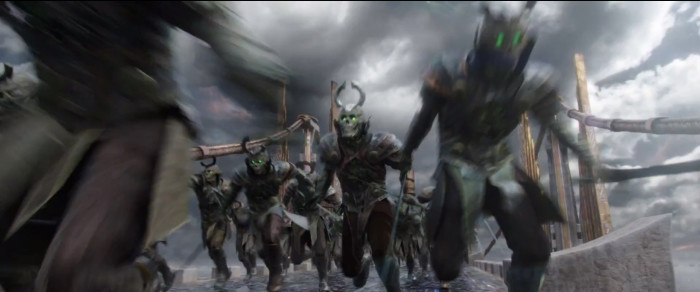 Speaking of which, here they are, presumably running towards our heroes. They have a skull for a head and green glowing eyes. Surely they will not pose much of a threat, but our superheroes need henchman to beat up so fans can see them fight in cool ways.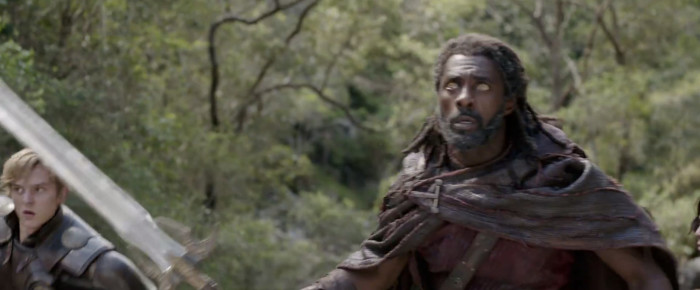 Then a shot of Heimdall is thrown in there, looking nothing like he usually does. This sequence is one of the most perplexing because I'm not sure if Heimdall is dressed like this because he's been away from Asgard for awhile, perhaps banished by Loki, or if this is some flashback before he became the gatekeeper of the Bifrost Bridge. The latter sticks out to me if only because that character on the left looks like it could be a young version of Fandral, one of the Warriors Three, who was played by Zachary Levi in Thor: The Dark World.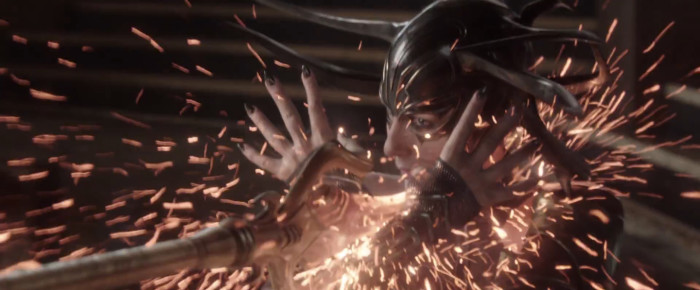 Again, every single shot of Cate Blanchett in this trailer is magnificent. Here's one of her stopping an attack from Thor with a staff. Her gauntlets have caught the staff and send sparks flying around her. There are a few quick fights of their battle, which should be an exciting one.
Here's where we get more of a hint about what Hela might be doing with the Bifrost Bridge. That's Loki flying through the Bifrost, and it appears Thor is just above him, his red cape visible with a silhouette. But what's Loki looking at behind them?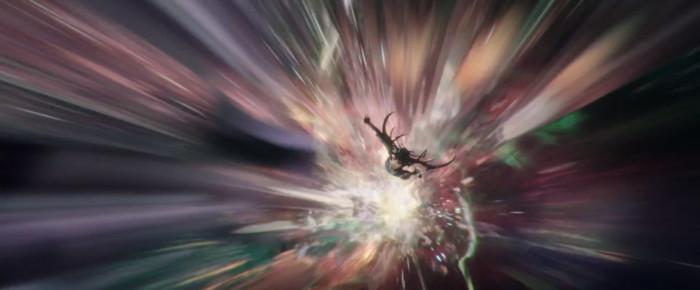 It's Hela, flying through the Bifrost right behind them. As she flies towards them, she throws a sword their way.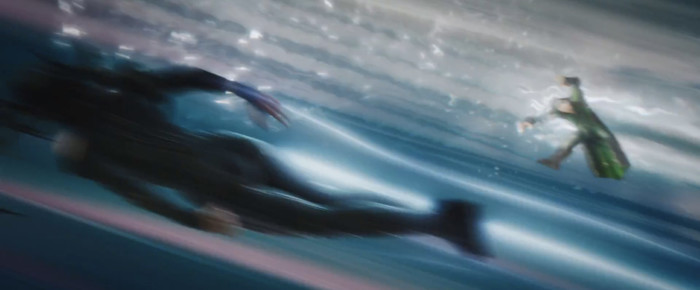 Then it looks like she knocks Loki out of the Bifrost completely, presumably heading towards Thor next. My guess is that this is how Thor and Loki end up on Sakaar. More than likely, after Hela destroys Mjolnir, Thor has now way of easily flying back to Asgard. My bet is that Loki tries to find Thor to tell him what's happening back on Asgard, Hela follows, breaks the hammer, and that leaves Thor and Loki to seek out Doctor Strange to help them get back to Asgard. But Hela finds out about their plan and knocks them out of the Bifrost and down into Sakaar, albeit separated on the planet.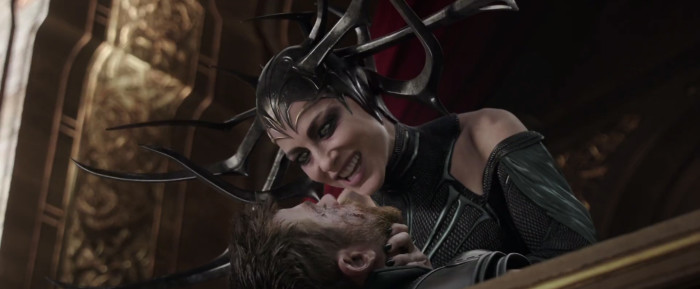 At some point during the fight between Hela and Thor, she gets the upper hand. I really hope that Cate Blanchett has been given a memorable foe who continues to fix the problems Marvel has had with their villains for years.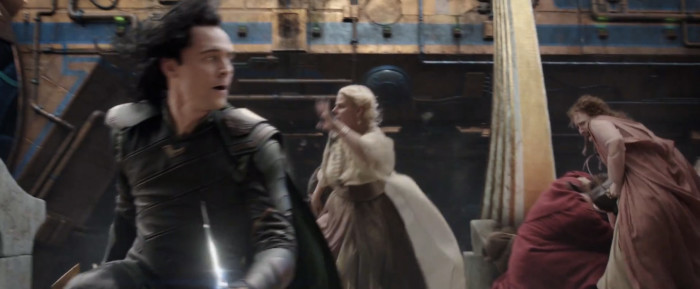 During a quick montage of shots we get this one of Loki fighting in the same setting where we saw Korg earlier.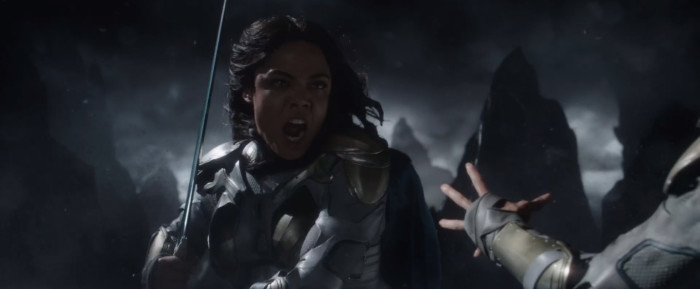 Followed by a shot of Valkyrie looking pissed as she aims to strike down what appears to be Hela from that flashback sequence earlier. She's wearing the armor we'll see her throw on again for the final battle.
It appears that during the battle Hela will bust out her signature move again, because she spins around quickly, sending a barrage of blades at Valkyrie and our heroes.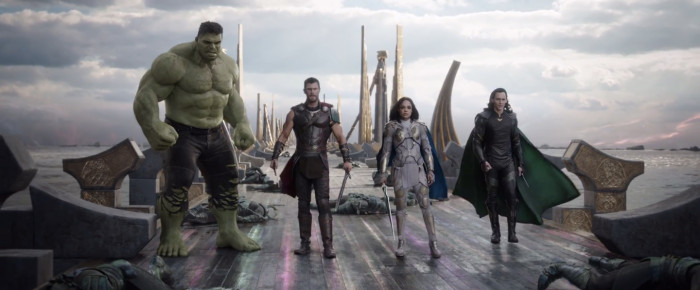 Before all that happens though, our heroes have to stand at the opposing side of our villain. Here they are on the rainbow bridge ready to take on Hela.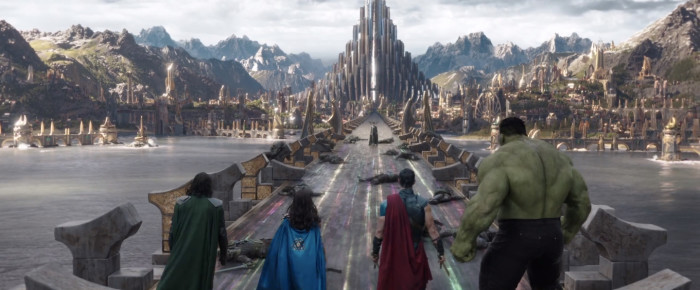 And there's Hela with Asgard behind her, ready to take on all our heroes. There's a chance this may be after they've dispatched with all her minions and Fenris Wolf, but it could also be before then. Either way, she taunts Thor by asking him what he's the god of again.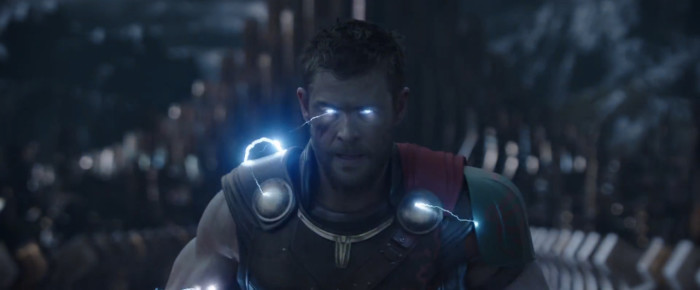 We're reminded as lightning strikes on Asgard that Thor is the god of thunder, which always comes with lightning, and this is the first time in awhile we've seen Thor electrified so significantly to the point that his eyes are glowing.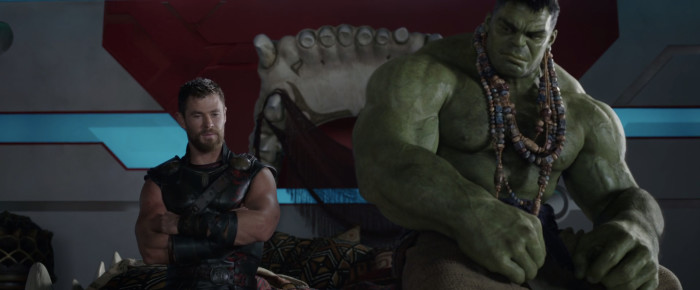 After we cut to the title, a moment of levity and a reveal comes in the form of Hulk having an actual conversation with Thor about how they're similar and how they're different. It's a shame that Hulk will turn back into Banner at some point because this back and forth between Hulk and Thor is pretty entertaining.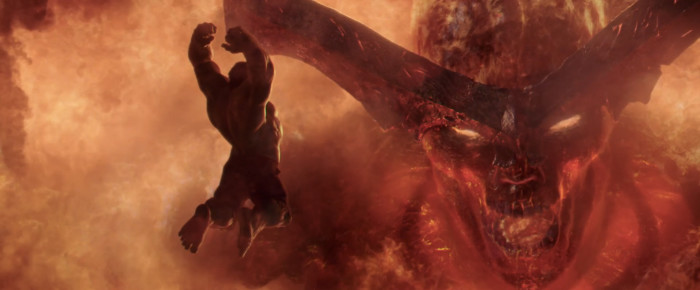 Oh, and before you go, if Fenris Wolf and Hela's minions weren't trouble enough for Thor and our heroes, it seems like Hela has one more trick up her sleeve. Because here's the fire demon Surtur getting ready to tangle with Hulk in the final shot of the trailer.
***
That's all for the Thor: Ragnarok trailer breakdown. This actually revealed even more than we first realized. Plenty of details became clearer once we watched the trailer a few times and got a closer look at some of the shots. There are still some gaps to fill, and there are plenty of guesses we made here which not be entirely accurate, but we'll find out how right we are when Thor: Ragnarok arrives on November 3, 2017.