'Aquaman' Comic-Con Footage Recap: Ocean Master's Army Rides In On Ships And Sharks [Comic-Con 2017]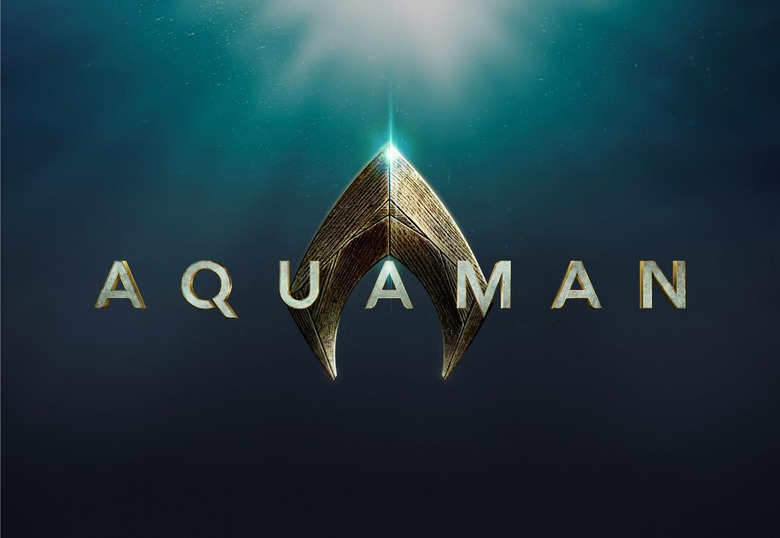 The next DC Comics movie from Warner Bros. Pictures may be Justice League, but several of the characters from the superhero squad have yet to get their own feature film. Wonder Wonder made her solo debut with box office that's still rolling in this summer, but the next solo superhero adventure will takes us to see.
Aquaman will give the king of Atlantis his own movie for the first time in the character's history. Jason Momoa (Game of Thrones) already made his debut as the hero in Batman v Superman: Dawn of Justice and will get even more screentime in Justice League, but fans are anxious to see how the character fares when he's on his own. Warner Bros. gave fans a taste of what's to come next year with a sneak peek at Aquaman, and you can find out more about it below.
The Aquaman panel began with a wild entrance featuring Jason Momoa charging into Hall H while Jimi Hendrix blared through the speakers. Armed with his trusty trident (or quindent), he ran onto stage and played it like an electric guitar, to which Chris Hardwick said, "It's a good thing you're Aquaman, because everyone is now wet." If that didn't do it, the footage that was shown might have done it.
With a special introduction from director James Wan down on the set in Australia (where Jason Momoa flew from just for today), we saw a fast montage of a bunch of animated concept art, including Atlantis, the city's people riding on sharks, Aquaman facing off with Black Manta, our hero's childhood home on the coast next to a lighthouse, an underwater setting where lava appears to flow through the water, which could be part of Atlantis, and so much more that we only had so much time to absorb.
But beyond that tease of the movie, some Aquaman Comic-Con footage was screened.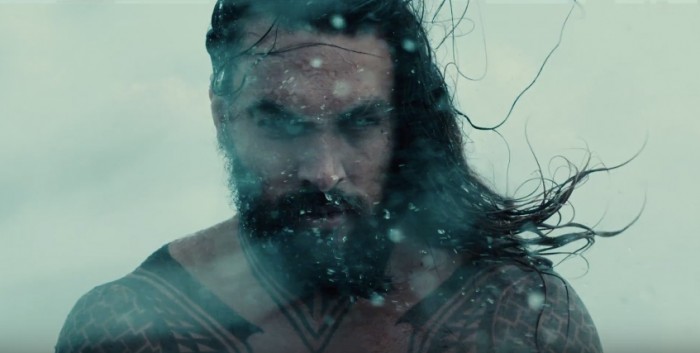 Aquaman Footage Recap
The footage from the movie (or what may have been a teaser made just for Comic-Con) featured a couple of old fisherman in a boat in the middle of an ocean. One of them cast their reel out and he gets a bite. He gets a big bite. Suddenly the boat is being dragged across the surfaced of the ocean. The pull gets stronger, so much that it's tipping the boat forward into the water until the fisherman lets go.
Suddenly, there's a rumbling under the ocean and overhead we see a giant stingray. Actually, it's a ship that looks like a stingray, and there are tons of other ships moving through the water underneath them. We see underwater a level of ships that looks like an underwater version of the Rebel Alliance fleet from Return of the Jedi, but with even more ships.
In addition to the larger ships, in between there are people swimming around on sharks. That's something we'll see Aquaman himself do because concept art shows Arthur Curry riding on a hammerhead shark, which made us think that this was Atlantis' army moving through the ocean. But Jason Momoa revealed during the panel that this army we see it actually the army of the villain called Ocean Master, played by Patrick Wilson, though we don't see him in the footage.
After this big reveal of the underwater civilizations, we see Jason Momoa in what looks to be the inside of a sunken ship, but it's not underwater. He has some kind of red sword in his hand and he looks over his shoulder to say, "Are you sure you really want to do this?" We don't see who he's talking to, but he flips his sword around in a skillful way and then chuckles to himself, "Yeah, neither do I." Cut to the Aquaman title card.
***
Joining Jason Momoa in the movie will be Amber Heard as Mera the queen of Atlantis, Willem Dafoe as Vulko, Temuera Morrison as Tom Curry, Dolph Lundgren as Nereus, Yahya Abdul-Mateen II as the villain Black Manta, Patrick Wilson as another villain named Orm, the Ocean Master, and Nicole Kidman as Atlanna.
Warner Bros. Pictures' action adventure Aquaman, helmed by James Wan (The Conjuring, Furious 7) stars Jason Momoa in the title role, returning to the character he plays in this fall's Justice League.
An icon for over 70 years, Aquaman is the King of the Seven Seas. This reluctant ruler of Atlantis, caught between a surface world constantly ravaging the sea and Atlanteans looking to lash out in revolt, is committed to protecting the entire globe.
Aquaman swims into theaters on December 21, 2018.