'The Defenders' First Episode Makes A Surprise Premiere; Watch The New Trailer [Comic-Con 2017]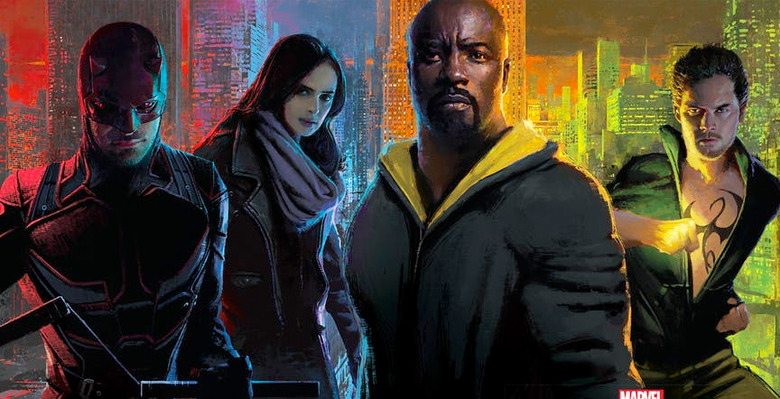 Last year at San Diego Comic-Con International, Netflix premiered the first teaser trailer for their crossover event series The Defenders in Ballroom 20. In 2017 they returned with a panel, but this time in the biggest hall at the con – the infamous Hall H. And the appearance came with a few surprises, including the premiere of the first episode. Below, watch the new trailer that made its debut, and read what we learned from the panel and my reaction to the first episode.
Everything We Learned About The Defenders Season One
Marco Ramirez, showrunner and head writer, says the fun of the show is that the team will never have a headquarters. It's a very different grounded superhero group. They aren't having fights at big recognizable spots, but instead at bad bars and back alleys.Sigourney Weaver calls her character, Alexandra, a very interesting woman and describes her relationship with Elektra as unusual, one of the most unusual she's ever played. Alexandra finds out that her red blood cell count is dropping and that she could have only have weeks left to live. As resourceful and rich as she is, there is nothing they can do to save her. Alexandra pushes her plan into high gear, smiling and watching from high above the city as an earthquake-like event happens. We are unclear what her plan is. She tells Electra, "It's just a city. You'll get used to watching them fall."Elodie Yung's character Elektra Natchios was seemingly dead and buried at the end of Daredevil season 2. But of course she's back, but not in the same way we expect. Elektra has amnesia and is trained by Alexandra to be some sort of weapon. The question for her this season is how much of her character remains.Finn Jones's character Danny Rand (aka Iron Fist) is having screaming nightmares, feeling the responsibility for the deaths of many others. But he is now a man on a mission. He has been chasing The Hand for months, finally, they get a lead to a guy that can help them, but he dies in front of them in the opening fight sequence of the opening episode. Jones says the character has grown into himself and is inspired by meeting the other three heroes to take his powers with more responsibility.Jessica Henwick returns as Colleen Wing, who had her whole life ripped away from her at the end of Iron Fist, including her family, religion, and dojo. When we see her in The Defenders, she has not gotten over what has happened.Mike Colter, who plays Luke Cage, gets released from jail in the start of the first episode, thanks to his lawyer Foggy Nelson. He has made it through a prison stint without throwing a single punch.Rosario Dawson's character Claire Temple, who has been waiting for him while he was in prison, finally is reunited with Cage and they have passionate sex. She is concerned about Cage and thinks he needs to start thinking about himself.Krysten Ritter's character Jessica Jones doesn't really want to play with others, and doesn't ask or want help. But she will rise to the occasion and help the little guy. She knows she's valuable to the team, but that doesn't stop her from bringing some attitude and sass to the group, like making fun of Daredevil's suit. Jessica blows off a lady who seeks her help to find her missing husband, but when she receives a message telling her not to look into the case, she gets sucked into trying to figure out what really is going on.
Crime is down in New York City. Charlie Cox's character Matt Murdock (aka Daredevil) has helped make the city a safer place, but Matt has retired the red suit and is helping to make a difference for people in need through the court system. Murdock tells Karen that he doesn't miss being Daredevil, even though he does. Matt still misses Elektra and regrets letting her go, even though she caused him so much trouble.
Deborah Ann Woll's character Karen Page is still working for the New York Bulletin and is taking some time to figure out herself before she revisits her relationship with Matt.Simone Missick's character Misty Knight has been put on a citywide task force and shows up on Luke Cage's door to tell him the story of a recent tragic death in Harlem. She convinces Cage to visit the brother of the departed to try to keep him on the right path.
The Colors of the Characters
The show plays with colors in interesting ways. The opening title credits sequence teases all the heroes through colored topographical views of New York City. In some of the scenes, we see colored lighting in the background to match the particular hero who is the focus of the scene. So for instance, Daredevil has red lights in the background. Alexandra wears white and has white lighting. It's interesting that the showrunners chose to visually differentiate the separate character stories in this way, reminding me a bit of how the film Traffic differentiated the different character storylines by color coding them.
Keeping the Team Apart
The Defenders don't form together in the first episode, nor do any of the main characters have interactions. I'm sure Marvel and Netflix is going to milk this while they set-up the antagonist. However, we do get a small taste of the fun that is coming when the characters we like from different shows come together in a scene shared between Foggy Nelson and Luke Cage. I imagine that the exchanges between The Defenders will bring some welcome character-driven fun.
New York City is the Fifth Defender
One thing that was mentioned a few times during the panel was that New York City almost plays the role of the fifth Defender, and judging from the first episode, Manhattan has a large presence in the story.
A Brief Reaction to Episode 1
The first episode of The Defenders is a fine start to Netflix's superhero team-up show. It starts off a little slow, setting up our antagonist and revealing where all the characters have been since we last encountered them. It's almost strange they would premiere just this episode at the Con, as it is primarily set-up and offers very little payoff. I imagine it may even take a few episodes before the team comes together. It's not one of those shows that begins with a bang, but it's a compelling start to the series.
However, it doesn't do a great job of explaining these heroes for people who have not seen the individual series. For example, I have not seen Iron Fist or Luke Cage and was a bit confused as to what was going on in their plot threads. But I'm sure most everyone watching this will have already binged the other four shows before this one. In terms of style and production value, if you've seen any of the previous Marvel Netflix series, then you know what to expect here.
Show Details
Marvel's The Defenders comes from showrunners Douglas Petrie (Daredevil, Buffy the Vampire Slayer) and Marco Ramirez (Daredevil, Orange is the New Black) and executive producers Drew Goddard, Douglas Petrie, Marco Ramirez and Jeph Loeb. The series is The Avengers-style team-up of the previous Netflix/Marvel heroes starring Charlie Cox as Daredevil, Krysten Ritter as Jessica Jones, Mike Colter as Luke Cage, and Finn Jones as Iron Fist. Élodie Yung also stars as Elektra Natchios, reprising her role from Daredevil. Sigourney Weaver joins the Marvel television universe as Alexandra, the head of an ancient organization who serves as more of an adversary than a villain.
The official plot synopsis follows:
Marvel's The Defenders follows Daredevil (Charlie Cox), Jessica Jones (Krysten Ritter), Luke Cage (Mike Colter) and Iron Fist (Finn Jones). A quartet of singular heroes with one common goal – to save New York City. This is the story of four solitary figures, burdened with their own personal challenges, who realize they just might be stronger when teamed together.
All eight episodes of Marvel's The Defenders will be available on Netflix on August 18, 2017. S. J. Clarkson, who helmed the first two episodes of Jessica Jones, directed the first two episodes.