'Shazam!' Will Be The Next DC Film To Start Shooting, But Dwayne Johnson Won't Be In It [Updated]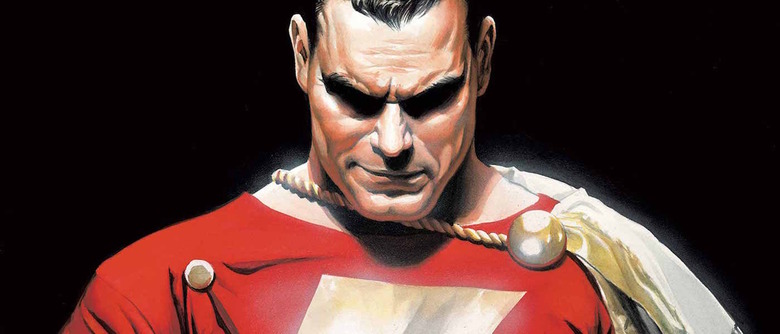 Update: DC's Chief Creative Officer Geoff Johns says Dwayne Johnson will not appear in the Shazam! movie. "We haven't announced any casting yet," Johns told Yahoo Movies. "But Dwayne isn't going to be in this movie. He's still doing Black Adam, but he won't be in Shazam!" Our original article follows.
The future of the DC Extended Universe remained uncertain after Aquaman, the last DC Comics film with an official release date. But spurred on by the success of Wonder Woman, Warner Bros. had scheduled two more DC Films for 2020, mysteriously leaving all of 2019 blank. That is, until now.
The next DCEU film to hit theaters after Justice League this November and Aquaman in 2018 will be Shazam!, aiming for a 2019 release date. And while it doesn't yet have a star to play the boy who magically transforms into a powerful and wise superhero, it does now have a director.
David F. Sandberg, the horror guru behind Lights Out and Annabelle: Creation (read our Comic-Con review here), is set to direct Shazam! under Warner Bros.' sister division, New Line. Shazam! is set to begin shooting in January or February of next year, according to The Hollywood Reporter.Peter Safran, a producer for Aquaman who worked with Sandberg on the Annabelle sequel, is in negotiations to produce Shazam!
The film is about a young boy named Billy Batson who is endowed with the ability to transform into a super-powered hero by uttering the magic word "shazam." When he becomes his alter ego, Captain Marvel — whose name may be changed due to a similarly-titled Marvel Cinematic Universe hero also set to hit theaters in 2019 — Billy gains the "wisdom of Solomon, the strength of Hercules, the stamina of Atlas, the power of Zeus, the great courage of Achilles, and the speed of Mercury." Get it? It spells out SHAZAM.
No star has yet been cast to play Billy or his super-powered alter ego, but Dwayne Johnson has been attached to the project and to star in the Black Adam spin-off centered around the supervillain-turned-antihero. There's still no official confirmation that Johnson will even appear in Shazam!, but it seems pretty likely considering how much he's hyped it on social media.
DC Films has gained a new outlook after the critical acclaim and commercial success of Wonder Woman, which offered a bright and hopeful hero in the face of the DCEU's previously grim and gritty films. Under the watch of DC Comics' Geoff Johns and Warner Bros.' Jon Berg, DC is making a tonal pivot in its films, shedding the "dark" image it had held through Man of Steel, Batman v Superman: Dawn of Justice, and Suicide Squad. With the choice of Shazam! as its next film, it seems like it's making fun and optimism its priority, recapturing the aspirational nature of DC Comics heroes. Shazam! will be moving ahead of other DC Films in production, including Joss Whedon's Batgirl, the embattled production of The Flash, the sequels to both Suicide Squad and Wonder Woman, and Matt Reeves' The Batman.
Justice League hits theaters November 17. Aquaman, directed by James Wan, is set to be released December 21, 2018.