'The Walking Dead' Season 8 Trailer: All Out War Is Coming [Comic-Con 2017]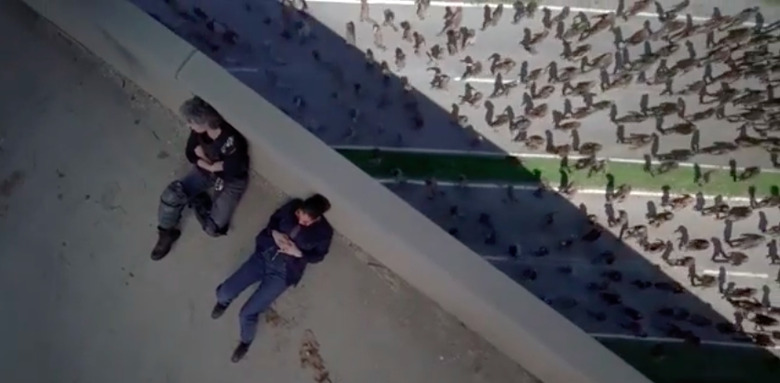 Last October, AMC renewed its long-running, highly popular zombie series, The Walking Dead, for season 8. The upcoming season premiere will be the series' 100th episode. There's still no end in sight for the show, which is based on Robert Kirkman's comic book series. The brass at AMC don't even know how the series will conclude, but in the meantime, we attended the show's San Diego Comic-Con panel and learned what they have in store.
Below, check out new The Walking Dead season 8 trailer and read everything you need to know from the panel.
Showrunner Scott Gimple is back along with the surviving characters. The previous season ended with Rick (Andrew Lincoln), Maggie (Lauren Cohan), and Ezekiel (Khary Payton), in control of Alexandria, the Kingdom, and the Hilltop. They overcame Negan (Jeffrey Dean Morgan) and the Survivors. "We have basically set the stage for [Kirkman's storyline] All Out War," Gimple told Entertainment Weekly. "Negan's said it, everybody has seen they're in it. It will play out quickly and propulsively and attentively and will shift around the focus quite a bit between the different places and battlegrounds and characters and communities." Gimple added Rick definitely gets his swagger back in season 8, which you can see a little bit of in this new trailer:
The current comic storyline features a time jump, and the shot of a bearded Rick in the teaser confirms that the show is going down that path. Here's some info about the new season and the future of The Walking Dead from the panel:
Gimple says it's "entirely possible" for the show to go to another part of the world, and it's "something they want to see," but it's not in the cards at the moment.
There will be "new, interesting characters," but that's all Gimple would say.
The characters won't search for a cure or anything like that in the future. It's been done in other stories, Kirkman explains, and these aren't the sort of characters who would try to save the world with a cure.
While the series recently killed off a major character or two, much to the shock of fans, Kirkman suggested fewer star characters are going to bite the bullet in the future. "In my opinion, there should be less death in the book now, much less, because the careless people, the scared people, the people learning how to live in this world are already dead," he said. "This is the cream of the crop, so to speak." As for the ending, the creator knows exactly how the story comes to a close, but he's currently in the long middle of his sprawling zombie story.
The Walking Dead season 8 premieres on AMC on October 22.