'Ghostbusters' Will Meet The 'Teenage Mutant Ninja Turtles' Again...and Become Turtles? [Comic-Con 2017]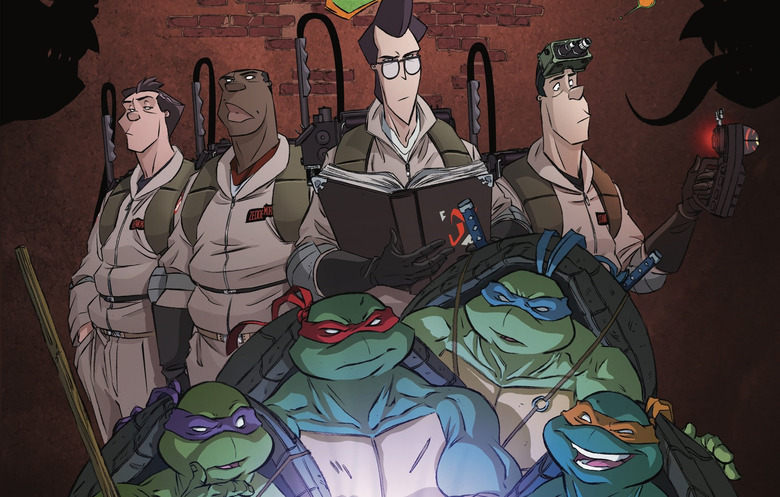 Though everyone is excited about all the panels for blockbuster movies and sci-fi and fantasy TV shows at San Diego Comic-Con, there's plenty more that happens at the massive pop culture convention, and we took the time to cover a much smaller panel that deserves your attention as well.
IDW Publishing hosted a panel for their Ghostbusters 101 comic book (which I talked about in The Water Cooler recently), and with it came some interesting announcements about the future of Ghostbusters not only on the page, but on toy shelves as well. Along with a crossover sequel reuniting the Ghostbusters with the Teenage Mutant Ninja Turtles, there is a new line of Playmates figures featuring the Ghostbusters as Teenage Mutant Ninja Turtles...or maybe vice versa.
Find out more about the Teenage Mutant Ninja Turtles and Ghostbusters crossover sequel.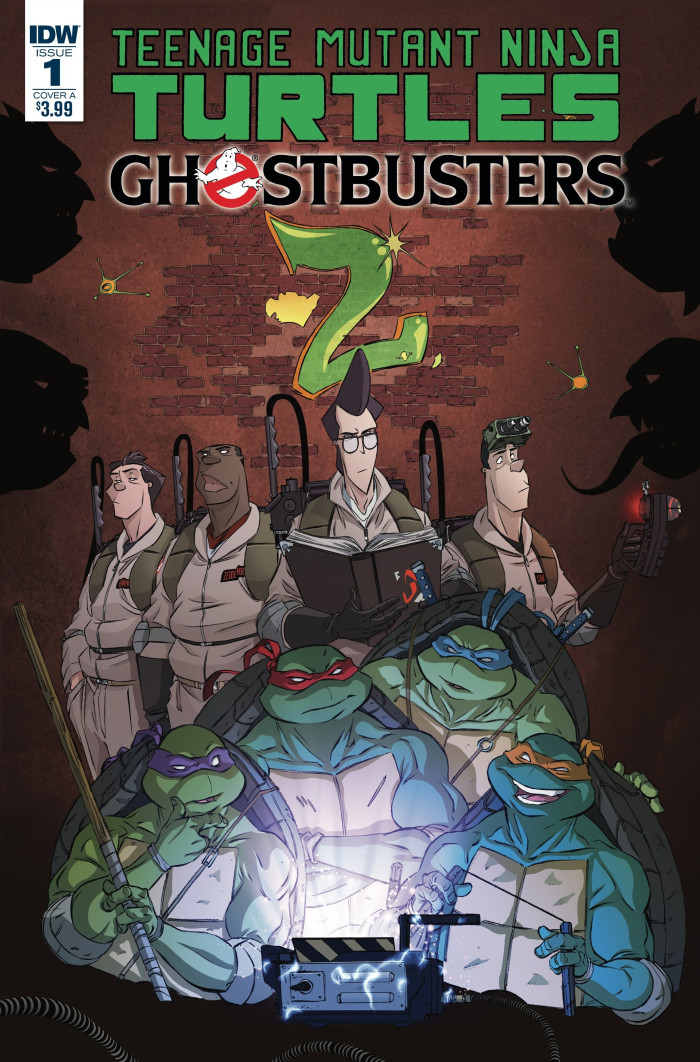 Teenage Mutant Ninja Turtles / Ghostbusters 2
First up, this November will bring a sequel to the first Ghostbusters and Teenage Mutant Ninja Turtles crossover comic. Details on the story are mostly under wraps, but the official press release describes the story like this:
"Our story begins when an old adversary traps the Turtles in a ghost dimension, as old adversaries are wont to do. However, all hope is not lost for our Heroes in Half-Shell, as New York City's resident experts on all things spooky quickly answer the call."
The panel wasn't ready to divulge much more than that, but they did show this page from the comic: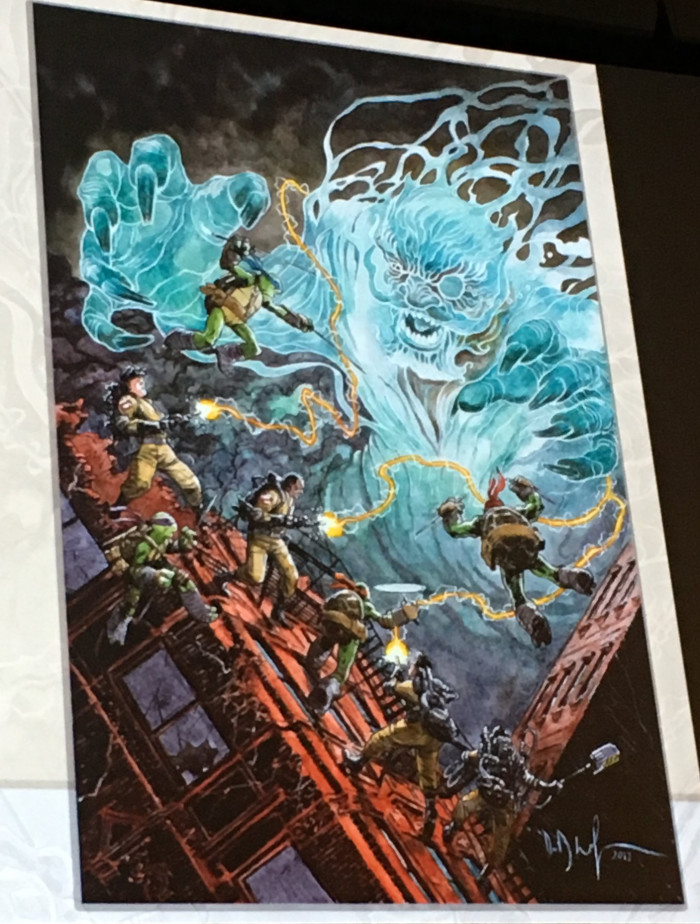 Writers Erik Burnham and Tom Waltz wanted to make sure the story made sense between both the Ghostbusters and TMNT universes, so they pulled a certain ghost that has been part of the turtles' adventures before. Since I'm not extremely well-versed with the deep cuts of Teenage Mutant Ninja Turtles, I'm not 100% sure who that ghost seen above is, but my best guess is that it might be Ho Chan, a martial arts expert from a couple thousand years ago who became a ghost sorcerer. The story unfolds in Chinatown, which is a New York setting that would make for the perfect meeting place for both sets of heroes. The storyline will affect both of the individual ongoing series for the Ghostbusters and Ninja Turtles, just like the previous crossover event.
Artists working on the comic include Pablo Tunica (Teenage Mutant Ninja Turtles Universe), Tadd Galusha (TMNT: Bebop & Rocksteady Destroy Everything), Mark Torres (Teenage Mutant Ninja Turtles), and C.P. Wilson III (Teenage Mutant Ninja Turtles/Ghostbusters).
The crossover event will last for five weeks and begins on November 1, 2017.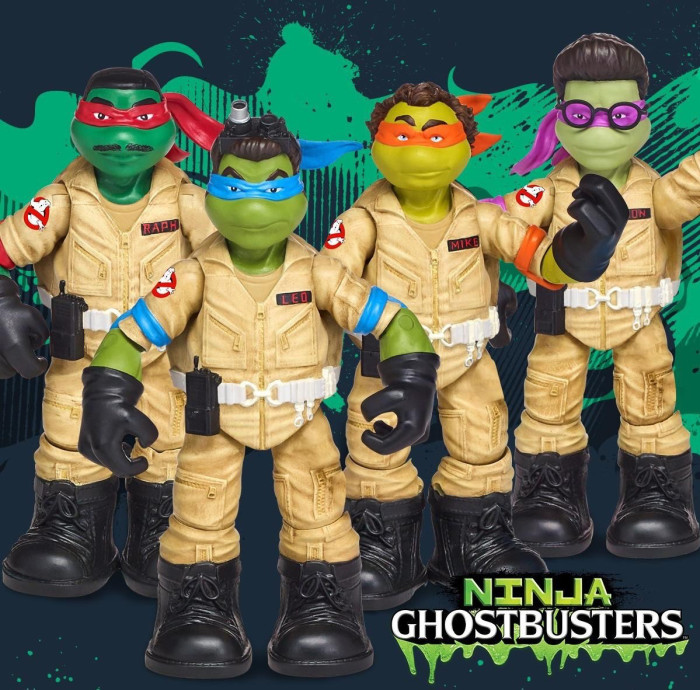 Ninja Ghostbusters Action Figures
Speaking of Ghostbusters and Teenage Mutant Ninja Turtles, there was one more treat announced during the IDW panel. The toy manufacturer Playmates was on hand to announce that they have a line of action figures featuring the Teenage Mutant Ninja Turtles decked out as Ghostbusters. Though I suppose the argument could be made that the Ghostbusters could have been turned into the Ninja Turtles, too.
The line is simply called Ninja Ghostbusters, and it will arrive exclusively in Target stores in November around the same time that the crossover comic hits shelves. As you can see, there's Donatello as Egon Spengler, Leonardo as Ray Stantz, Michelangelo as Peter Venkman, and Raphael as Winston Zeddemore. Check them out with all their accessories right here:
We'll have even more about Ghostbusters, including an interview with Ivan Reitman, very soon.