Now Stream This: A George Romero Classic, Christopher Nolan's First Great Movie, And More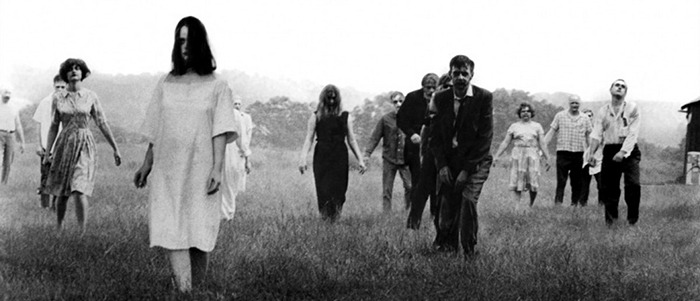 (Welcome to Now Stream This, a column dedicated to the best movies streaming on Netflix, Amazon, Hulu, and every other streaming service out there.)Put your I HEART STREAMING shirts on, it's time for another edition of Now Stream This, where I scour a plethora of streaming services in search of the perfect film for you to beam right into your living room. Did you know, according to a study I just made up, doctors recommend streaming at least 10 movies a week in order to live a long, happy life? Luckily, I have ten recommendations right here for you! You might say I just saved your life. You're welcome. In this installment, we have something from the late, great George Romero; a paranoid thriller; an American classic; a highly influential documentary; the film that put Christopher Nolan on the map, and more! Let's get streaming.
1. Night of the Living Dead
Now Streaming on Shudder
Horror fans were understandably saddened by the death of filmmaker George A. Romero. He didn't just advance the horror genre, he created a sub-genre of his own, one that still resonates to this day. It all started with Romero's 1968 classic Night of the Living Dead, which is streaming on Shudder. The story of a group of strangers trapped in a house while the walking dead surround them over the course of one hellish night, Romero's film was a low-budget wonder, becoming a massive, influential hit. Romero would go on to improve on the formula with Dawn of the Dead, yet time and countless clones have not lessened the original film's power.For fans of: Dawn of the Dead, Day of the Dead, zombies, depressing social commentary.
Now Streaming on Amazon Prime Video
Few filmmakers have had as spectacular an early career as Francis Ford Coppola. And while The Godfather series or Apocalypse Now may often vie for the top spot of Coppola's output, his true masterpiece might be the chilly, chilling 1974 thriller The Conversation. Gene Hackman is lonely, paranoid surveillance expert Harry Caul who gets wrapped-up in a job that may or may not lead to murder. With brilliant, immersive editing (and sound editing) courtesy of Walter Murch, The Conversation is one of the best films ever made. That may sound like hyperbole, but it's true. For fans of: All The President's Men, Blow Out, Blow Up, Gene Hackman's mustache.
Now Streaming on FilmStruck
If all you remember of Mike Nichols' The Graduate is the folksy soundtrack courtesy of Simon & Garfunkel or the famous "Mrs. Robinson, you're trying to seduce me," scene, it's time to revisit it and see there's so much more to the film. Dustin Hoffman is a directionless college grad who finds himself falling into an affair with family friend Mrs. Robinson (Anne Bancroft). The impeccable script by Buck Henry coupled with Nichols' ingenious direction make this one classic that lives-up to and even exceeds its stellar reputation.
Now Streaming on Amazon Prime Video
Dario Argento's gorgeous, creepy Suspiria is now streaming on Amazon Prime Video, so if you're one of the many people who've said "I always meant to watch that," here's your chance! Jessica Harper plays a dancer who begins to suspect there's something supernatural going on at the German ballet school she attends. She's right. Witches, bright red blood and a killer soundtrack from Italian prog rock band Goblin all come together to create an unforgettable assault on your senses.For fans of: Inferno, Tenebrae, Rosemary's Baby, an abundance of the color red.
Now Streaming on Netflix
Christopher Nolan's Dunkirk is currently raking in boffo box office, so why not go back to where it all started for the acclaimed filmmaker? Memento may not be Nolan's first film (that would be 1998's Following), but it is the film that kicked the door down for the director and set him on a course that would turn him into a household name. Unfolding in reverse, Memento features Guy Pearce as a man trying to find his wife's murderer. Complicating matters is the fact that Pearce suffers from short-term memory loss and is unable to form new memories in the process. It's a twisty, endlessly clever mystery filled with new details to pick up on every time you watch it.For fans of: The Prestige, Insomnia, Angel Heart, informative tattoos.
6. Rachel Getting Married
Streaming on Hulu August 1
Have we all finally gotten over the ridiculous, unnecessary Anne Hathaway hate? I sure hope so, because she's a wonderful actress. If you need more proof of this, look no further than Jonathan Demme's remarkable 2008 film Rachel Getting Married. Hathaway plays a troubled young woman with addiction problems who returns home for her sister's wedding, bringing all her emotional baggage along for the trip. This is an emotionally honest film that features on hell of a performance from Hathaway.For fans of: Postcards From the Edge, Margot at the Wedding, All The Real Girls, Anne Hathaway, the very talented actress who never deserved your irrational internet hate.
Now Streaming on FilmStruck
Errol Morris changed true crime documentaries forever with his engrossing 1988 doc The Thin Blue Line. Using interviews and artistic re-enactments, Morris delves into the story of a man on death row for killing a cop. There's a catch, though: the condemned man might be innocent. Stylish and enlightening, Morris' film has influenced true crime docs in film and on TV ever since. FilmStruck's Criterion Channel will have both the film itself and supplements, including an interview between Morris and filmmaker Joshua Oppenheimer.For fans of: The Fog of War, Paradise Lost, Imposter, people making direct eye-contact with the camera.
Now Streaming on Shudder
Writer-director Perry Blackshear crafts an unnerving, incredibly eerie piece of indie horror with his 2015 creepshow They Look Like People. Christian (Evan Dumouchel) invites his old friend Wyatt (MacLeod Andrews) to crash at his pad, and then begins to have second thoughts when he starts to suspect Wyatt might be unhinged. Wyatt believes there's a demonic invasion coming, slowly turning everyone around him into monsters. Is he out of his mind, or, even worse – is he right? Blackshear does so much with so little here, relying on shadows and mystery to make a truly unsettling film.For fans of: It Comes at Night, The Intervention, Resolution, getting the creeps.  
Streaming on Hulu August 1
Amy Heckerling took Jane Austen's Emma and turned it into one of the best teen comedies ever made and certainly one of the best films of the 90s. Clueless features Alicia Silverstsone as a rich Beverly Hills high school student who attempts to change the social status of a new student, with occasionally disastrous results. The 90s-isms may seem dated now, but that doesn't make Clueless any less of an enjoyable film. And it's further proof that Paul Rudd is some sort of ageless vampire.For fans of: Ten Things I Hate About You, Mean Girls, Emma, rollin' with the homies.  
Now Streaming on Netflix
With her debut film American Fable, Anne Hamilton announces herself as a filmmaker worth paying attention to. A work of magical realism, American Fable is a glimpse of a world through the eyes of a young girl (played wonderfully by Peyton Kennedy) coming to terms with the troubles of her family farm. Full of gorgeous, dreamy cinematography courtesy of Wyatt Garfield, American Fable is one of this year's most hidden gems.For fans of: Pan's Labyrinth, Beasts of the Southern Wild, Tree of Life, cornfields.