'Star Trek: Discovery': Doug Jones Explains His Character's Alien Origins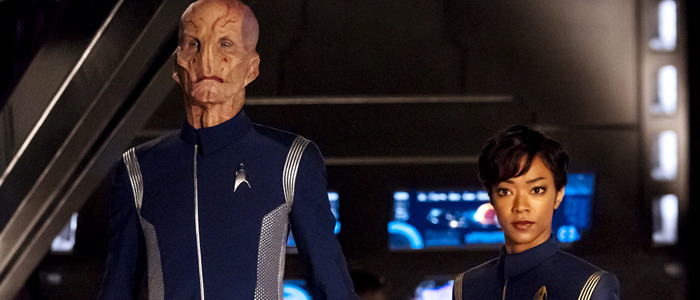 You probably know Doug Jones as the man who played Abe Sapien in Hellboy, the Faun and the Pale Man in Pan's Labyrinth, and the Silver Surfer in 2007's otherwise-forgettable Fantastic Four: Rise of the Silver Surfer. But very soon, you might know him best as Lieutenant Saru, a character on the upcoming CBS All Access drama Star Trek: Discovery.
In the show's first trailer, we saw that Jones' alien character was "biologically determined for one purpose alone: to sense the coming of death." Aside from that, we didn't know much about him. Now we know all about his alien character's origins, courtesy of a couple of new interviews. Find out the latest Doug Jones Star Trek Discovery info below.
Entertainment Weekly spoke with Aaron Harberts, Discovery's co-showrunner alongside Gretchen J. Berg, and Harberts revealed some more information about Jones' heretofore-mysterious character:
"What we can tell you that adds the context to that clip where he says he can sense the coming of death is that he comes from a planet where he's a 'prey species.' He's the first of his kind to make it to Starfleet."
Saru is a member of a species called the Kelpiens, and he lives on a planet on which a predator species has endangered the lives of he and his fellow Kelpiens. Because they're constantly in peril, Kelpiens have evolved to have heightened survival instincts. EW says that in the Trek universe, prey species like these are typically looked down upon as cowards in the Federation (which seems like a dick move coming from Federation members, so I guess that utopian society still has some work to do), but Saru "should not be underestimated." Hmm...
They also spoke with Jones himself about the character he plays:
"[Producers] said Saru is the Spock of the series, he's the Data of the series — and those are beloved characters that I always connect with whenever I would watch the past incarnations of Star Trek. On Falling Skies, I played an alien species who came to Earth to help the humans fight back the bad aliens who'd taken over, and I was intelligent, well-spoken, had a lot of answers and science-y smart. Saru is all of those things and then some."
I look forward to seeing what sort of dynamic he has with the rest of his crew. You can find out much more information about the plot of Discovery right here.
The first half of season one of Star Trek: Discovery premieres on September 24, 2017 on CBS, and subsequent episodes will be available on CBS All Access.