'Confederate': HBO Announces New Drama Series From 'Game Of Thrones' Showrunners David Benioff And D.B. Weiss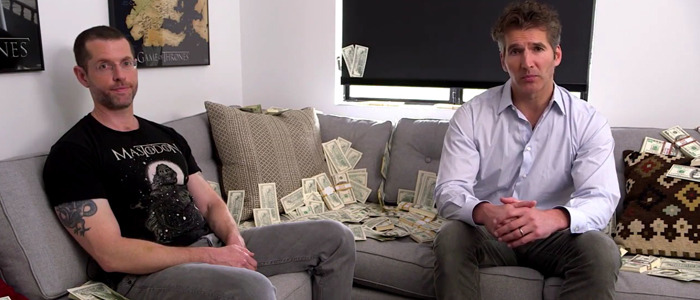 Game of Thrones just began its penultimate season, but with the eighth and final season looming, we've been wondering what showrunners David Benioff and D.B. Weiss would do after its over. Would they take on a larger role on one of the Thrones spin-offs currently in development? Maybe make the jump to feature films? Go into hibernation after pouring their hearts and souls into one of the most difficult adaptations in TV history?
Now we know the answer: HBO has announced that the pair will be running a new drama series called Confederate that takes place in an alternate history in which the United States is about to enter a third Civil War. Looks like Amazon's The Man in the High Castle will soon have some company in the "shows about historical events in an alternate timeline" category.
Unlike Game of Thrones, this won't be an adaptation: it's a completely original idea hatched by Benioff and Weiss. Here's the official description of the new series:
Confederate chronicles the events leading to the Third American Civil War. The series takes place in an alternate timeline, where the southern states have successfully seceded from the Union, giving rise to a nation in which slavery remains legal and has evolved into a modern institution. The story follows a broad swath of characters on both sides of the Mason-Dixon Demilitarized Zone – freedom fighters, slave hunters, politicians, abolitionists, journalists, the executives of a slave-holding conglomerate and the families of people in their thrall.
Will this show be #problematic?
The reaction to this news on Twitter has been...not great so far:
From the makers of GAME OF THRONES. This is a real thing. pic.twitter.com/fmo0g6rydo

— Matt Zoller Seitz (@mattzollerseitz) July 19, 2017
While Benioff and Weiss maybe haven't had the lightest touch when it comes to race on Game of Thrones, it's worth remembering that they're adapting beloved series of novels. Yes, they've made some decisions on their own that haven't exactly gone over very well (the "Mhysa" example above from Neil Miller is a perfect example), but I think the largely astonishing job they've done adapting material that is incredibly challenging has at least earned them a shot to tell a completely original story on their own terms.
Plus, while they will certainly be calling the shots as the showrunners here, they've also hired a diverse team of executive producers and writers, including Nichelle Tramble Spellman (Justified, The Good Wife), Malcolm Spellman (Empire), Carolyn Strauss (Game of Thrones), and Bernadette Caulfield (Game of Thrones, Big Love) – two of whom are black. So this isn't going to just be two white guys in a room writing about slavery here. Let's see if Benioff and Weiss learned anything from the controversies that have sprouted up during their Thrones run. The scope of this show certainly has me intrigued.
Our own Peter Sciretta also pointed out to me that there was a 2004 indie film called Confederate States of America that covered a similar topic. You can watch that trailer below:
"We have discussed Confederate for years, originally as a concept for a feature film," Benioff and Weiss said in a press release. "But our experience on 'Thrones' has convinced us that no one provides a bigger, better storytelling canvas than HBO. There won't be dragons or White Walkers in this series, but we are creating a world, and we couldn't imagine better partners in world-building than Nichelle and Malcolm, who have impressed us for a long time with their wit, their imagination and their Scrabble-playing skills."
Production starts after Game of Thrones' final season. What do you think?