Marvel's 'Inhumans' Trailer & Panel Recap: Too Much Leather, Not Enough Lockjaw [Comic-Con 2017]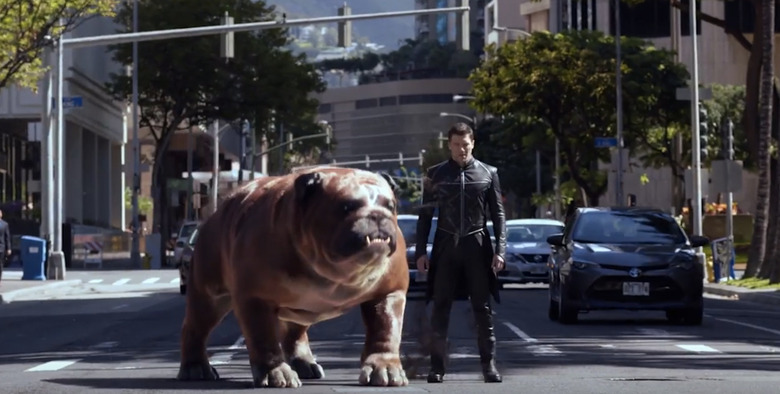 Marvel Studios is adding another television show to their line-up of programming that takes place inside the Marvel Cinematic Universe. But much like the ABC series Agents of SHIELD, it seems this show is going to have its own world to play it that is more tangential to the MCU rather than having any direct relationship to it.
Inhumans adapts the Marvel Comics title of the same name, focusing on a royal family of mutants enhanced individuals who harbor certain special abilities. But when they have their lives uprooted by a military coup, they take sanctuary in Hawaii, where they may find the key to saving the planet.
Marvel and ABC brought an Inhumans Comic-Con panel to San Diego where they discussed the show and revealed some new details about what fans can expect from the latest comic book series to take place in the MCU.
First up, here's the new San Diego Comic-Con trailer you might see playing with Dunkirk in IMAX theaters:
This is the best look that we've gotten at the display of powers from the entire roster of Inhumans who will be at the center of this new Marvel series. There's Anson Mount as Black Bolt the Inhuman king, threatening to use his destructive voice when challenged by Maximus (Iwan Rheon), his brother without any special abilities. We get to see Serinda Swan surrounded by Medusa's flowing, fiery red hair in motion as it grabs Maximus by the throat. That takes care of the royal family.
Surrounding them are other Inhumans like Gorgon (Eme Ikwuakor), who smashes the grounded with his powerful bull-like legs and hooves, creating a shockwave. Meanwhile, Ken Leung uses his fighting skills and his ability to see several outcomes to find the best course to winning a battle. There's also Triton (Mike Moh), who is strong and has amphibious features and abilities (including green skin), though we don't really see them executed well here. Isabelle Cornish plays Crystal, who communicates and controls the giant teleporting bulldog named Lockjaw, who doesn't get nearly enough screentime. Opposing them is also Sonya Balmores as Auran, who has superhuman strength as well, but doesn't show her parabolic hearing abilities in the trailer.
The trailer also gives us a much better idea of what Iwan Rheon is up to as Maximus, who is overthrowing his brother, the king. The only problem is that Maximus did not develop powers after going through his Terrigenesis (exposure to the Terrigen Mists that give Inhumans their powers), so he's still only human. Even so, he's doing what he think is best for his people, even though his methods of preserving their safety are a bit misguided and controversial. The only thing really keeping him safe is the fact that Black Bolt is his brother.
On top of that, the Inhumans panel showed three scenes which give us a good representation of the show.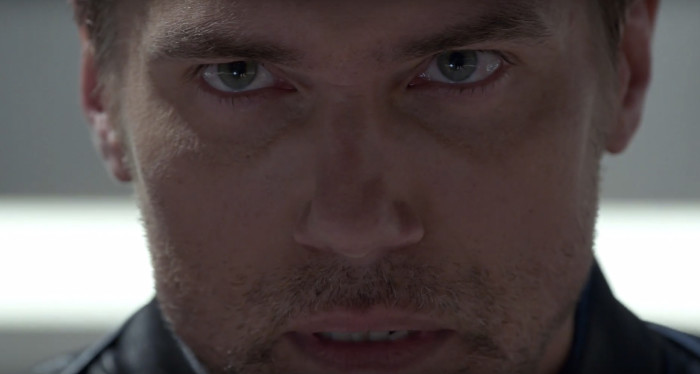 Dinner With Black Bolt
Despite the fact that Black Bolt gives his brother Maximus a certain amount of protection and leeway simply because he's family, that doesn't stop the latter from berating the Inhuman king during dinner about sending Triton (Mike Moh) on a mission to save an Inhuman girl who is just developing her abilities. Maximus thinks that it's a waste of resources to save those who can't save themselves while Black Bolt thinks they need to be protected so they have the opportunity to figure out who they are.
This is the core of the struggle within the royal family, but rather than being as compelling as something like Game of Thrones (which Iwan Rheon has plenty of experience with), it feels more like a melodramatic soap opera. There's just no power behind the drama, and it doesn't help that everyone looks ridiculous in their wardrobes. There's far too much leather involved in everyone's costumes...and there's no way that's comfortable in Hawaii.
Perhaps the coolest thing to come out of this scene is that we learn how Black Bolt communicates. Since he can't talk without killing everybody and destroying everything, he uses sign language to communicate while Medusa translates. Anson Mount explained during the panel that he developed his own signs to use as Black Bolt rather than just using straight-up American Sign Language, though he did consult with an ASL expert in order to make it more efficient and realistic.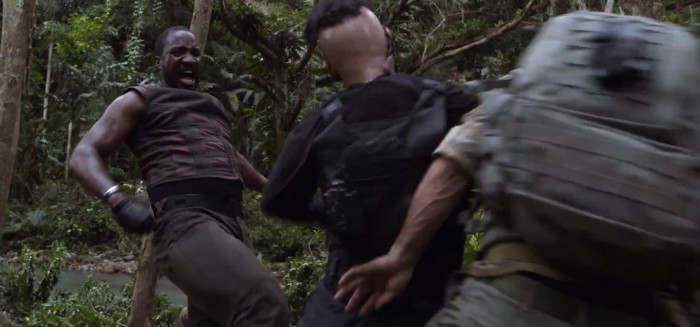 Inhumans in Action
Despite being a sequence that was meant to be a sort of showstopper, there's not much impressive footage to be seen. One clip shown happens later in the pilot episode after Maximus has already made some moves in an attempt to remove his brother Black Bolt from the Inhuman throne. This includes a coup using soldiers to take out his allies, which means Karnak and Gorgon are in trouble. Or are they?
When these automatic rifle-toting bad guys confront each of our Inhuman heroes, they're met with two different kinds of superpowers. One is brute strength from the powerful feet (and arms) of Gorgon. The other is the calculated, probability-figuring fighting from Karnak. As cool as those abilities sound, their execution isn't all that thrilling. The fight choreography feels clunky and the editing of the fight sequences has the same problem. Karnak's sequence is a little better than Gorgon's, if only because of some clever misdirection used to effectively illustrate his power, but it's still nothing to write home about.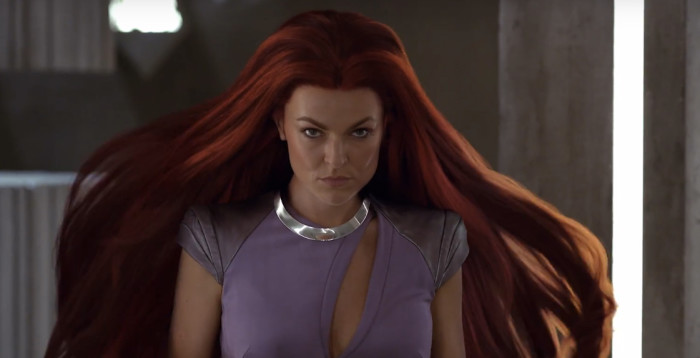 About Medusa's Wig
There have been a lot of complaints about the fiery red wig that Serinda Swan is donning as Medusa, especially since her hair is supposed to flow very elegantly and can be used as a weapon.. Marvel TV's Jeph Loeb even came out in a wig to joke about it and continued to make remarks about the negative fan reaction to the wig in jest.
What's strange is that the hair actually looks perfect when we see it animated in action. During a tense conversation with Maximus, the queen feels the need to make an aggressive defense by wrapping her hair around his throat. When her hair begins to move because of her heightened emotions, it looks natural and fantastic. But when it goes back to the practical wig, it looks abysmal. Too bad ABC doesn't have the money to spend on visual effects to make that look good all the time.
Final Thoughts
Inhumans doesn't look like anything special. The series feels like it's trying to have a compelling power struggle, but it doesn't come through in the performances seen in the footage from the pilot episode. It feels more in line with something like Hercules with Kevin Sorbo or Xena: Warrior Princess. Those shows have their fans for what they are, but one would have hoped that something a little less hokey would have come from Marvel Studios. Maybe the show just needs time to grow. We'll find out soon enough.
***
Inhumans stars Anson Mount as Black Bolt, Iwan Rheon as Maximus, Serinda Swan as Medusa, Eme Ikwuakor as Gorgon, Isabelle Cornish as Crystal, Ken Leung as Karnak, Ellen Woglom as an original character, a human named Louise, Sonya Balmores as Auran, and Mike Moh as Triton.
Marvel's Inhumans explores the never-before-told epic adventure of the royal family including Black Bolt, the enigmatic, commanding King of the Inhumans, with a voice so powerful that the slightest whisper can destroy a city. After the Royal Family of Inhumans is splintered by a military coup, they barely escape to Hawaii where their surprising interactions with the lush world and humanity around them may prove to not only save them, but Earth itself.
The series is executive produced by Scott Buck, along with Marvel's Jeph Loeb and Jim Chory with Buck serving as showrunner. Roel Reiné will direct the first two episodes. This series is a Marvel and IMAX project and is co-produced by Marvel Television and ABC Studios.
The legendary comic book series will be brought to life in a way that has never been done before, as a version of the first two episodes of Marvel's Inhumans will be shown globally in IMAX theaters for a two-week period beginning September 1, 2017. ABC will then air the entirety of the series on the network beginning on September 29, 2017.