'Maze Runner: The Death Cure' Trailer: Dylan O'Brien Goes To War With WCKD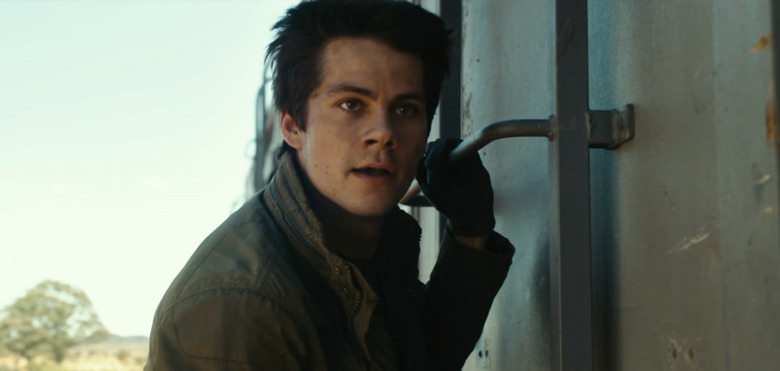 Fans have been patiently waiting to see the concluding chapter of the Maze Runner trilogy after Dylan O'Brien was injured during a stunt gone wrong while the film was shooting in 2016. Originally set for release earlier this year, Maze Runner: The Death Cure is now coming to theaters in February of 2018, and the first trailer has just been unleashed.
At the end of Maze Runner: Scorch Trials, Thomas (Dylan O'Brien) was preparing to take the fight to WCKD to rescue Minho, kill Dr. Ava Paige (Patricia Clarkson), and bring the rebel group The Right Arm and the rest of his fellow Gladers with him. The first Maze Runner The Death Cure trailer, which debuted during the finale of Teen Wolf on MTV, shows us that Thomas isn't screwing around anymore.
It's a quick teaser that fills some time by showing us some key moments from the first two installments of the Maze Runner franchise before getting into the action of the third. However, the glimpses of the sequel shown in the teaser don't give us much to sink our teeth into. Clearly Thomas is on a mission to rescue his friends and defy WCKD's misguided agenda, but otherwise, we're just given hints of confrontations and large scale action sequences (including possibly the one that injured Dylan O'Brien during the initial production).
We've got plenty of time to see more footage from the concluding chapter of this young adult franchise since it doesn't arrive until early next year, but if you want to see more from Maze Runner: The Death Cure, check out this featurette right here.
Maze Runner: The Death Cure is directed by franchise helmer Wes Ball and also features Kaya Scodelario, Ki Hong, Thomas Brodie-Sangster, Giancarlo Esposito, Aidan Gillen, Barry Pepper, and it sounds like Will Poulter will be coming back for the concluding chapter of this trilogy as well.
Here's the official synopsis of the novel for those curious:
In the epic finale to the Maze Runner saga, Thomas leads his group of escaped Gladers on their final and most dangerous mission yet. To save their friends, they must break into the legendary Last City, a WCKD-controlled labyrinth that may turn out to be the deadliest maze of all. Anyone who makes it out alive will get answers to the questions the Gladers have been asking since they first arrived in the maze.
The final chapter of the trilogy hits theaters on February 9, 2018.