Steven Soderbergh Has Already Shot Another Movie – Using An iPhone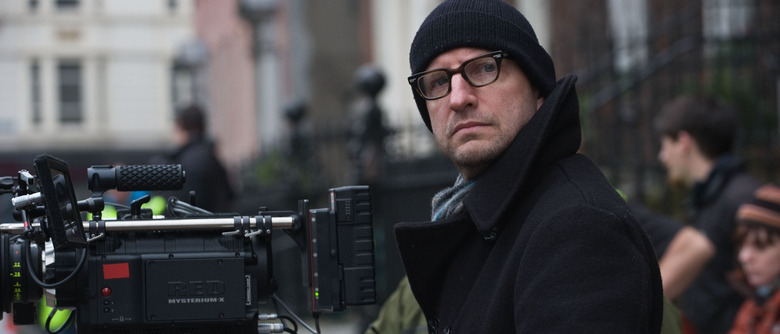 Next month, after a four-year absence from filmmaking, it's time to praise the heavens because Steven Soderbergh has another movie coming to theaters, Logan Lucky. It looks like we might not have to wait long for his follow-up to the new heist movie, either. Soderbergh has already shot another movie, titled Unsane, on an iPhone.
Below, learn more about the Steven Soderbergh iPhone movie.
According to Variety, Unsane stars Juno Temple (Vinyl) and Claire Foy (The Crown). Zero is known about the plot. Only his two stars and the fact he shot the movie on an iPhone have come to light. The director has always gravitated towards trying new things and new genres, so making a movie on an iPhone almost seems like a logical step for him. Soderbergh recently gave this advice to aspiring filmmakers in a reddit Q & A: "get a script and an iPhone and start shooting. Seriously." He knows from experience that this works, and it also worked great for Sean Baker's 2015 movie Tangerine, which was famously shot using that technology.
The Tracking Board's insiders tell them Soderbergh plans to self-distribute through his banner, Fingerprint Releasing, which is handling the wide release of Logan Lucky. Soderbergh, who was frustrated by the cost of releasing a studio movie, explained how he's found a cheaper way to do it: "sell the foreign [rights] to cover the cost of the [film] negative" and "sell the non-theatrical rights to cover the cost of the [prints and advertising], and that's it." It's a simple model, as he explained to EW, and a way for filmmakers like himself to get different movies out in the world without costing an arm and a leg to market.
He also told EW how the experience of his recently canceled (and excellent) Cinemax series, The Knick, inspired him to keep working behind the camera:
First, I was not going to be directing at all and just really take a sabbatical. Right as we were going to Cannes with Behind the Candelabra, which was in my mind going to be the official start of my enforced vacation, I got the script for The Knick. So I went from not doing anything and exploring my future as a painter to starting to shoot a ten-hour television show in four months. The Knick scared me. We had to shoot 600 pages in 73 days. I've worked on some films with pretty aggressive schedules. This was on another order of magnitude, and I was terrified. This was something that was keeping me up at nights, wondering if this was really too big a reach. About a week in, I realized that there was a rhythm that was actually really exhilarating to be had and we were going to make it. I was sitting there on set, realizing that this is the job that I should be doing. This is my job. I should be directing stuff. Nobody's waiting around for my paintings. So I kind of flipped a switch. I got reconnected with what I like about the job. For a while, I was just very, very happy to be working in that form. I loved working with a ten-hour canvas. It was really fun, and I wasn't really thinking about movies... until this script came in over the transom. If it hadn't, I think everything would be TV oriented.
Soderbergh has a few TV projects in the works at the moment. He's producing Scott Frank's Netflix series, Godless, and Starz's The Girlfriend Experience. Soderbergh also worked with HBO again on a TV movie, Mosaic, which he directed; that stars Sharon Stone. Like Unsane, few details have been shared about the project, but all we really need to know to get excited is it's from Steven Soderbergh.