'Boo 2! A Madea Halloween' Trailer: Probably A Lot Like The First One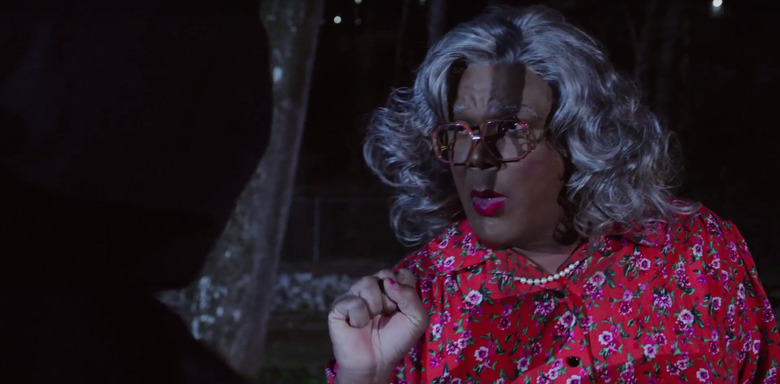 Madea will never die. The fact that this is the second (!) Halloween-themed Madea movie is only proof that she is an invincible demon sworn to re-emerge every year with a new movie that has somehow been made in only a few months.
The Boo 2! A Madea Halloween trailer that you've definitely been waiting for is here to remind you that even though it's still July, people are going to start busting out the Halloween pumpkin decorations soon.
The teaser trailer starts with a series of horror tropes: the chases in the woods, the scary dolls, the cursed videos — all things that go bump in the night. But the scariest thing of all is the fact that this is a sequel to a film that only came out just last year.
Madea barges in with her usual brashness to run over a grim reaper with her car, there are shenanigans, broad laughter and parties, and I don't know, a joke about Madea's grating voice. The one thing I'm surprised about is that there aren't any Get Out jokes — but maybe they're saving that comedy gold for the actual film.
Here's the official synopsis for Boo 2! A Madea Halloween:
"Madea and the gang are back for this hilarious sequel. Madea, Bam and Hattie venture to a haunted campground and the group must literally run for their lives when monsters, goblins and the bogeyman are unleashed."
I'll admit that I have not seen a single Madea movie. I know it has its audience, but that audience is not me. I know Tyler Perry is a successful figure who has to feed his family, but I honestly thought he was done with the Madea franchise for now and was moving on to becoming a "serious actor" or something. That's not to brush aside his successes, he's certainly been able to use his earnings from the low-brow Madea movies to fund movies that give black actors roles they would never be able to get in Hollywood: Precious, I Can Do Bad All By Myself, The Single Moms Club. I can admire his achievements, but still groan over the fact that there's another Madea movie.
Boo 2! A Madea Halloween stars Cassi Davis, Patrice Lovely, Yousef Erakat, Lexy Panterra, Andre Hall, Diamond White, Brock O'Hurn, Tito Ortiz, and Tyler Perry. It hits theaters October 20, 2017.