'Blade Runner 2049' Footage Reaction: A Telling Scene About Officer K [Comic-Con 2017]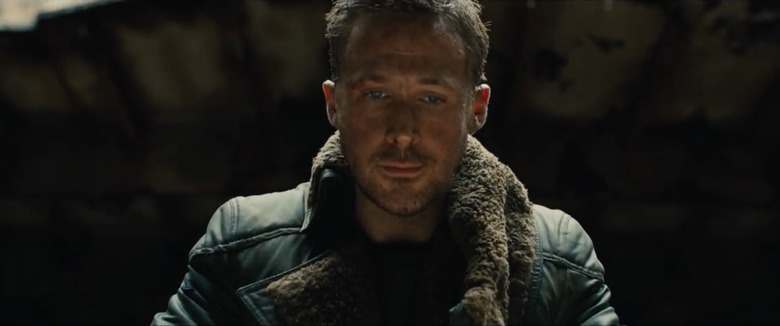 If we must return to the world of Blade Runner, a journey back with director Denis Villeneuve (Arrival) and cinematographer Roger Deakins sounds like a trip worth taking. Based on the trailers, their vision of 2049 Los Angeles is every bit as gorgeous and as bleak as we'd hope. The clip shown at Comic-Con didn't take Hall H to the streets or skies of LA; it was an exchange between Officer K (Ryan Gosling) and a replicant (Sylvia Hoeks) working with Neander Wallace (Jared Leto).
Below, check out our Blade Runner 2049 Comic-Con reaction.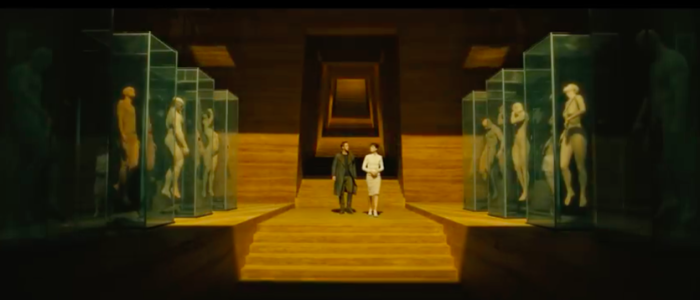 During the panel, conversation about the film mostly revolved around the pressure and surreality around making a Blade Runner sequel all these years later. "I didn't want somebody else to fuck it up," Villeneuve said, when asked why he wanted to direct the sci-fi film. "It's one of my favorite movies of all time. I grew up with this movie. It's a part of the birth and desire to be a filmmaker. I couldn't say no." He's reimagining one of the most influential visions of the future with his sequel, which features a new model of replicant.
In 2019, Deckard escaped. In 2020, a new model of replicant was born. By 2033, there was the replicant prohibition with the droids going into hiding. It's Neander Wallace, who solved the hunger crisis at the age 24, who reapealed the prohibition and started creating more replicants – which are a lot easier to detect in this future. "Ancient models give the entire endeavor a bad name," the replicant – who'll later chase after K and Rick Deckard (Harrison Ford) - says of the old models.
In the clip, she's leading K around the facility in the above photo. She praises Wallace and their work. "A gift from Wallace to the world," she says of his new replicants. K, not showing much emotion, listens carefully. He doesn't do much talking in the clip. The replicant grabs one of the many memory orbs – a little ball – from the Tyrell archives. In the memory, Deckard is performing the Turing test on Rachel (Sean Young). K's only observation is that she seems to like him. Although he doesn't say much, it's obvious he's a good detective. It's also telling when the replicant asks whether K enjoys his work he doesn't answer. He was more interested in speaking with Neander.
There was one low-angle shot, in particular, of the replicant I thought was stunning. Whether it's characters walking into a room or watching Rachel's eye on a screen, Villeneuve and cinematographer Roger Deakins make it cinematic. The shot of the replicant was so simple but eerie and beautiful.
It isn't the typical, action-heavy clips we're used to seeing at Comic-Con. The mood and pace of the clip evoked Ridley Scott's film. There's a definite Blade Runner vibe. When we spoke with Villeneuve at a roundtable, he mentioned he was a big fan of the original's pacing and wanted to remain faithful to it. The filmmaker and cast thankfully didn't reveal much during the panel, but here are a few fine quotes from Harrison Ford:
"The original film explored the ethics of the creation of replicants and their utility. We further develop those themes in the story. But I'm not going to tell you anything about it."
"We had a really good script, based on a really good idea. It deepened the understanding of my character. Very strong, emotional relationships to other characters in the film. When I read the script, I felt it had great depth."
Asked whether he felt the sequel answered unanswered questions about Deckard, Ford replied: "It doesn't matter what I think." When asked if it was his grand plan is to revive his old franchise characters, he answered: "You bet your ass it is."
In the sequel, life on earth has reached its limits. There are two classes in this future: replicants and humans. Rachel's fate in this future is unknown, but as Deckard said, "Sometimes to love someone you gotta be a stranger." Officer K searches for the Blade Runner as the world is on the brink of falling apart. Ridley Scott returned to produce the sequel, while another key player from the 1982 sci-fi classic, screenwriter Hampton Fancher, co-wrote the script with Michael Green. Scott told Villeneuve he'd be there if he was needed at any time, but he wanted the Arrival and Sicario director to make the movie he envisioned.
Blade Runner 2049 opens in theaters October 6.