'Unlocked' Trailer: Noomi Rapace And Orlando Bloom Are On The Run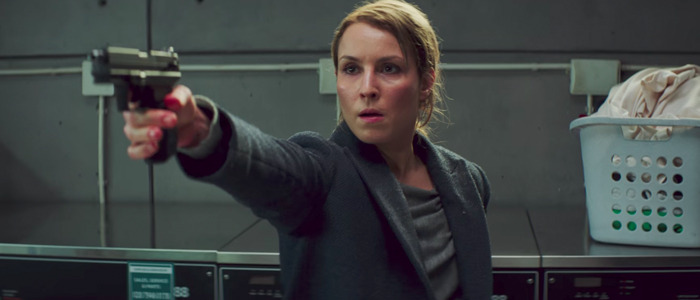 It's been a long time since the original Bourne trilogy, and terrorism thrillers – even last year's continuation of that franchise, Jason Bourne – don't have quite the same appeal that they used to. I don't know if it's because we're too far from the events of September 11, 2001, or if these movies can sometimes feel too fresh because we're sadly never far enough from the latest devastating attack somewhere in the world, but a low-level B-movie about preventing a terrorist attack doesn't feel like the norm anymore. And it feels especially weird when when a movie like that, in this case a film called Unlocked, is directed by an acclaimed documentary filmmaker like Michael Apted (the Up series).
Unlocked trailer
In addition to an impressive selection of documentaries, Apted's resume is full of strange blips from all over the filmmaking landscape, including a James Bond movie (The World is Not Enough) and a big family adventure sequel (The Chronicles of Narnia: Voyage of the Dawn Treader) to a Jennifer Lopez revenge film (Enough) and the Oscar-nominated Gorillas in the Mist, just to name a scant few.
As Jacob noted in his write-up of the film's first trailer, Unlocked looks like something that would have come out around 2004, but I'll give screenwriter Peter O'Brien credit where it's due: I watch a lot of action movies, and I've never seen a scene in which an interrogator is interrupted by her bosses requesting the interrogation that she's currently doing, prompting the realization that the mission has been compromised. That's pretty slick. And a cast that includes Noomi Rapace, Orlando Bloom, John Malkovich, Toni Collette, and Michael Douglas certainly won't hurt this movie's watchability...as long as it can convince people to give it a try in the first place.
What do you think? Do you plan on checking this out?
After failing to apprehend the terrorist behind a Paris attack that claimed dozens of lives, CIA agent Alice Racine (Noomi Rapace) is forced to live in London as a caseworker. Unexpectedly, she is called back into action by her mentor, Eric Lasch (Michael Douglas), when the CIA discovers intel of another imminent attack. While "unlocking" the suspect, Alice discovers that the classified information she has uncovered has been compromised. Running for her life, Alice turns to ex-soldier Jack (Orlando Bloom) to prevent a lethal biological attack on the citizens of London.
Unlocked hits theaters and On Demand platforms on September 1, 2017.