'Dunkirk' Review Round-Up: A Stirring Spectacle That Is One Of The Year's Best Films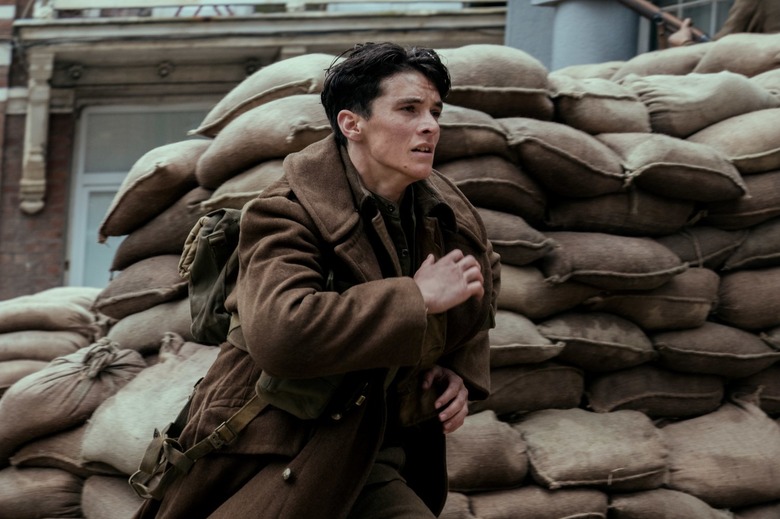 Dunkirk seemed like a strange choice for Christopher Nolan's next feature, since he's a director known for his abstract sci-fi features and clever plot twists. Box office predictors and audiences didn't know what to make of the war epic about a relatively obscure (to American audiences) World War II evacuation, with some estimating that it would be his lowest-grossing movie in years.
But if the reviews are anything to go by, Dunkirk may be Nolan's most stunning achievement yet. Dunkirk is being met by some of the most enthusiastic praise of Nolan's career — and indeed, many critics are calling it the filmmaker's best movie so far.
Check out what critics are saying in our Dunkirk review round-up.
The Hollywood Reporter's Todd McCarthy calls Dunkirk "an impressionist masterpiece," praising the film's sparse dialogue:
"All of Nolan's films are intensely visual, but it's fair to say that Dunkirk is especially so, given the sparseness, and strict functionality, of the dialogue. This is not a war film of inspirational speeches, digressions about loved ones back home or hopes for the future. No, it's all about the here and now and matters at hand under conditions that demand both endless waiting and split-second responses. Hardy probably has a half-dozen lines in the whole picture and, given his mask, does most of his acting with his eyes, something at which he's become very good indeed. Quite properly, though, no one stands out in the large cast; as required, everyone just does his job."
Indiewire's David Ehrlich praised Nolan's command of visual storytelling.
"Few movies have so palpably conveyed the sheer isolation of fear, and the extent to which history is often made by people who are just trying to survive it — few movies have so vividly illustrated that one man can only do as much for his country as a country can do for one of its men. But Nolan, by stressing that grim truth to its breaking point, returns from the fray with a commanding testament to a simple idea: We may die alone, but we live together."
Variety says:
"On one hand, [Nolan] has delivered all the spectacle of a big-screen tentpole, ratcheting up both the tension and heroism through his intricate and occasionally overwhelming sound design, which blends a nearly omnipresent ticking stopwatch with Hans Zimmer's bombastic score — not so much music as atmospheric noise, so bassy you can feel it rattling your vertebrae. But at the same time, he's found a way to harness that technique in service of a kind of heightened reality, one that feels more immersive and immediate than whatever concerns we check at the door when entering the cinema. This is what audiences want from a Nolan movie, of course, as a master of the fantastic leaves his mark on historical events for the first time."
USA Today criticized the film for its lack of racial and gender diversity, a problem that Nolan has frequently faced in his films, but still said, "Nolan's feat is undeniable."
"It's less a movie and more a close encounter of the combative kind: You feel every bolt rattle in the cockpit of a dogfighting Spitfire, every stressful moment with the choice of drowning or surfacing in an oil fire, and every thought of certain doom for the infantrymen trapped on a beach when a bomb comes whizzing out of the sky."
The Guardian's Peter Bradshaw called Dunkirk Nolan's best film yet:
"Nolan's Dunkirk has that kind of blazing big-screen certainty that I last saw in James Cameron's Titanic or Paul Greengrass's United 93. It is very different to his previous feature, the bafflingly overhyped sci-fi convolution Interstellar. This is a powerful, superbly crafted film with a story to tell, avoiding war porn in favour of something desolate and apocalyptic, a beachscape of shame, littered with soldiers zombified with defeat, a grimly male world with hardly any women on screen."
Peter Travers at Rolling Stone called it a "stone-cold masterpiece" that encapsulates the importance of the event:
"Nolan's film is, above all, a celebration of communal heroism – the "Dunkirk spirit" that enabled these soldiers, despite heavy casualties, to fight another day. As the new British Prime Minister Winston Churchill would later say, "Wars are not won on evacuations." Had Hitler pursued the fight on the beaches and forced a surrender, we'd all be living a real version of The Man in the High Castle.
So it's impossible to overstate the importance of this battle, especially to the people of Great Britain. To outsiders, especially here in Trump's America, the significance might be lost – or even be counted as a spoiler. Nolan has changed all that with a film that speaks to soldiers and noncombatants working together to forge a bond out of suffering. Though the film is alive with action and Hitchcock-level suspense, the intimate moments are just as shattering. In contrast to the R-rated savagery of the Normandy invasion in Spielberg's Saving Private Ryan, the filmmaker takes a PG-13 approach that writes its story of the faces of those in the thick of it."
Empire calls Dunkirk a "spare, propulsive, ever-intensifying combat thriller":
"[A]ll of the arcs are effectively underplayed, with muted performances, no big speeches and, in the case of Tommy, the terrified audience surrogate, almost no talking at all. It could be argued the characters are too thin, but at least there's none of the melodrama of, say, Titanic or Pearl Harbor, two other epics based on real-life disasters. If anything, Dunkirk hews towards the arthouse, with the melancholy, spume-flecked tableaux it lingers on beautifully photographed by Interstellar DP Hoyte Van Hoytema."
Other than War for the Planet of the Apes, this is probably the most universally praised blockbuster I've seen this summer. Although some critics do point out the lack of diversity in the film (which admittedly makes sense since Dunkirk concerns solely the Allied soldiers who are being evacuated) and the thin character development, they are almost unanimous in their reviews of Nolan's latest movie.
It's especially exciting that multiple reviews are calling the film a career-best for Nolan, who has consistently proven himself to be one of the most reliable original filmmakers today. It would be no wonder if Dunkirk proves to be one of the best movies of the summer, if not the year.
Dunkirk is written and directed by Nolan, and stars Mark Rylance, Kenneth Branagh, Tom Hardy, Cillian Murphy, Fionn Whitehead, Harry Styles, and James D'Arcy. It hits theaters July 20.