Warner Bros. Adds Two Mystery DC Films To Their Schedule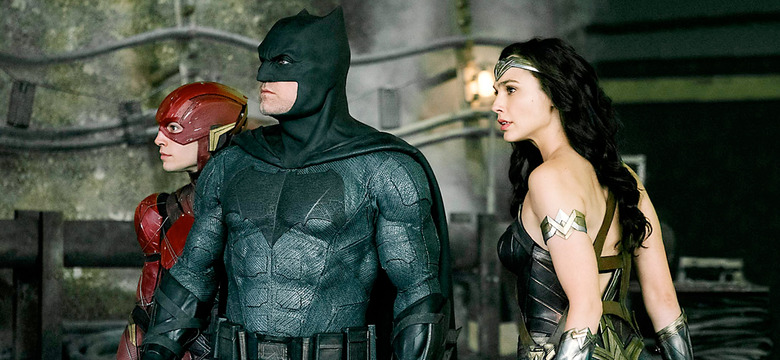 Warner Bros. has played things a little closer to the chest with their DC Films slate lately, only confirming the release dates for this November's Justice League and 2018's Aquaman. Even with the stunning success of Wonder Woman at the box office this summer, the studio has been cautious about announcing a release date for its sequel, presumably waiting until a deal with director Patty Jenkins has solidified.
But an update to the Warner Bros. Pictures release calendar reveals two mystery DC Comics movies have been added to the schedule for 2020. Perhaps we won't have to wait until San Diego Comic-Con to find out when we're getting Wonder Woman 2.
On Monday, Warner Bros. updated their release calendar to add two different DC Films to the slate for 2020, according to ComingSoon.net. The first new DC Extended Universe movie is set for Valentine's Day (February 14, 2020), and the second is set for June 5, 2020.
The Warner Bros. calendar also added an untitled animated film set for June 1, 2018 and an untitled event film set to hit theaters on December 13, 2019.
So what films could get the 2020 release dates?
DC Films, which recently saw DC Comics' Geoff Johns and Warner Bros.' Jon Berg take over, currently have several solo and team-up films in development — some of which were initially given release dates that have since been pushed back or have been given a vague year with a resounding shrug. Shazam, starring Dwayne Johnson as the anti-hero Black Adam, has yet to officially announce a titular star or director, (though David Sandberg was reportedly in talks); that movie is aiming to hit theaters in April 2019. The Flash, which has gone through such a large revolving door of directors that I wonder if it'll ever get made, was also recently given a general 2019 release date. Meanwhile, The Batman looks to finally be getting on its feet after losing director Ben Affleck and his script, with Matt Reeves enthusiastically stepping in. Meanwhile, I have no idea what's going on with the Cyborg film.
Other projects in development include a Joss Whedon Batgirl movie, David Ayer's Gotham City Sirens, Chris McKay's Nightwing movie, and sequels to Wonder Woman, Man of Steel, and Justice League.
Justice League hits theaters November 17. Aquaman hits theaters December 21, 2018.
DC Films has some self-reflecting to do after the critical thrashing they received for all their superhero films except for Wonder Woman and Man of Steel — still, 2 for 4 isn't a good sign. After the runaway critical and commercial success of Wonder Woman, I believe DC Films will take note from the optimistic and colorful tone of the film and do some massive restructuring of their slate. That explains the lack of release dates after Aquaman, and the completely empty 2019 slate for DC Films. I don't think Warner Bros. will leave 2019 completely empty of DC Films – the embattled The Flash will likely shoot for that year, and perhaps even The Batman if Reeves can settle in quickly.
As for those 2020 dates, perhaps Wonder Woman 2 could be set for one of them — with official confirmation this coming weekend at Comic-Con. If The Batman can't aim for 2019, it might end up with that other 2020 slot. The Justice League sequel is also a possibility.
What movies do you think the dates could be for?