'The Disaster Artist' Trailer: James Franco Plays The Guy Who Made The Worst Movie Ever Made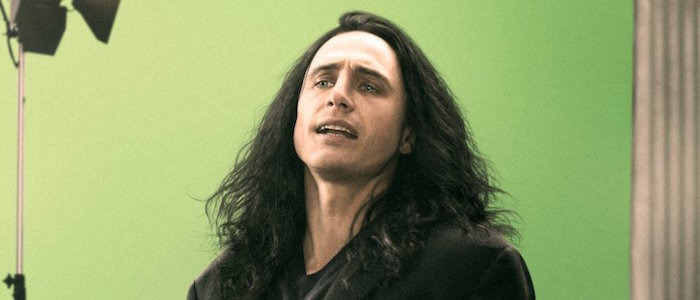 I remain curious to see if regular audiences will flock to see a movie about the making of a film so bad it has earned a strong cult following over the years. But I can tell you this much: The Disaster Artist is hysterical and weirdly moving and not the movie you think it is. James Franco's heartfelt and deranged comedy about bromance, jealousy, and seriously ill-considered filmmaking decisions is one of the most entertaining movies I've seen in 2017.
And now, the first The Disaster Artist trailer is here to sell this movie to everyone else.
I was able to see The Disaster Artist at the SXSW Film Festival earlier this year and I was pretty much bowled over by it. Expectations may have played a role – I was expecting an "ironic" look at the making of The Room and its eccentric director/writer/star Tommy Wiseau. Instead, Franco (who directs and stars as Wiseau) delivered a companion piece to Tim Burton's great Ed Wood: a touching tribute to a bad movie and an ode to abject failure made by people who love that bad movie with all of their hearts and understand how it feels to get knocked down and struggle to get back up again. The Disaster Artist is a lovely movie and that's the last thing I was expecting.
Based on the book by The Room actor Greg Sestero, The Disaster Artist chronicles the steps leading up to the making of the film and the chaotic production itself. The film delights in Wiseau's various inscrutable choices and deranged outbursts, but it never treats him as a joke. He's just as sad as he is funny. As Sestero, Dave Franco provides a (mostly) balanced foil for his brother's Wiseau, but it's Seth Rogen as Sandy Schklair, the endlessly bemused script supervisor, who nearly walks away with the movie. In fact, Rogen is one of many comedic actors called in to play it straight against James Franco's Wiseau. Their deadpan speaks volumes.
The version of the film screened at SXSW was labeled a "work in progress" cut, so it's entirely possible that the version that opens later this year will undergo changes. However, the film I saw felt almost entirely complete – if there were problems to be fixed or rough spots to be massaged, they were not immediately recognizable. And most importantly, numerous friends who were entirely unfamiliar with The Room had a great time with the movie. If A24 sells this right, they could have a big winner on their hands.
The Disaster Artist opens in limited release on December 1, 2017 before opening wide on December 8, 2017.