Luc Besson Is Already Writing 'Valerian 3', And Why The First Film Can't Bomb This Weekend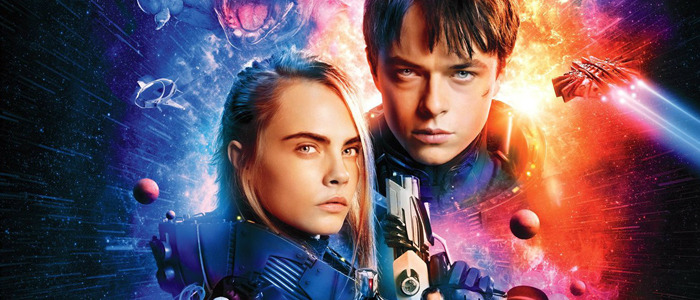 French filmmaker Luc Besson (The Fifth Element) has Valerian and the City of a Thousand Planets coming out this week, but he's already hard at work writing the script for Valerian 3. What's that, now? Oh, Valerian 2? Pssh, that script is already done. Who do you think you're dealing with, here? This is Besson, baby! He finished that sucker a month ago, got bored in the interim, and started crafting yet another sequel.
While he may or may not ever get to make those films, Besson is secure in the knowledge that the first Valerian movie can't bomb because of the way he and his wife, producer Virginie Besson-Silla, raised the financing for it. Or, perhaps more accurately, he knows that even if the first film becomes a notorious flop, he's not in danger of being locked in director's jail because of it.
Speaking with Nerdist, the writer/director revealed that he's well underway on the script for Valerian 3:
"I finished the number 2 already and I'm writing the number 3. I don't know if we will do it, because it's not up to me. It's up to the audience if they like it. But my friends all said, 'Why are you writing the second one? You don't even know if you're going to do it.' [And I said] 'I don't care. It's fine. [laughs] I'm just happy to write it. I'm enjoying writing it. I don't even wait. I'm just writing for myself. So I finished the [sequel] already, and I got bored a month ago, so I said, 'Let's write the third.'"
The first Valerian has been a passion project of Besson's for his entire life, so it's not surprising that he's not ready to let it go after only making one movie in that world. The film has earned some mixed reviews so far, with everyone praising its dynamic 3D visuals but many dinging it for a formulaic story.
And in a profile of the director over at Wired, the piece's author has a great explanation of the methods of financing for the first Valerian. It basically boils down to the old Cannon Films model of pre-selling international distribution rights beforehand and raising money from a myriad of different sources, including private investors, in order to minimize the risk for any one company that's involved. If Paramount, for example, put up $180 million of its own money for this movie and it tanks, there's a good chance Besson wouldn't be working there (or maybe anywhere else in Hollywood) again for a while. But since they got creative with the financing, it allowed them to make the movie they wanted to make without dealing with studio notes; plus, thanks to those pre-sales, they've already made a considerable percentage of the budget back before the movie even opens (Besson said they raised $80 million in a single day).
Are you planning to go see Valerian this weekend? Are you intrigued at the idea of the director returning to that colorful cinematic world for more adventures?
Valerian and the City of a Thousand Planets hits theaters this Friday, July 21, 2017.