Ron Howard May Have Shown Us Chewbacca's Wife In A Behind The Scenes 'Han Solo' Movie Photo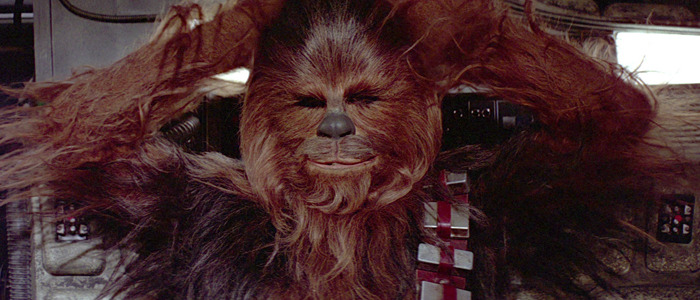 Production of Lucasfilm's somehow-still-untitled Han Solo movie rages on with the departure of original directors Phil Lord and Chris Miller still fresh on everyone's mind, but filmmaker Ron Howard (Apollo 13, A Beautiful Mind) has come on board to captain the ship and lead the movie across the finish line.
And even though he's only been working on the film for a short time, he's already generating some chatter among Star Wars fans. Early this morning, Howard shared a behind-the-scenes photo from the film's set, and that photo may have revealed that Chewbacca's wife appears in the upcoming movie. Let's take a closer look.
Here's the photo Howard shared on Twitter:
#Chewie checking the shot. #UntitledHanSoloMovie pic.twitter.com/Ia3ZT5Bv5h

— Ron Howard (@RealRonHoward) July 17, 2017
That's actor Joonas Suotamo in costume as Chewbacca, watching a scene play back on a monitor in the production's video village. But...what's that? Enhance: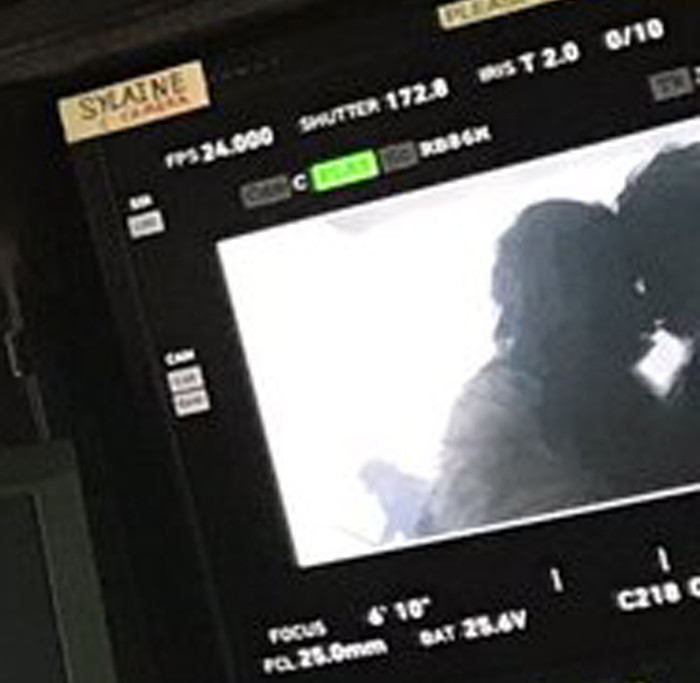 StarWarsNewsNet points out that the characters on that monitor look an awful lot like two Wookiees (with possibly a third in the background), and considering Suotamo is looking over the footage, it's a good bet he's one of them. And considering that Chewie appears to be in the midst of a tender embrace with another Wookiee, there's a good chance that's Chewbacca's wife.
Who is Chewie's wife?
According to Wookieepedia, Chewbacca met a female Wookiee named Mallatobuck, aka Malla, when he was around 100 years old (that's young for a Wookiee). Chewie was eventually forced into an honor duel with another suitor for Malla's hand in marriage, where he bested his opponent despite the opponent's attempt to cheat during the fight. Malla, described by Han Solo as intelligent and with hair resembling silk, was originally created for the infamous 1978 Star Wars Holiday Special that aired on television, but that project was never considered official canon by Lucasfilm. Since then, though, she's been mentioned in canonical novels like Alexandra Bracken's A New Hope: The Princess, the Scoundrel, and the Farm Boy and Chuck Wendig's Aftermath: Empire's End.
How could Malla factor in to the Han Solo movie?
Chewie's had a heck of a life that we haven't seen on screen. Before he met Han Solo, the Wookiee was enslaved by Trandoshan slavers and led an uprising against his captors, which led him to become something of a freedom fighter for captured Wookiees across the galaxy. During one instance of him attempting to free some of his people, he was enslaved again, and his master would have whipped him to death if Han Solo didn't step in to save him. This established that Chewie owed Solo a life debt, so he became Solo's smuggling partner. I'm guessing this shot takes place after Solo has saved Chewie's life, and depicts a tearful farewell between Chewie and Malla as Chewie heads off with Han. Or this could be completely changed, as the original Expanded Universe is being quickly rewritten by these new movies.
Despite its setbacks, Lucasfilm's Han Solo movie is still slated to hit theaters on May 25, 2018.