'Doctor Who' Casts Jodie Whittaker As The First Female Doctor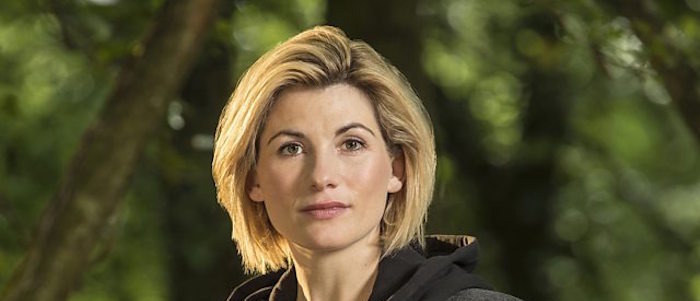 The Doctor is in, and she's finally a woman.
Doctor Who has cast Broadchurch actress Jodie Whittaker as its first female lead, breaking 54 years and 12 (and a half) past incarnations of the Doctor being a white man.
Jodie Whittaker will officially play the 13th Doctor, taking over the TARDIS from current Doctor Peter Capaldi after he leaves the staple BBC show in this year's Christmas special. I say "officially" the 13th because that skips over John Hurt's War Doctor, who briefly appeared in the 50th anniversary special "The Day of the Doctor," but doesn't appear in official line-ups of incarnations.
Whittaker was announced to play the Doctor by the BBC on Sunday, with an accompanying cryptic teaser video of a hooded figure in a forest walking toward the TARDIS. The figure opens her hand to show the key to the TARDIS, and takes down her hood to reveal Whittaker underneath.
The new head writer and executive producer Chris Chibnall, who takes over from the controversial current showrunner Steven Moffat, was the one who cast Whittaker after months of secret auditions. Chibnall told BBC:
"I always knew I wanted the Thirteenth Doctor to be a woman and we're thrilled to have secured our number one choice. Her audition for The Doctor simply blew us all away. Jodie is an in-demand, funny, inspiring, super-smart force of nature and will bring loads of wit, strength and warmth to the role. The Thirteenth Doctor is on her way."
Whittaker is most recently know for the British detective drama Broadchurch — which also coincidentally stars the 10th Doctor, David Tennant, as well as a past Doctor Who guest star Olivia Colman. (This is not a surprise, literally everyone in the United Kingdom will pop up in Doctor Who at some point.) But Whittaker is notably the next big star to emerge from the 2011 sci-fi cult hit Attack the Block, which also launched Star Wars star John Boyega into stardom.
The massive expectations around playing the first female Doctor will fall on Whittaker's shoulders, but Whittaker seems more than enthused to take on the part:
"I'm beyond excited to begin this epic journey – with Chris and with every Whovian on this planet. It's more than an honour to play the Doctor. It means remembering everyone I used to be, while stepping forward to embrace everything the Doctor stands for: hope. I can't wait."
Let me say first that this is a momentous piece of casting. As a longtime Whovian, I had nearly given up on the show after Moffat's increasingly convoluted and sexist writing threatened to taint the show I once adored. It didn't help too that Moffat frequently refused to even consider a woman or person of color as the Doctor whenever he was asked — he had two occasions to cast a new Doctor after Tennant left in 2010 and again when 11th Doctor Matt Smith left in 2013. But to give Moffat some credit, he did cast Michelle Gomez as the Doctor's archnemesis the Master, who quickly became a fan favorite as Missy. And it was during his run, albeit in a Neil Gaiman-penned episode, that the concept of gender-fluid Time Lords was first introduced.
So why is it so important that there's a first female Doctor Who?
Doctor Who is the longest-running TV series in Britain's history, and is considered a childhood staple for most of its citizens — thus making it hugely influential. And while the concept of casting new actors in the role was at first a shortcut to keep the show running for as many years as possible, the character of the Doctor has since become a sort of superhero for British children. A white, male, usually older, superhero. This made sense back in the days when the Doctor was merely a wise mentor to his young human companions, spouting technobabble nonsense and profound advice. But the New Who reboot in 2005 introduced the concept of gender and race-fluid Time Lords as well as a quirky, idiosyncratic Doctor — and now possibilities are endless. So why not take advantage of the show's limitless sci-fi premise and cast a Doctor in which the children around the world can see themselves, and look up to? Now with Whittaker, they can. And it makes the future so much more exciting.