Mark Ruffalo Smashes Hopes For A Standalone 'Hulk' Movie: 'It Will Never Happen'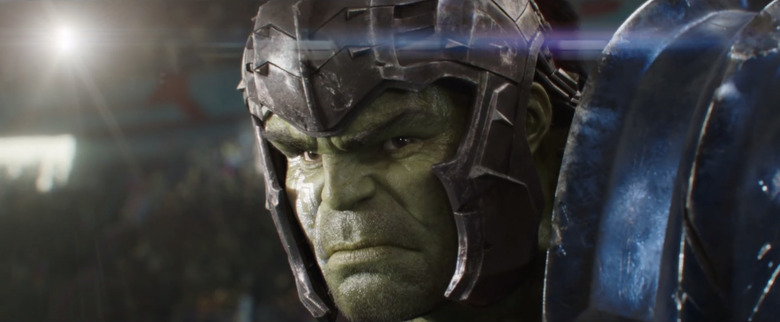 There have been rumors of a solo Hulk film since Mark Ruffalo stepped into the ripped purple pants in 2012's The Avengers. Could Thor: Ragnarok be a film setting up a Planet Hulk movie, the Internet buzzed? Will we ever get the adventures of Hulk after he leaves in that tiny Quinjet at the end of Avengers: Age of Ultron? Can Mark Ruffalo finally get his due?
That doesn't seem like it will happen, Ruffalo told an intrepid reporter at the D23 Expo in Anaheim, California. In fact, don't count on seeing a standalone Hulk film in the Marvel Cinematic Universe at all.
Ruffalo told Variety that despite fan demands for a Hulk movie, he doesn't "see it in the cards."
"I want to just make one thing perfectly clear today: A standalone 'Hulk' movie will never happen. Universal has the rights, and for some reason, they don't know how to play well with Marvel. And, they don't want to make money."
Ruffalo first appeared as Bruce Banner, aka the Hulk, in 2012's The Avengers, when he is pulled out of isolation by Scarlett Johansson's Black Widow to join Nick Fury's (Samuel L. Jackson) team of superpowered individuals set to save the world from an alien invasion. He reprised the role again in Avengers: Age of Ultron, and has appeared in cameos in Iron Man 3 and the Team Thor shorts. He will make a full appearance in the upcoming Thor: Ragnarok and Avengers: Infinity War.
Ruffalo was not actually the first actor in the MCU to play the Hulk, as Edward Norton first donned the green motion-capture skin in 2008's The Incredible Hulk in the early days of the MCU. As Ruffalo told Variety, The Incredible Hulk was distributed by Universal Pictures, and that was the last time we saw a solo Hulk film (the first time being Eric Bana's turn in Ang Lee's Hulk in 2003).
However, despite being part of the MCU, The Incredible Hulk felt so disconnected that fans were eager to see Ruffalo do a Hulk film in a solo capacity. Ruffalo said that Marvel has talked about it, but studio rights issues are too hard to overcome. The deal that Sony and Marvel made over Spider-Man: Homecoming seems like more of a fluke now than a trend.
Besides, Ruffalo joked, "I figure I've got like two or three more years left before I'm too old to play the Hulk."
"You're too old now," Don Cheadle shot back.
See Ruffalo and Cheadle's full response below:
"A standalone Hulk movie will never happen." – @MarkRuffalo #D23Expo pic.twitter.com/4QrZcoHm6Q

— Variety (@Variety) July 15, 2017
The Hulk will appear next in Thor: Ragnarok as a "friend from work" on November 3, 2017.