'Star Wars: The Last Jedi' Behind The Scenes Sizzle Reel Reveals Aliens, Ships & Explosions Galore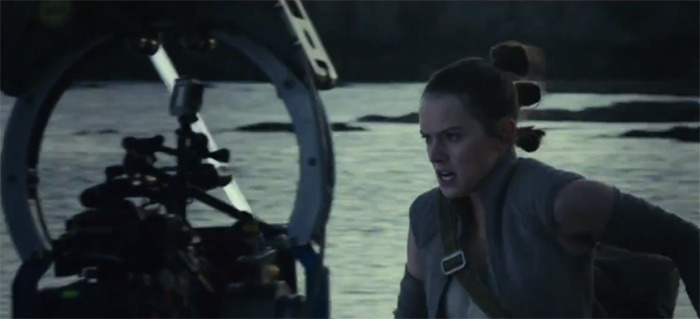 At the D23 Expo in California today, there wasn't a new trailer for Star Wars: The Last Jedi, but we got the next best thing.
Director Rian Johnson and star Mark Hamil presented one of those gorgeous behind the scene sizzle reels that reveals some of the sets, aliens, ships and action that we'll be seeing on the big screen when The Last Jedi arrives in theaters this winter.
Watch the Star Wars The Last Jedi behind the scenes reel down below.
Here's the Star Wars The Last Jedi behind the scenes reel from YouTube:
As you can see in this video, there are tons of amazing new bits of footage. From slow motion explosions of Resistance ships like X-Wings and A-Wings to Rey running through the desert with her lightsaber or diving into some kind of underwater setting. We also return to the cliffside of Ahch-To where Rey (Daisy Ridley) was last seen offering Luke Skywalker his old lightsaber, though we see the Jedi Master eventually wearing darker clothing than what we saw at the end of The Force Awakens. Does that indicate a darker side to the hero who has been missing for so long?
Beyond the recognizable characters and moments, there are a bunch of new tidbits that raised a lot of questions about where this sequel will be taking us. There are new locations, new characters, new ships, a ton of new aliens, and plenty of explosions with debris falling all over the place. Clearly the First Order is striking some crushing blows against the Resistance, but they're not taking the fight lying down.
It's bittersweet seeing the late Carrie Fisher talking about how this film is about family when all is said and done, especially when she was such a big part of the original family that launched this sci-fi franchise 40 years ago.
But the good news is that we have another strong female character leading the charge into the next era of Star Wars, and there are plenty of shots of her in action throughout this reel. Perhaps the most noteworthy piece of footage features Rey in a hooded cloak with her lightsaber at the end, which is a beautiful image, and also a bit of an ominous one. Is she becoming a Jedi, or something else?
We'll be digging into this video much more thoroughly this weekend, so stay tuned to see what we can uncover with out usual frame-by-frame analysis soon. Until then, just watch this over and over again.
Star Wars: The Last Jedi arrives on December 15.