First 'Wreck-It Ralph 2' Footage Revealed At D23 Expo 2017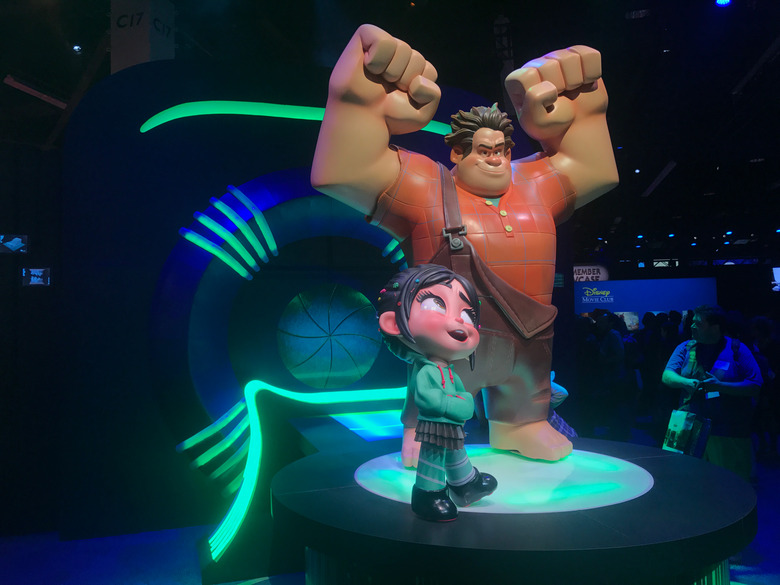 The year before Frozen took the world by storm, Walt Disney Animation released Wreck-It Ralph, one of the best video game movies that isn't technically an adaptation of a real game. Director Rich Moore announced that he'd be co-directing a sequel with writer Phil Johnston about a year ago that's titled Ralph Breaks the Internet: Wreck-It Ralph 2, and the first footage of the sequel premiered at this year's D23 Expo. Check out the new Wreck-It Ralph 2 footage below.
Ralph Breaks the Internet: Wreck-It Ralph 2 footage
/Film's Peter Sciretta filmed this from a booth on the show floor at D23 in Anaheim, and confirmed that this isn't just a slick presentation for the convention, but actual footage that will appear in the film itself.
As you can see, it features the adorable Vanellope von Schweetz (voiced by Sarah Silverman) traveling through a cable at breakneck speed. She's loving it, which makes sense when you remember that she's a race car driver by trade. Wreck-It Ralph (voiced by John C. Reilly), on the other hand, doesn't seem to be digging the ride at all. Vanellope is tiny and has plenty of room inside the cable, but Ralph is far too big for this trip to be a comfortable experience for him. The footage ends with the pair heading toward what may be the inside of a cell phone, an interpretation built on the fact that the movie's logo is a modeled after an iPhone app with the number 2 looking like the number of notifications it has.
In the first film, Ralph and the other characters were able to transport themselves from the confines of their own games into a massive hub called Game Central Station, modeled after New York City's Grand Central Terminal and cleverly located inside a power strip in the arcade where they're all housed. This time around, the two main characters are heading into a world far more vast than any they've encountered before: the Internet itself.
The first movie was great, but one of my few complaints about it was that I wanted to spend more time in more imaginative game worlds; that film spent a lot of time in Vanellope's sticky sweet Sugar Rush world, so the idea of the pair heading into a new adventure with infinite possibilities is bursting with potential.
Ralph Breaks the Internet: Wreck-It Ralph 2 was recently bumped from a planned March 2018 release date back to November 21, 2018.