'Thor: Ragnarok', 'Avengers: Infinity War', And 'Black Panther' Photos From The Show Floor [D23 Expo 2017]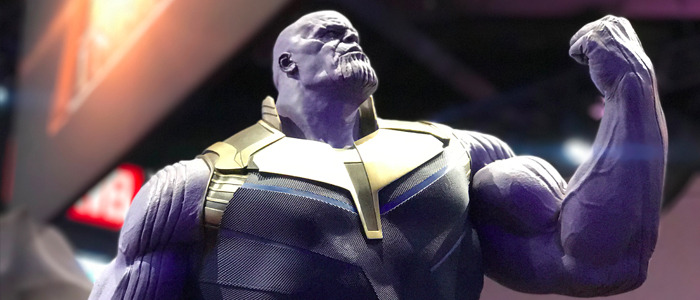 Our own Peter Sciretta is currently at the D23 Expo in Anaheim, California, and he's sent over a handful of photos from the Marvel Studios section of the show floor for us to share with you. In this batch of Marvel D23 photos, you'll see costumes and weapons from Thor: Ragnarok, a cool Avengers: Infinity War Thanos statue that features a buffed up and stripped down version of the Marvel Cinematic Universe's ultimate Big Bad, and a slick new banner promoting next year's Black Panther.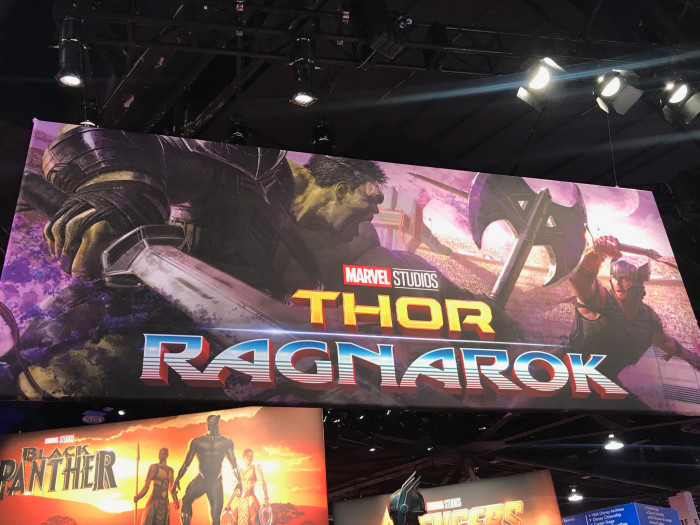 Let's take a look at Thor: Ragnarok first. The film's marketing campaign has thus far largely concentrated on the gladiator battle between Thor and his "friend from work," the Incredible Hulk. That's good news for those of us who are hoping to be surprised about the rest of the story, because we know it's an intergalactic buddy road movie featuring those two characters but we haven't seen a sliver of footage to indicate that yet. As far as I'm concerned, the more footage they keep under wraps, the better.
Gaze upon some of the movie's costumes and weapons in the gallery below:
Meanwhile, there's a new statue of Thanos that shows Josh Brolin's baddie stripped of his elaborate gold-plated armor that we've always seen him wearing in his three appearances in previous movies. This appears to be an entirely new look for him; even an early Avengers: Infinity War featurette only had him in a plain vest, not one with protective material around his neck and chest. But look at those veins: this guy is jacked. Josh Brolin better be hitting the gym...or just contain on the VFX teams over at ILM to increase his biceps by a factor of five.
But Thanos looks awfully lonely up there, doesn't he? Poor guy. The good news is he won't be lonely for long: word is that statues of his minions will be unveiled alongside him tomorrow, so stay tuned for a whole different article about that as soon as they're revealed to the world.
And finally, there's one lone image from Ryan Coogler's Black Panther that appears on a banner overlooking the show floor.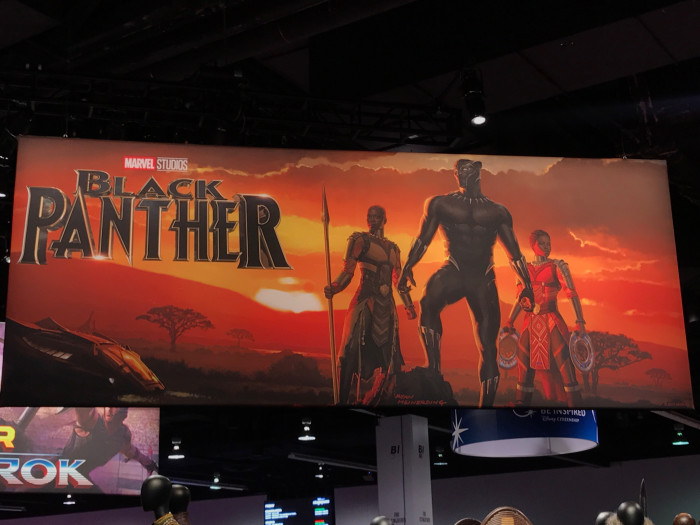 I love the contrast between those orange and black colors, and if we learned one thing from the photos for that film that emerged this week, it's that this may be one of the most colorful and vibrant Marvel Studios movies yet.
Stay tuned for tons more D23 coverage as the expo rolls on.