'The Shape Of Water' Trailer: Guillermo Del Toro's New Fantasy Is A Bewitching Love Story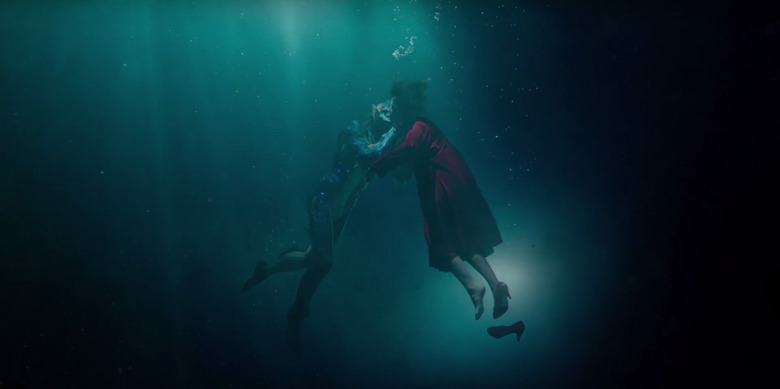 The first trailer for Guillermo del Toro's new fantasy film The Shape of Water is here.
Starring Sally Hawkins, Octavia Spencer, and Michael Shannon, The Shape of Water is a return to the deliciously dark fantasy stories that del Toro excelled at in Pan's Labyrinth and his Hellboy films. Now, see his macabre fairy tale vision unleashed in The Shape of Water trailer.
Set during Cold War America, The Shape of Water follows a mute government laboratory worker (Hawkins) who discovers and befriends a top-secret classified experiment, a gilled fish-man played by Doug Jones. Once revered by inhabitants in the Amazon, he is now captured by the government and held in isolation. With the help of her coworker (Spencer), Hawkins' tries to help it before it gets subjected to experiments by Shannon's cruel government agent.
Jones is a frequent del Toro collaborator who has played otherworldly and creepy creatures in del Toro's films, with his lanky figure making him perfect to play roles such as The Pale Man in Pan's Labyrinth and Abe Sapian in the Hellboy films. Here he plays the mysterious subject of the top-secret experiment.
Richard Jenkins and Michael Stuhlbarg also star in The Shape of Water.
Like many of del Toro's previous films, The Shape of the Water has a period setting that evokes an otherworldiness to it — similar to World War II Spain in Pan's Labyrinth and the Edwardian-era Crimson Peak. Del Toro has a talent for blending lavish historical settings with stunning supernatural elements.
Here is the official synopsis for The Shape of Water below:
"An other-worldly fairy tale, set against the backdrop of Cold War era America circa 1963. In the hidden high-security government laboratory where she works, lonely Elisa is trapped in a life of silence and isolation. Elisa's life is changed forever when she and co-worker Zelda discover a secret classified experiment."
The Shape of the Water hits theaters December 8, 2017.