Bellbottoms! Watch The Entire Opening Chase From 'Baby Driver' Right Now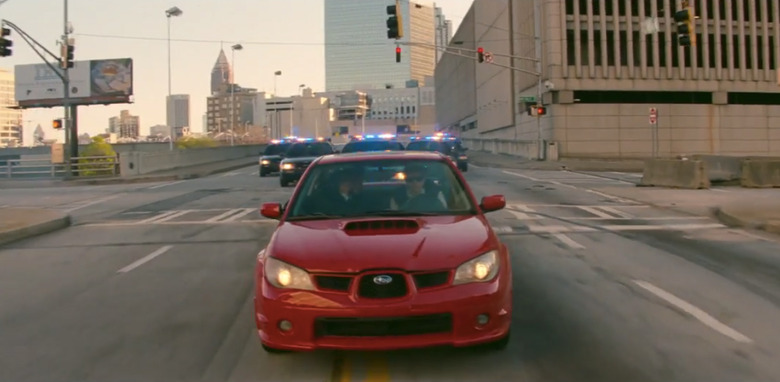 It's no secret that the /Film crew loves Baby Driver. The musically charged action thriller from director Edgar Wright made it onto every single one of our staff's list of the Top 10 Movies of 2017 So Far, and our own Jacob Hall gave it a glowing review after catching it way early at SXSW earlier this year. But more people need to see this damn movie.
Baby Driver is already a hit for Edgar Wright. After opening a couple days before the July 4th holiday weekend, the movie has already pulled in $76 million worldwide on a budget of $34 million, making it the director's most successful film to date. But the movie has still yet to open in some international territories, including Sweden, Brazil, Germany, Japan, Italy, New Zealand and more. So international audiences are still getting a marketing push to convince audiences to pay for a ticket, and that includes Universal (who is distributing the film overseas) releasing the entire opening heist and chase from the movie, which you can watch below.
Watch the Baby Driver opening chase sequence right here, courtesy of Universal:
If this scene doesn't convince you that Baby Driver is worth seeing big and loud in a movie theater, then I don't know what will. As you can see, the entire sequence is edited magnificently to the tune of Jon Spencer Blues Explosion's track "Bellbottoms." This isn't even the best scene in the movie, which has even more incredible uses of music where the visuals and sound are synced harmoniously with the film's soundtrack.
Baby Driver is undoubtedly one of the best movies of the summer, and it will likely end up being one of the best movies of 2017. Edgar Wright's style elevates the familiar story of a young man trying to break free of a life of crime, and with a killer soundtrack to boot.
For more about Baby Driver, be sure to check out our interview with Edgar Wright about the origins of the film and that incredible soundtrack over here. Plus, you'll definitely want to read through our extensive conversation with the director about 10 of the movies that influenced Baby Driver, which is split into two parts here and here.
A talented, young getaway driver (Ansel Elgort) relies on the beat of his personal soundtrack to be the best in the game. When he meets the girl of his dreams (Lily James), Baby sees a chance to ditch his criminal life and make a clean getaway. But after being coerced into working for a crime boss (Kevin Spacey), he must face the music when a doomed heist threatens his life, love and freedom.
Baby Driver is playing in theaters everywhere now, so go see it immediately.