Star Wars Land Is Officially Called Star Wars: Galaxy's Edge And Other New Details [D23 Expo 2017]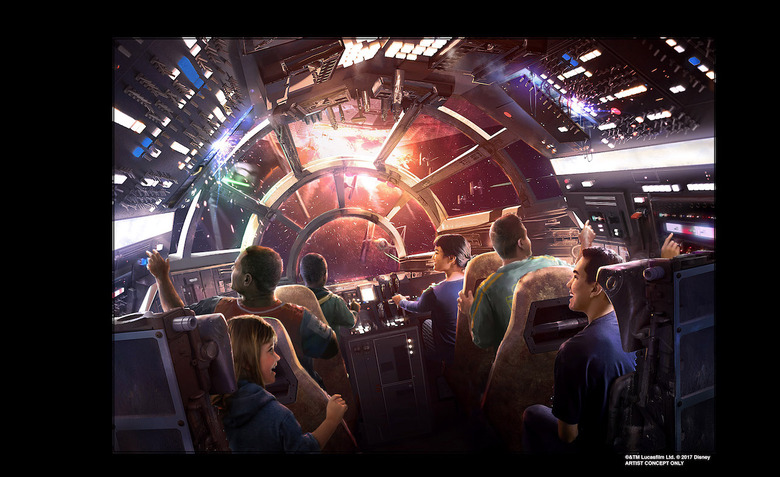 We've been calling Disney's upcoming Star Wars land "Star Wars Land" by default, mainly because it hasn't had an official name. Until now. At the theme park panel at this year's D23, it was officially revealed that the immersive experience coming to Disneyland and Walt Disney World will be called Star Wars: Galaxy's Edge. With this news came a number of other tantalizing tidbits about what we can expect from this new land...including a fun cameo from a certain droid beloved to Disney fans.
Chairman of Walt Disney Parks and Resorts Bob Chapek took the D23 stage to talk about the new theme park land, which is set in an isolated trading outpost in a galaxy far, far away, where the First Order and the Resistance are battling it out. After offering an up close and personal look at the expansive model on display on the D23 show floor, the details began to trickle out. Let's run down the basics.
Chapek revealed that guests will have the chance to "ride inside a Star Destroyer" as part of the unnamed "escape" dark ride, which sees guests fleeing the First Order (and coming face-to-face with an AT-AT Walker).
RX-24, or as he's more commonly known by fans, Rex, is back! The hapless droid who used to pilot your ship in the original incarnation of the Star Tours attraction has found his way to Star Wars: Galaxy's Edge, where he will serve as a cantina DJ. And since this is Rex we're talking about, you know something is going to go wrong.
Concept art teased a moment between Chewbacca and Hondo from Star Wars Rebels, with the two of them shaking hands a making some sort of deal. As expected, you'll be able to encounter the various heroes of the Star Wars universe...and the villains, too, as you "might feel the wrath of Kylo Ren."
It seems that the meeting between Chewbacca and Hondo may be part of the much-hyped Millennium Falcon simulator attraction, which will place you in the cockpit of the famed spaceship. We've previously heard that guests will be able to impact the ride experience, piloting well or poorly, with varying results. The "hottest flight crews" can earn extra credits, but if you beat up the ship during your ride, a bounty hunter may come after you in the cantina.
The presentation didn't focus on shops and souvenirs, but they did tease Doc Ondart and his "very unique collection," so we can probably expect all kinds of trinkets and in-universe goodies to be available for purchase.
As expected, the Disneyland version will open before the Walt Disney World version does.
At D23 Expo 2015, Disney head Bob Iger announced that Star Wars-themed lands would be coming Disney's theme parks at Disneyland Park at the Disneyland Resort in Anaheim, California, and Disney's Hollywood Studios at Walt Disney World in Orlando, Florida. The 14-acre lands would bring a new never before seen Star Wars planet to life, a "gateway planet located on the outer rim, full of places and characters familiar and not so familiar." The world would be "occupied by many inhabitants; humanoids, aliens, and droids ... the attractions, the entertainment, everything we create will be part of our storytelling. Nothing will be out of character or stray from the mythology."
Described as a "remote frontier outpost," the planet has existed within the canon "for thousands and thousands of years." It used to be a vibrant spaceport, but since the advent of hyperspace, commerce has kind of fallen a little bit. At Star Wars Celebration 2017, Imagineers promised that guests would experience the most immersive theme park experience ever created. This is a crossroads in the galaxy, a place where all of us are welcomed as guests and visitors but for those of us wanting to delve deeper, there will be lots of opportunities.
You can help the Resistance, be recruited by a bounty hunter or smuggler for a side job, or even join the First Order. You will be able to explore, feel, smell, and taste the world of Star Wars. You can explore the streets and markets, buy strange meat concoctions, drinks in weird vessels, drink a glass of blue milk. One piece of concept art showed a Podracer engine which has been repurposed in a market restaurant to grill meat.
There will be a presence of the Resistance and the First Order, but also the inhabitants of the world who may not be of either affiliation. You'll be able to engage with them, interact with them, and go on adventures with them. There are consequences to your actions in this world and on the rides. For example, if you bring the Millenium Falcon back heavily damaged, chances are someone will not be too happy about that. An experience might begin on the Falcon and follow you into the local watering hole. You will be able to build a reputation in the Star Wars universe that will follow you around.
The land will feature two attractions, a motion simulator ride that will put you and your small flight crew in control of the Millenium Falcon ride. The movement will be entirely up to you and your flight crew, each member of your team, has a different role. The other attraction is a dark ride which puts you in the middle of a battle between the First Order and the Resistance.
Disney Imagineering has also teased that they have created real-life lightsabers, which guests will be able to experience in their own hands. Disney previously filed patents that would allow guests to block blaster fire with a real light up lightsabers.
Construction on the parks began in April 2016, and both of the parks are scheduled to open in 2019.