Guy Ritchie's 'Aladdin' Casts Mena Massoud As Aladdin, Naomi Scott As Jasmine [D23 Expo 2017]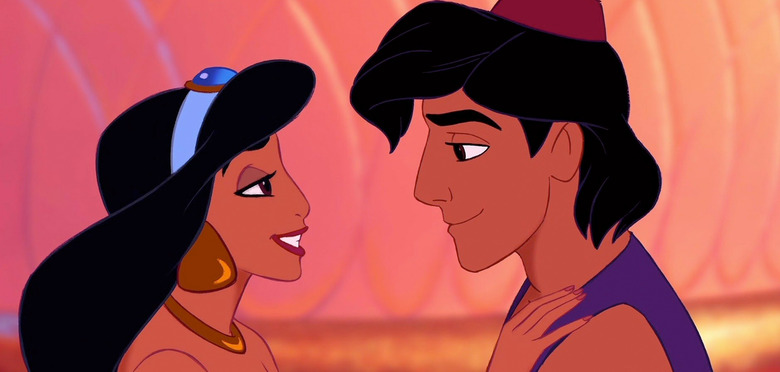 The other day, it was reported Disney and filmmaker Guy Ritchie were having trouble finding their stars for Aladdin following a worldwide search. The news was a bit of a surprise considering they met with over 2,000 actors, looking for unknowns of Middle Eastern or Indian descent to play Aladdin and Jasmine in the musical. Producer Dan Lin previously said "we're not here to make Prince of Persia," to put worries about whitewashing to rest – although we later heard a rumor both ridiculous but believable that Tom Hardy was looked at for the villianous role of Jafar.
At the D23 Expo, we learned that live-action adaptation of Aladdin has found the stars it was reportedly having so much difficulty casting.
Aladdin has cast Mena Massoud as the titular Aladdin and Power Rangers' Naomi Scott as his love interest and the princess of Agrabah, Jasmine.
Massoud is a Canadian actor who has recently appeared in the Jack Ryan television series, currently in production for Amazon, as well as TV series like Open Heart and Saving Hope. Scott is a bit of a bigger name, having starred in the big budget movie reboot of Power Rangers as Kimberly, the Pink Ranger.
Massoud is of Egyptian descent, while Scott is half-British, half Gujarati Indian. Their casting is in line with Disney's search for stars of Middle Eastern and Indian descent, although Scott's half-Indian ethnicity troubles me a bit. In a story that's firmly set in the a fictional Middle Eastern country, I don't know how I feel about a lead star who looks so racially ambiguous, and could honestly pass as white. But we'll have to wait and see.
Ritchie confirmed at D23 that Will Smith is set to star as the Genie, whose role was originated by the late Robin Williams. Smith's typically boisterous acting style makes him perfect for the role. Even if this was an animated remake, Smith would feel right for the part. The Genie, of course, pops out of a magic lamp and offers the film's hero three wishes. One of the wishes he uses to help woo the pincess, another he uses in an attempt to stop Jafar from becoming the sultan. Before Smith signed up to play the genie, he was in talks for another live-action remake from Disney, Dumbo. At one point, Disney was developing a prequel to Aladdin, which would've explained how the Genies ended up in the bottle and led to this particular live-action remake. That plan, however, appears squashed or tabled for the time being.
Ritchie also confirmed that the adaptation will take inspiration from both the animated classic and the original folk tale as it appeared in 1,001 Arabian Nights.
The script is written by John August, who wrote Go and directed The Nines. Ritchie is coming off of two unfortunate box-office misfires. Modern audiences didn't express much interest in new takes on The Man from U.N.L.E. and King Arthur, but it was their loss. Neither movie failed because of a lack of quality. They're both stylish and funny Guy Ritchie movies, simply on a larger scale. Now, he's making a movie that has a much larger built-in audience, so his next movie seems more likely to succeed. A musical from the director Snatch and The Man From U.N.C.L.E. just sounds like it could a blast, so let's hope this Disney live-action film ends up being fun.