'Blade Runner 2049' Photos: Harrison Ford And Ryan Gosling On The Run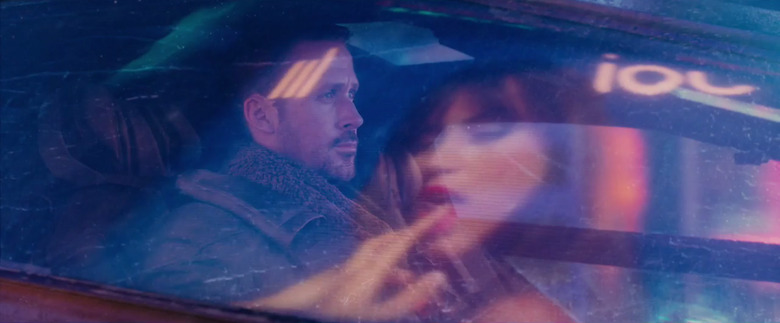 With director Denis Villeneuve (Arrival) and cinematographer Roger Deakins behind the camera for Blade Runner 2049, you can bet even photos from the Ridley Scott-produced film have a little "wow" factor. Two visionaries stepping into the stunning, highly influential world Scott and his team created 35 years ago – that's most going to yield some gorgeous results. Based on the trailers and everything we've seen so far from the sequel, Deakins and Villeneuve have made the iconic world familiar, new, and even more hostile.
Below, check out the new Blade Runner 2049 photos.
Los Angeles wasn't in such hot shape back in 2019, but 30 years later, it ain't doing much better. In the sequel, which will be R-rated, the climate has only worsened. The rain and the snow are toxic. The ecosystem has collapsed. And the ocean has risen. Officer K (Ryan Gosling) is going to venture through dangerous environments to find Rick Deckard (Harrison Ford), who's been missing for 30 years.
The two of them are on the run together in a new photo from Entertainment Weekly:
The photo to the right is from a small sequence, but it had a massive set that Gosling told EW about:
Here's a perfect example of working on this film. In the script, my character walks up to a guy sitting at a desk, and we have a very small exchange. It's probably a quarter of a page of the screenplay. I show up at set that day and that is what they built. I said to [director Denis Villeneuve], 'You built all this for just one scene? It takes up an entire stage!' And he said, 'Yes, well, the scene is in the movie, right?' It didn't matter if it was a quarter of a page or an important set piece — everything was treated with the same level of detail and importance.
When it came to building a convincing and tactile world, Villeneuve explained that everything mattered:
It's not the amount of time [on screen] but the impact of the moment. This film had the longest and toughest casting I've ever done. Each extra had to be chosen specifically for their look—we had to get the right faces to bring the right atmosphere to the right scene. Everything — the sets, the lights, the props, the vehicles — they are all saying something about our future.
The director added yellow is a very important color in the film, but he "can't talk about" why. While the original film was heavy on the rain and steam, Villeneuve said the snow in Blade Runner 2049 features "more charcoal and there's sparks of color." As bleak as the sequel might be visually, it looks like it couldn't be more pleasing to the eye.
Blade Runner 2049 opens in theaters October 6.