Alicia Vikander Talks About 'Tomb Raider' Stunts, Clings To A Cliff In New Photo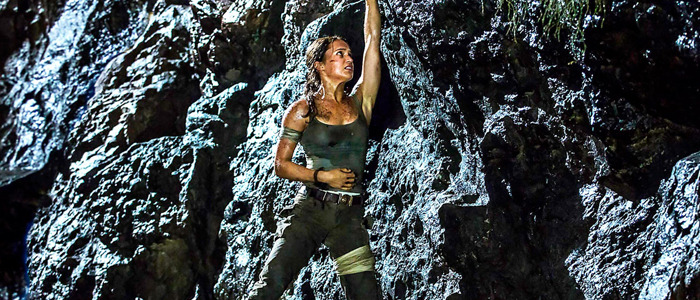 It takes a lot of work to become famed adventurer Lara Croft, but Oscar-winner Alicia Vikander (The Danish Girl, Ex Machina) was up to the challenge of playing the character in Norwegian director Roar Uthaug's upcoming adaptation of the beloved Tomb Raider video game. There's a new photo of Lara in action, and in a new interview, Vikander talks about the stunts she performed for the movie – including one involving her hands being tied together as she plunged underwater.
Here's the full photo from Entertainment Weekly: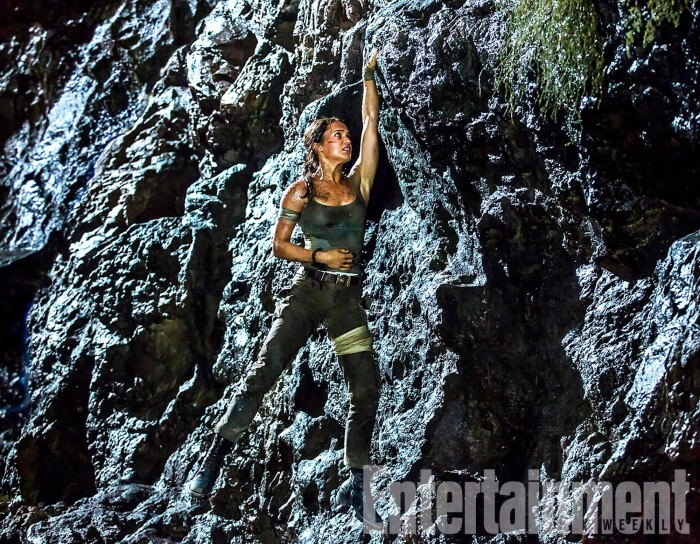 Notice how her right hand seems to be grabbing her stomach? In one of the game's more visceral moments, Lara is impaled through her side on a sharp piece of rebar during a fall, and it looks like that might be one of many moments from the game that the film is looking to transpose on the big screen. The game serves as an origin story for a young Lara, and since she isn't quite the experienced badass we know yet, she spends the majority of it getting the crap kicked out of her as she attempts to rescue her kidnapped friend from a cult on a mysterious island.
It's unclear exactly how closely the movie will follow that storyline, but we know it begins when "a clue leads [Lara] to embark on a search for her presumed-dead archeologist father (Dominic West)." The official synopsis makes it sound as if her father might be the person she attempts to rescue in the film version, which would be a nice inversion of the tired "damsel in distress" trope.
Vikander nods to her director's previous movie, the 2015 disaster film The Wave, as a precursor of the type of stunt work she endured making Tomb Raider:
"Just like in The Wave, we have a lot of water sequences. I spent my last two days of shooting in a tank and that was my 16th total day being fully drenched or submerged in the water...For one action scene, we used the London venue for Olympic rafting. They threw me down that river — with my hands tied — about 50 times. I didn't need to act, just react!"
And the 28-year-old actress's spirits were buoyed when she saw Wonder Woman, which she sees as a beacon of change for the industry:
"I went to the cinema and saw Wonder Woman the other day. It's a mixture of joy and sadness pouring over me, as I was thinking, 'Oh, my God, I haven't seen women onscreen like that.' And I wondered how many stories there have there been throughout the years that haven't been told. If Wonder Woman made such an impact, which it deserves to, then we need to use ten times as much force to make some change. Because it needs to happen."
Fingers crossed that this movie ends up being half as great as Patty Jenkins' superhero film. Tomb Raider co-stars Walton Goggins and Daniel Wu, and it blasts into theaters on March 16, 2018.
Lara Croft is the fiercely independent daughter of an eccentric adventurer who vanished when she was scarcely a teen.  Now a young woman of 21 without any real focus or purpose, Lara navigates the chaotic streets of trendy East London as a bike courier, barely making the rent, and takes college courses, rarely making it to class.  Determined to forge her own path, she refuses to take the reins of her father's global empire just as staunchly as she rejects the idea that he's truly gone.  Advised to face the facts and move forward after seven years without him, even Lara can't understand what drives her to finally solve the puzzle of his mysterious death.
Going explicitly against his final wishes, she leaves everything she knows behind in search of her dad's last-known destination: a fabled tomb on a mythical island that might be somewhere off the coast of Japan.  But her mission will not be an easy one; just reaching the island will be extremely treacherous.  Suddenly, the stakes couldn't be higher for Lara, who—against the odds and armed with only her sharp mind, blind faith and inherently stubborn spirit—must learn to push herself beyond her limits as she journeys into the unknown.  If she survives this perilous adventure, it could be the making of her, earning her the name tomb raider.