Michelle Pfeiffer To Play Janet Van Dyne In 'Ant-Man And The Wasp' [Comic-Con 2017]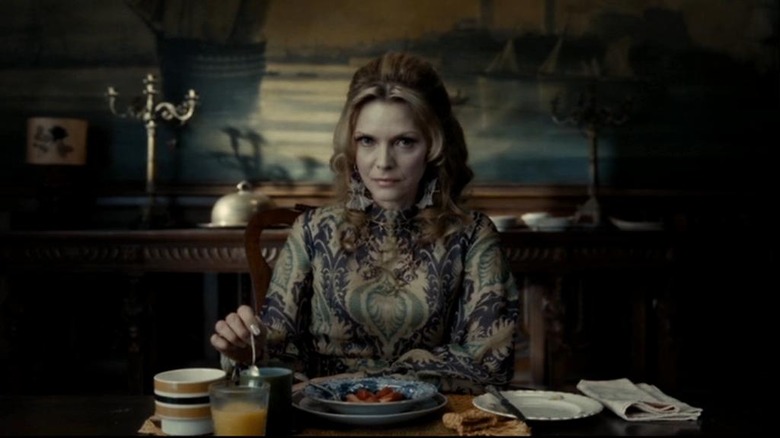 The great Michelle Pfeiffer is returning to the world of superheroes. The actress is set to play the original Wasp, Janet van Dyne. "She was our dream choice when we were making the first film," Marvel President Kevin Feige said at Comic-Con. We also learned Laurence Fishburne is playing the villain Dr. Bill Foster in the film, and which characters Walton Goggins (Vice Principles) and Hannah John-Kamen are playing.
Below, learn more about the Ant-Man and the Wasp cast.
Janet van Dyne's presence loomed large in Ant-Man. The character was shown sacrificing herself in Scott Lang's (Paul Rudd) origin story. At one point, the character was included in an early version of Captain America: Civil War, but Marvel decided to wait to give the character her due.
As for John-Kamen, she's playing Ghost, while Goggins is taking on the role of Sonny Burch. In the Marvel universe, Burch is the chairman of a weapons designer firm, Cross Technologies. He definitely isn't a friend to Tony Stark in the comics, so he probably won't be a friend to Scott Lang and Hank Pym. In the Marvel universe, Fishburne's character is a biochemist who also had a short-lived series as the character Goliath, who had the power to grow big like Giant-Man.
Peyton Reed returns to the director's chair for Ant-Man and the Wasp with a screenplay by Andrew Barrer, Gabriel Ferrari, and Paul Rudd. The film brings back Rudd as Scott Lang/Ant-Man, Evangeline Lilly as Hope van Dyne/Wasp, Michael Peña as Luis, David Dastmalchian as Kurt, Tip "T.I." Harris as Dave, and Randall Park will make his debut in the MCU as new SHIELD agent, Jimmy Woo.Michael Douglas is back as Dr. Hank Pym, in a role that may require him to deliver a little less exposition this time around. Around the release of the first movie Reed says he wouldn't mind exploring Pym's relationship and history with the quantum realm more in the sequel. Hope van Dyne's father will suit up, as the concept art and pre-viz showed.
Reed only recently started shooting the sequel, but here's some of what we saw:
Giant-Man peering around a busy street corner.
It looks like Ant-Man and the Wasp have a mini vehicle, or at least one that can change size.
The animatics show how gracefully the Wasp flies around and what looks like a car chase involving the gang's van from the first movie.
The characters return to the quantum realm.
Ant-Man rides piggy back on his daughter's back, becoming the size of a small dog.
Hank Pym will get suited up at some point, either in a new Ant-Man suit or another kind of tech suit.
Rudd's character is a bigger fugitive than ever, after having escaped from a Raft prison in Captain America: Civil War. Ant-Man and The Wasp originally wasn't on the Marvel Phase three schedule but was added after the success of Ant-Man – a refreshingly contained superhero pic. Reed doesn't plan on going much bigger with the sequel. "We like our little Ant-Man corner of the universe," the Down with Love director said. "Because it's a whole different vibe tonally, but also just in terms of who Scott Lang, who Ant-Man is: he is a guy who is maybe not so sure he wants to be like this Avenger-style, full-on superhero." The sequel marks Lilly's debut as The Wasp, after being presented with a super suit by her father at the end of Ant-Man movie. A few months after that great moment, the sequel was greenelit.
The movie is currently shooting at Pinewood Atlanta Studios. Ant-Man and The Wasp opens in theaters July 6, 2018.