'Mr. Mercedes' Trailer: Stephen King Adaptation Will Be An AT&T Original Series...Seriously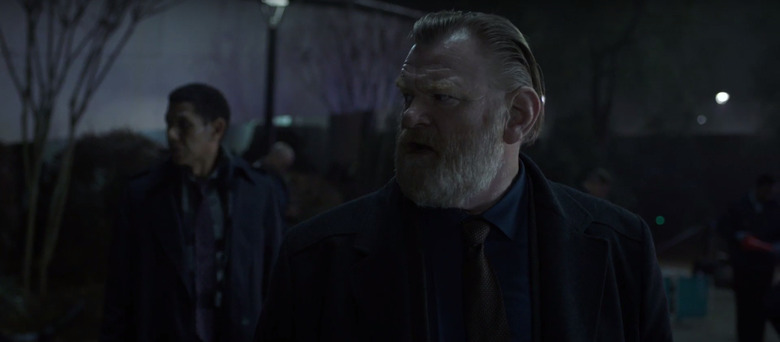 It seems like even cellular networks are getting into the TV streaming game. And surprisingly, AT&T looks like it has a pretty solid first offering.
Stephen King's hardboiled 2014 detective novel Mr. Mercedes will be adapted into an AT&T original series, with reputable names behind and in front of the camera, including Big Little Lies creator David E. Kelley as showrunner and Brendan Gleeson as the star. And the recently released Mr. Mercedes trailer suggests that this unusual project is shaping up to be quite good.
Gleeson plays a retired detective who begins to be taunted by a mysterious serial killer that he never caught — causing him to go down a spiral of obsession and paranoia. Scott Lawrence plays Gleeson's former partner who urges him to let go of the case, while Mary-Louise Parker and Moonlight's Jharrel Jerome appear in supporting roles.
Meanwhile, not much is left to the imagination about the identity of the killer, who Penny Dreadful's Harry Treadaway portrays with an unhinged malice.
I haven't read Mr. Mercedes so I'm not sure how much of a detective novel it actually is — revealing the killer right at the beginning seems like an unusual step — but it will be intriguing to see Gleeson and Treadaway's storylines run parallel to each other until they collide. Gleeson is always an exciting actor, and while I'm not familiar with Treadaway's work, he seems to be giving it his all in the trailer.
This production has a tinge of tragedy to it, as Anton Yelchin was originally set to play Treadaway's character, Brady Hartsfield, before his fatal car accident in June 2016.
Here's the official synopsis for the the AT&T television series:
From Executive Producers Stephen King, David E. Kelley and Jack Bender comes the story of a demented serial killer who taunts a retired police detective with a series of lurid letters and emails. This forces the ex-cop to undertake a private, and potentially felonious, crusade to bring the killer to justice before he can strike again.
And here's the synopsis of King's 2014 Mr. Mercedes novel:
Brady Hartfield lives with his alcoholic mother in the house where he was born. He loved the feel of death under the wheels of the Mercedes, and he wants that rush again. Only Bill Hodges, with a couple of highly unlikely allies, can apprehend the killer before he strikes again.
Mr. Mercedes is set to premiere its 10-episode first season on the Audience network on August 9, 2017.