'Darkest Hour' Trailer: Watch Gary Oldman Play Prime Minister Winston Churchill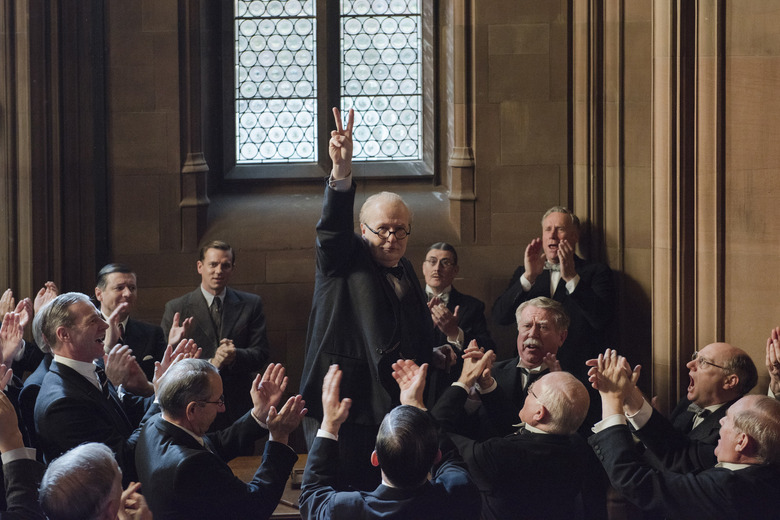 Gary Oldman has never been the kind of actor to go hunting for an Oscar, but Darkest Hour feels like the kind of movie that could thrust the always-brilliant actor into the awards spotlight in a big way. Vanishing under a pile of prosthetics to play Winston Churchill, the Prime Minister of Great Britain who led his nation into and through World War II, Oldman seems to be attempting a role unlike anything he has tried before.
We get our first taste of his performance in the first Darkest Hour trailer, which has just arrived.
Churchill is one of the 20th century's most important figures, a man built on contradictions that make him worthy of discussion, examination, and even some controversy to this day. The former army officer famously conducted much of his business from bed while indulging a frequently unhealthy lifestyle – not a model politician, but certainly one who got the job done. He's become one of history's "great men," a figure who looms larger than life and whose many flaws are often shuffled to the background to preserve a more inspiring image.
And that's why I'm so fascinated to see what Oldman does with Churchill here – every historic figure demands to have their humanity observed on the big screen.
Interestingly, this is one of two Winston Churchill movies arriving in 2017, with Brian Cox also playing him in the appropriately titled Churchill.
Darkest Hour is directed by Joe Wright, a filmmaker whose credits reflect a man with many interests. His 2005 adaptation of Pride and Prejudice is one of the best of its kind, Atonement is a lavish period drama executed to perfection, Hanna is a quirky and thrilling action movie, and Pan is...well, at least Pan is something singular. I remain very curious how he'll tackle the story of Winston Churchill, especially since Darkest Hour is focusing on a small window of his life and eschewing the typical biopic formula.Darkest Hour co-stars Kristin Scott Thomas, Lily James, Stephen Dillane, Ronald Pickup, and Ben Mendelsohn and will open in limited release on November 22, 2017. Here's the official synopsis:
A thrilling and inspiring true story begins on the eve of World War II as, within days of becoming Prime Minister of Great Britain, Winston Churchill (Academy Award nominee Gary Oldman) must face one of his most turbulent and defining trials: exploring a negotiated peace treaty with Nazi Germany, or standing firm to fight for the ideals, liberty and freedom of a nation. As the unstoppable Nazi forces roll across Western Europe and the threat of invasion is imminent, and with an unprepared public, a skeptical King, and his own party plotting against him, Churchill must withstand his darkest hour, rally a nation, and attempt to change the course of world history.