Director Matt Reeves Is Scrapping Ben Affleck's 'The Batman' Script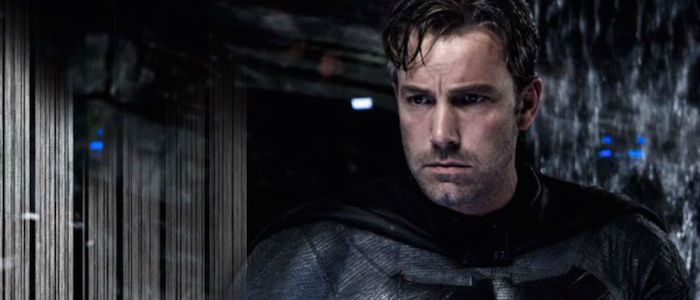 The Batman has lost an acclaimed director, gained another acclaimed director, reportedly almost lost its star, and now, it's dropping its original script in favor of a completely new story.
Now, this could all be cause for alarm. But director Matt Reeves dropping Ben Affleck's script to rewrite the story from scratch is something that has been brewing for a long time, and will likely be a good reset for the embattled production.
We reported in March that the studio was eyeing a "fresh start" and that Reeves was set to rewrite the movie from scratch. Now Reeves has confirmed that news on MTV's Happy Sad Confused podcast, stating that he has scrapped Affleck, Chris Terrio, and DC Film's Geoff Johns' original script:
"No, it's a new story. It's just starting again. I'm excited about it. I think it's going to be really cool."
Affleck's original script featured Deathstroke as the villain, with Joe Manganiello set to play the sword-wielding assassin, but it's yet to be seen whether Reeves will keep the character with his new script. It's unlikely, as Reeves has been excitedly pushing his "noir-driven," Hitchcockian vision of Batman (which I am all for, as we don't get enough Detective Batman), and the conspicuous Deathstroke isn't a character that fits in that vision.
It's too bad for Manganiello, but this means that Deathstroke could appear in the Nightwing movie, as he is one of Dick Grayson's few regular rogues.
While it's easy to look at The Batman's troubled production as a sign of trouble, it could in fact mean that Warner Bros. is taking into account the runaway success of Wonder Woman and changing course for their future DCEU films. Reeves is an accomplished director who has done wonders for the Planet of the Apes reboot series, turning the franchise into some of the most impactful and intellectual blockbusters series in recent memory. I don't doubt that he will do the same with The Batman – the Caped Crusader has such a rich history and with many different character interpretations for Reeves to play with.
While Affleck, Johns, and Terrio sound like a dream-team of writers, perhaps a troubled script could have influenced Affleck's decision to leave the director's chair. I don't mind The Batman starting a new with a singular vision from a director I trust.
Batman-News originally spotted the comments, which began at the 30-minute mark during the podcast.The Batman's release date is not confirmed, but it will likely hit theaters in 2019.