LOL: Bill Murray Drunkenly Accepts 'Best Moment' At The ESPYs For The Chicago Cubs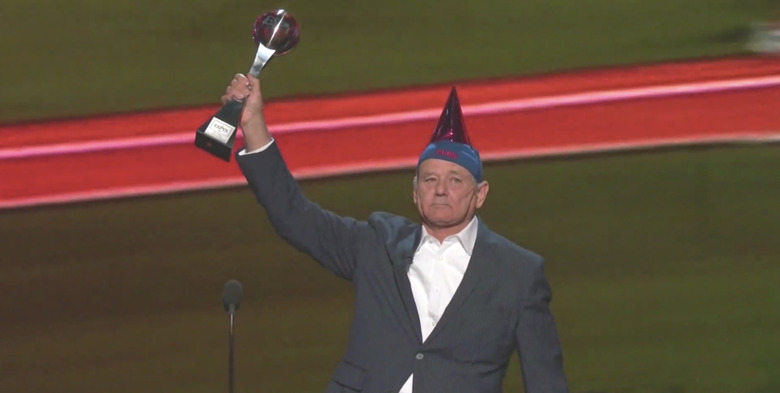 Yes, this is still a film blog. No, we're not drunk. But when Bill Murray and Nick Offerman get together to continue celebrating the World Series victory that the Chicago Cubs earned back in the fall of 2016 after 108 years of waiting for the title, how can we ignore it?
Both the Ghostbusters star and the Parks and Recreation man for all seasons are lifelong Chicago Cubs fans, so it's only appropriate that the two comedy stars were part of the acceptance speech when the baseball team won Best Moment at the 2017 ESPY Awards on ABC last night. After a touching recollection of that final play that happened in extra innings, presenter Nick Offerman giggles like an excited boy and hands the award off to Bill Murray, pretending (?) to be drunk while paying tribute to the team that he's loved since he was a boy.
Watch the Bill Murray ESPYs speech below.
There have been several instances on this site where I've explained that I'm not the biggest sports fan. But if there's one team that I've consistently rooted for since I was a kid, mostly thanks to Ferris Bueller's Day Off and Rookie of the Year, it's the Chicago Cubs. I watched every game of that final series and could not have been more thrilled to see this victory finally come to fruition. Reliving it by way of this hilarious acceptance speech is just icing on a cake that still tastes good all these months later.
For those wondering why the real Chicago Cubs weren't on hand to accept the award, we don't know. But it's in the middle of the regular season, and they kick off a three game series in in Baltimore on Friday, so it's probably best if they're not flying across the country the day before that begins. Fans will just have to take solace in the fact that catcher David Ross made an appearance as the fake janitor on the stage.
If you need a more clear connection with entertainment, there be documentaries and movies that reference this World Series victory for years to come, so there you go.