John Lasseter No Longer Directing 'Toy Story 4' [D23 Expo 2017]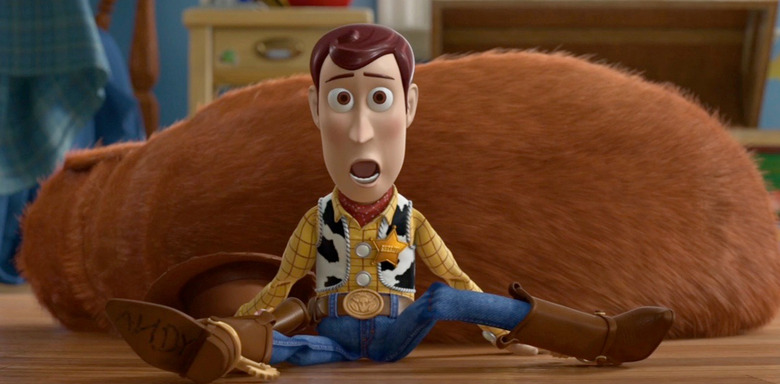 Here's something we didn't see coming: Pixar's chief creative officer John Lasseter – who directed the first two movies in the Toy Story franchise – just revealed that he is no longer directing Toy Story 4. Read on to find out the latest about Pixar's departed Toy Story 4 director.
On stage at the D23 Expo, Lasseter revealed that he'll instead work as an executive producer on the movie, where he'll work very closely with the film's new director: Josh Cooley, the writer/director of the Pixar short film Riley's First Date. Cooley had previously been hired as Toy Story 4's co-director alongside Lasseter, but now he's taking the reins himself. We also learned that Jonas Rivera, who produced Up and Inside Out, is on board as a producer for this film.
During the presentation, Cooley told a story about how when he first met Lasseter, the Pixar chief told him "I'll hug you when I get to know you better." Now, thousands of hugs later, they're standing on stage presenting together. But they didn't have any footage from the film to debut. Instead, they showed a video taken at Pixar HQ that introduced some of the team working on the movie. Cooley showed off a knockoff Buzz Lightyear toy that's supposedly from Toy Story 4 that he has in his office, while people joke about whether a stuffed bunny and a little chick on a screen might be characters that appear in the film. They said they have an actor who's been in every Pixar movie on board, and Jeff Pidgeon (a Pixar animator and voice artist who voiced the aliens in the Toy Story movies) recorded the movie's first line after inhaling helium.
Toy Story 4 is written by Rashida Jones and Will McCormack, based on a story hatched by the Pixar brain trust (John Lasseter, Andrew Stanton, Pete Docter, and Lee Unkrich). The movie will see the return of Tom Hanks as Sheriff Woody and Tim Allen as Buzz Lightyear, alongside Annie Potts as Bo Peep. Randy Newman also returns to compose the score for the fourth installment.
The film is described as a "new chapter in the lives of Woody, Buzz Lightyear, and the Toy Story gang," with Lasseter stating that the core of the film is a love story between Woody and Bo Peep. The story will pick off eight years after Toy Story 3 left off, with the toys now living with Bonnie. Woody and Buzz have to go on an epic journey to find Bo Peep, who has been absent from the last release in the franchise (only seen in home movies).
About the hesitations to do another installment, Lassetter admits that Toy Story 3 "ended Woody and Buzz's story with Andy so perfectly that for a long time, we never even talked about doing another Toy Story movie" but "when Andrew, Pete, Lee and I came up with this new idea, I just could not stop thinking about it." According to Lasseter, the idea was "so exciting to me, I knew we had to make this movie—and I wanted to direct it myself." The irony of that statement is not lost on us now.
Toy Story 4 will hit theaters on June 21, 2019. It was originally supposed to hit theaters in June 2018, but switched release dates with The Incredibles 2 as it was reportedly lagging in production.
Correction: A previous version of this story indicated that producer Jonas Rivera was co-directing alongside Josh Cooley, but it appears Cooley is the film's sole director. It also said John Lasseter directed all the Toy Story movies, but he did not direct Toy Story 3, which was directed by Lee Unkrich. We apologize for the errors.