Vibrant New 'Black Panther' Photos Give A Majestic Peek Into A Secret Society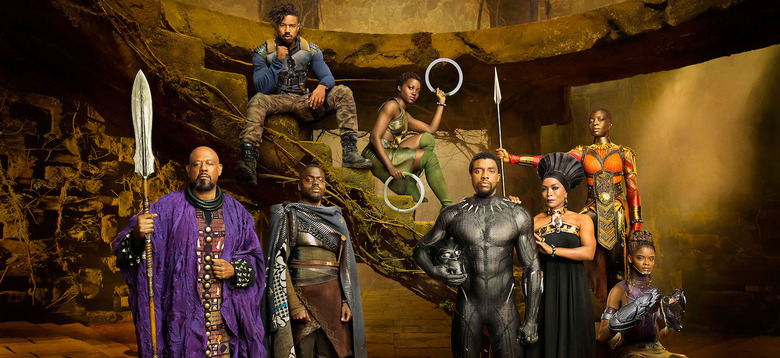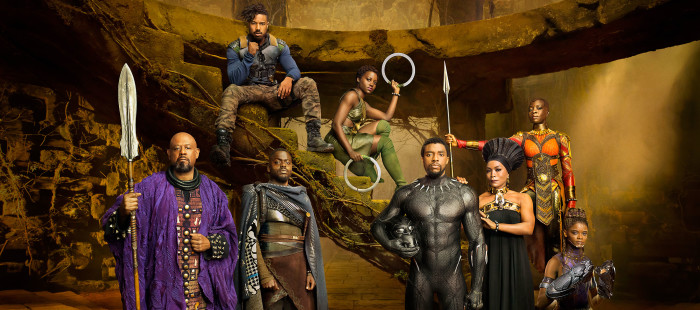 The cast of the anticipated new Marvel film Black Panther graced the cover of Entertainment Weekly this morning and it already looks like nothing we've ever seen from Marvel. The lush, rich colors, the immaculate costume detailing — how could it get any better?
Well, it's just about to. We just got a slew of new stills from the movie, as well as a cast shot from the magazine, as seen above. And these pictures unearth a vibrant secret society that will finally add some color to the somewhat monochromatic Marvel Cinematic Universe.
EW unveiled new photos of Wakanda, the advanced African nation that masquerades as a third-world African country. Ruled by the titular Black Panther, T'Challa (Chadwick Boseman), after the death of his father T'Chaka in Captain America: Civil War, the Wakandans find their haven threatened by outside forces. The malicious forces are led an exiled Wakandan Erik Killmonger (Michael B. Jordan) and the greedy miner of Vibranium, an element that Wakanda protects and uses for their advanced technology, Ulysses Klaue (Andy Serkis).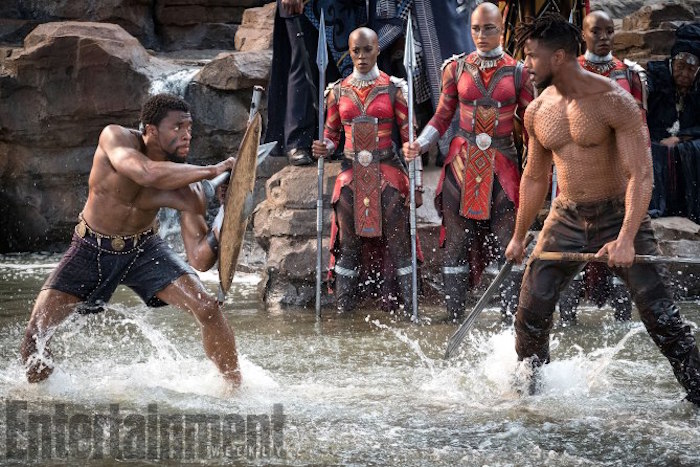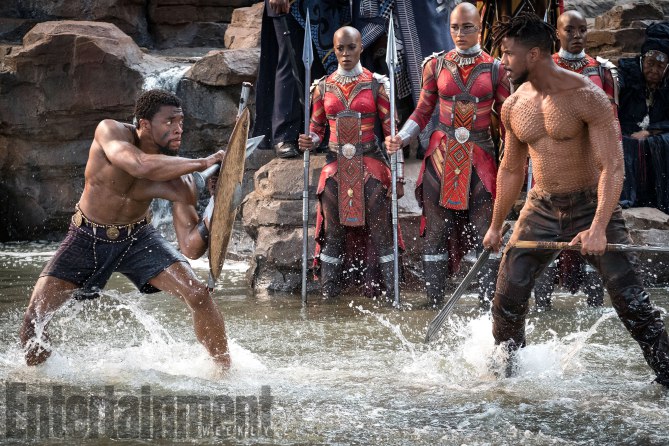 EW describes this image as a fight between T'Challa and Killmonger at Warrior Falls, a holy place in Wakanda. Since this looks like a sanctioned fight or ritual of some sort, this is supposedly before Killmonger, originally named N'Jadaka, was exiled from Wakanda for his treasonous ambitions for the throne. Killmonger has some interesting bumps or tattoos across his chest and torso, reminiscent of the scar tattoos of Ethiopia's Mursi and Surma tribes, EW notes. The reason for those raised markings? "That is a story reveal that we'd like to preserve," executive producer Nate Moore said.
The Dora Milaje look positively regal guarding Lupita Nyong'o's Nakia, even though they are a group of highly trained warriors sworn to protect the royal family. The all-female guard is led by Okoye (The Walking Dead's Danai Gurira, left). Meanwhile Nakia, who they are protecting in this picture, is an undercover agent for Wakanda who travels the world and reports back to the country.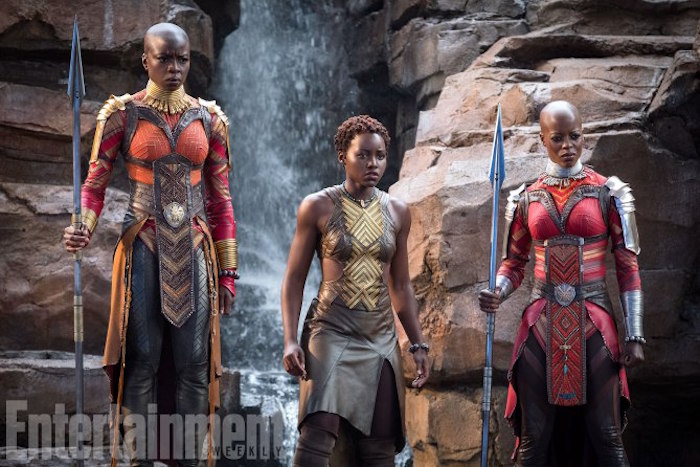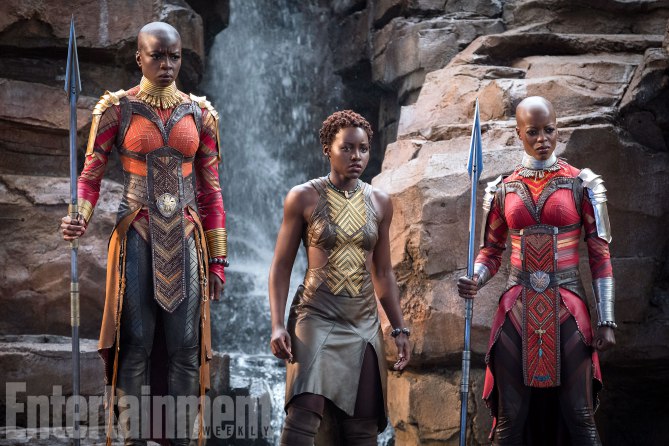 Here are the three again in ceremonial attire. It's probably redundant to showcase another image of them (these are only about eight of the 20 pictures that EW dropped) but I absolutely love the detailing in the Wakandan outfits, courtesy of costume designer Ruth E. Carter. It looks like the same scene in which T'Challa and Killmonger are fighting in hand-to-hand combat, which makes me think that this will be a pivotal scene — likely the one where we see Killmonger reveal his villainous colors.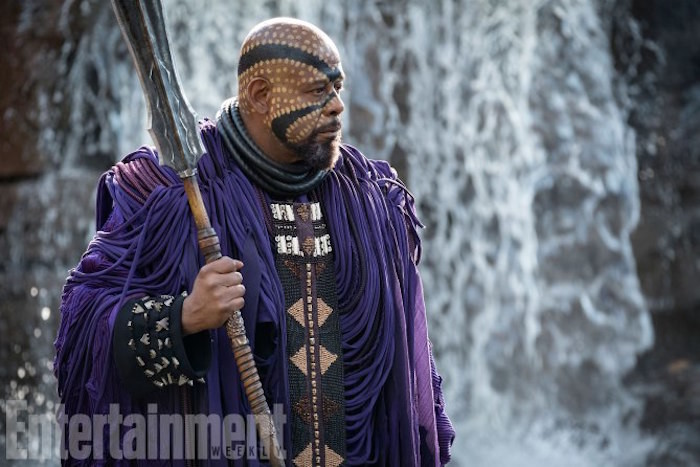 Forest Whitaker plays Zuri, a shaman and trusted adviser of the past king, T'Chaka. Now he acts as a mentor and sort of spirital guide to T'Challa as he mourns his father's death. "He's somewhat a religious figure or spiritual figure," Coogler told EW. I again love the costuming and facial tattoos, which are so richly detailed. He's standing at Warrior Falls, probably at the same combat scene as before.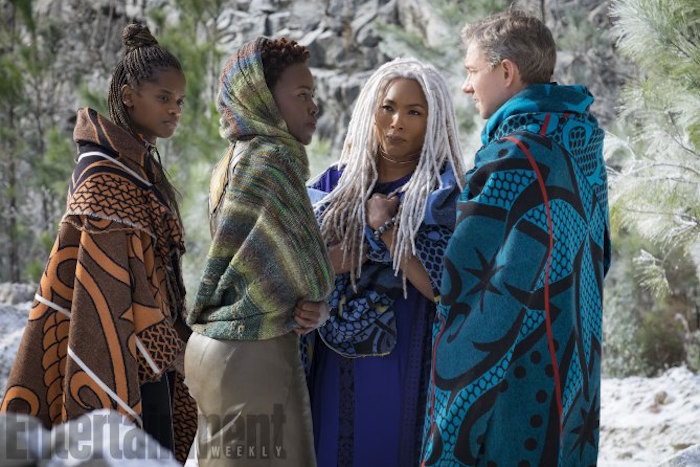 According to EW, in this picture "Black Panther's sister, Shuri (Letitia Wright), accompanies Nakia and Ramonda, his mother (played by Angela Bassett), on a mission into the icy regions of Wakanda, where treacherous M'Baku (Winston Duke, not pictured) rules the mountain tribe." They're joined by Martin Freeman's CIA agent Everett K. Ross, who appeared before in Captain America: Civil War and is one of the few foreigners allowed into Wakanda.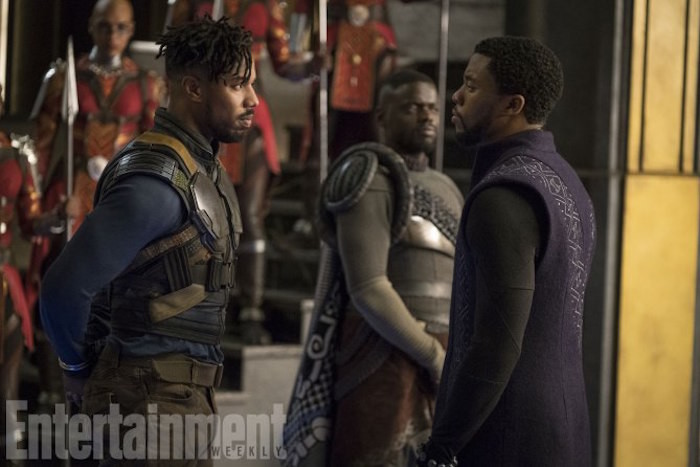 Another face-off between T'Challa and Killmonger, with Killmonger being led off in chains — possibly at the start of his banishment from Wakanda. Behind them is Get Out's Daniel Kaluuya, who is T'Challa's best friend and responsible for keeping Wakanda's technological paradise hidden from the world.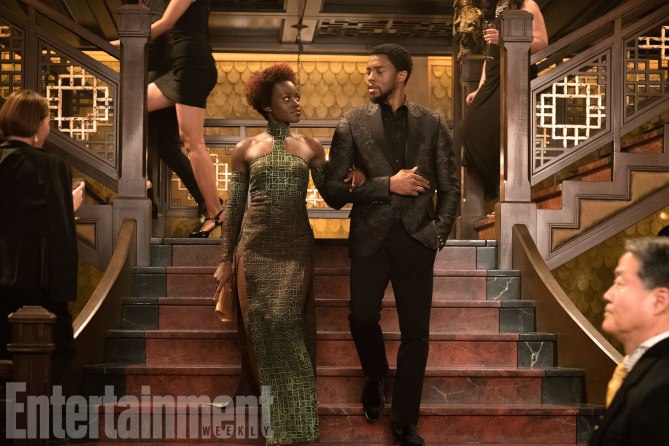 Continuing with the James Bond vibes that Nyong'o gives off as Nakia, here are her and T'Challa glammed up and dangerous at a "super lux high-end underground casino" in South Korea, Feige said. Feige promises that it will be a big glossy action scene.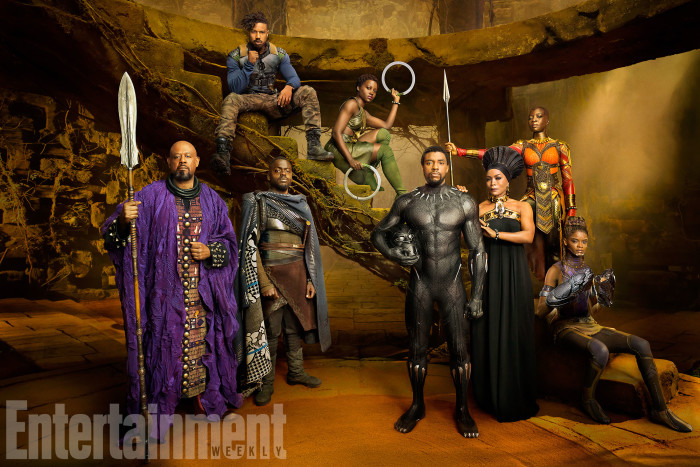 Lastly, here are the royal Wakandan family, plus Killmonger, in an EW cast photoshoot. We see Nakia with her ring weapons, which we haven't seen before, and Shuri with panther-like blasters on her arms — which she, a tech genius, supposedly made herself. Everything looks grand and regal, and the costumes look gorgeous.
Here's the official synopsis for Black Panther:
"After the events of Marvel's Captain America: Civil War, King T'Challa returns home to the reclusive, technologically advanced African nation of Wakanda to serve as his country's new leader. However, T'Challa soon finds that he is challenged for the throne from factions within his own country. When two foes conspire to destroy Wakanda, the hero known as Black Panther must team up with C.I.A. agent Everett K. Ross and members of the Dora Milaje, Wakanadan special forces, to prevent Wakanda from being dragged into a world war."
Black Panther hits theaters on February 16, 2018. You can find many for photos courtesy of Entertainment Weekly at the link above.