New 'Black Panther' Details: Wakanda's Vibranium Supply, T'Challa's Allies & Villains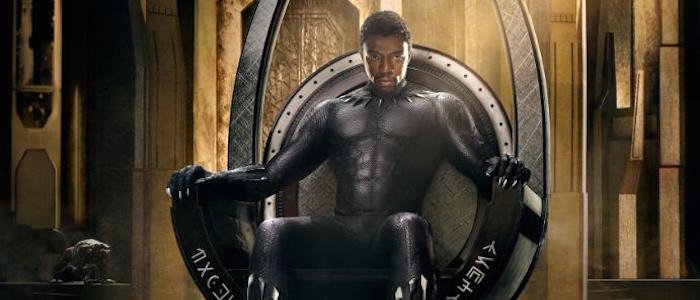 In exactly one week, the 2017 San Diego Comic-Con will be kicking off in Southern California, bringing us a slew of huge updates about the big comic book blockbusters on the way, as well as plenty more tentpoles and popular TV shows that audiences are soaking up in theaters and at home. But before that, Entertainment Weekly will be releasing their annual Comic-Con preview issue, and the first film to have new details released is none other than Marvel's first 2018 release.
Black Panther will mark the first solo adventure for the African superhero introduced in Captain America: Civil War. The Marvel Comics character is played by Chadwick Boseman (42, Get On Up), and as we saw in the first teaser trailer released for the movie not too long ago, we're going to dig deep into the mysterious country known as Wakanda. The nation holds many secrets, including one of the rarest metals on Earth, which Captain America fans should be familiar with, as well as a transfer of power, a disagreement with new leadership, and plenty new additions to the Marvel Cinematic Universe.
As we said, the new Black Panther movie details come from Entertainment Weekly's Comic-Con preview issue: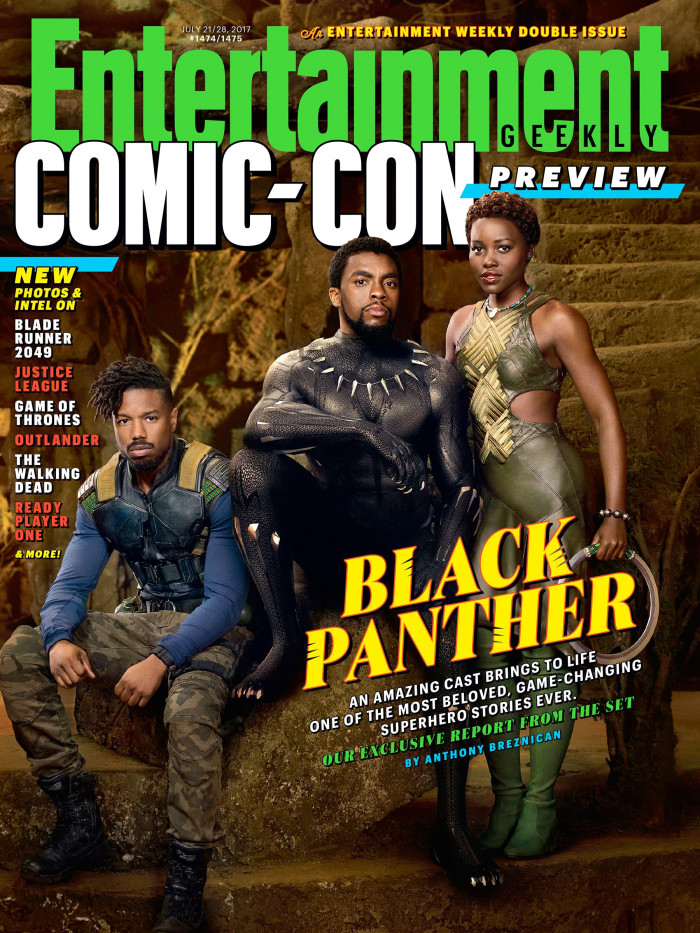 Black Panther gets the cover, and along with it comes a slew of new details about the movie. There will be some new photos and information coming later today, but some juicy details have already been revealed with the announcement of the cover story, so let's dig in.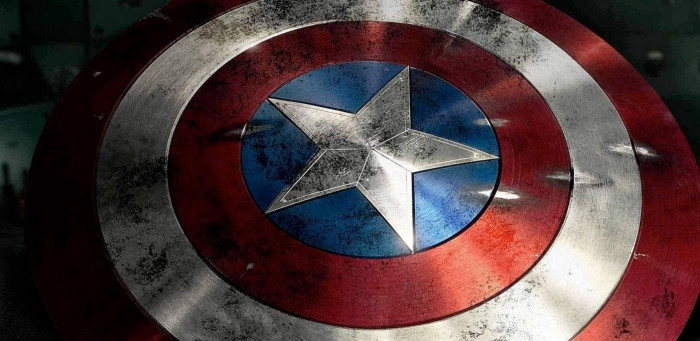 Everyone Wants Vibranium
The homeland of Black Panther (aka T'Challa) is where the rare metal known as Vibranium is most abundant. Wakanda was briefly mentioned in Avengers: Age of Ultron as the titular villain sought to buy more of the metal that was also used to create Captain America's shield. A large amount of it was smuggled out of the country somehow, and Ultron used it to build himself a new body as well as the hefty device that lifted a huge chunk of Sokovia into the sky with the intent of destroying the Earth.
Vibranium is not only woven into the suit of the Black Panther, but the versatile substance (which was also used to help create Vision in Age of Ultron) has served as the source of Wakanda's technological advances, putting them "nearly a century ahead of the rest of the world." As we learned in the trailer, the third world appearance of the nation to anyone from the outside looking in is just a front. Wakanda has been forced to close itself off from the rest of the world, mostly because Vibranium is in such high demand.
The precious metal is mined in Wakanda, but the country is also home to a plant called the Heart-Shaped Herb, which is enriched with Vibranium and gives people superhuman strength. So you can see why someone like Ulysses Klaue (Andy Serkis), first introduced in Captain America: Civil War as the man who sells the Vibranium to Ultron, is so desperate to get his hands on more of it. Speaking of Ulysses Klaue...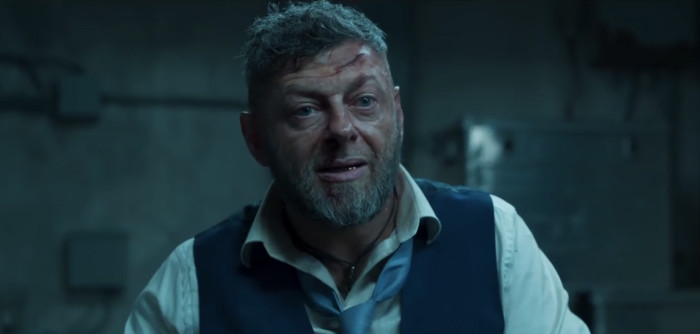 Ulysses Klaue Has a New Arm and Secrets to Spill
You might remember that Ulysses Klaue had his arm removed from his body by an apologetic Ultron. Well, he's replaced that arm with something much more deadly. In Black Panther, Klaue has given himself a makeshift appendage created from a piece of stolen sonic mining equipment from Wakanda. Not only does that make him a physical threat, but as we witnessed in the Black Panther teaser trailer, he also knows Wakanda's secret and he seems hellbent on exposing it.
There's also a chance that Ulysses Klaue has an axe to grind from past events that we didn't see unfold in the Marvel Cinematic Universe, but can be glimpsed in Avengers: Age of Ultron. During the Marvel sequel, there's a quick shot of a physical file about Ulysses Klaue, and it keys us into his history with Wakanda:
Ulysses Klaue was an assassin hired to take down T'Chaka at the Bilderberg conference in the case that he refused to negotiate Wakanda's resources including Vibranium. But, Klaue was also there personally, as the Panther killed his great-grandfather in the 19th century while this one was trying to annex Wakanda. He was paid ten million dollars for the kill.
T'Chaka is T'Challa's father, who was killed in Captain America: Civil War, passing down Wakanda's throne, and the Black Panther mantle, to his son. The question is whether this is a prop with details that weren't meant to be seen and taken as canon or if the reason Ulysses Klaue is giving T'Challa and his people such trouble stems from a family grudge. I wouldn't be surprised if it's the latter, but we'll likely have to wait to find out more.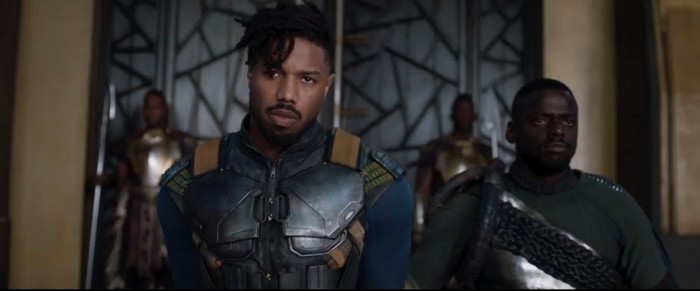 Who Is Erik Killmonger?
Ulysses Klaue isn't the only villain stirring up trouble for T'Challa as he takes over the throne left behind by his late father. It appears that Wakanda has a rogue warrior and aspiring prince named Erik Killmonger (Michael B. Jordan of Creed and Fantastic Four), and he's not too pleased with the transfer of power taking place. In fact, he's so dissatisfied that he's chosen to work with Ulysses Klaue in an attempt to remove T'Challa from power.
Though Killmonger clearly has his work cut out for him, taking on a man with a Vibranium-lined suit and superhuman strength, there may be more trouble from within Wakanda that might make the country more susceptible to threats. Some of Wakanda's tribal leaders think T'Challa may be making the same mistakes his father did by working with the outside world too much, exposing Wakanda to even more danger.
As we've seen in the teaser trailer, Killmonger has a whole crew of warriors working with him who are keen on stopping T'Challa's ascension to the throne, but it's a fight our title hero won't be tackling alone. One of his allies includes Lupita Nyong'o as Nakia, one of Wakanda's covert agents who is responsible for keeping the nation's secrets under wraps, which includes hunting down anyone who threatens the country.
***
That's all for the new Black Panther details for now. Since the Marvel Studios film is the Comic-Con cover story, there will be some new images and information coming soon. Plus, D23 is also happening this weekend, and we're bound to learn more about Marvel's future movies along with the rest of Disney's theatrical slate arriving over the next two to three years. Stay tuned for all the latest updates on Black Panther and more.
Black Panther arrives in theaters on February 16, 2018.