'A Wrinkle In Time' Teaser Trailer: Time To Be A Warrior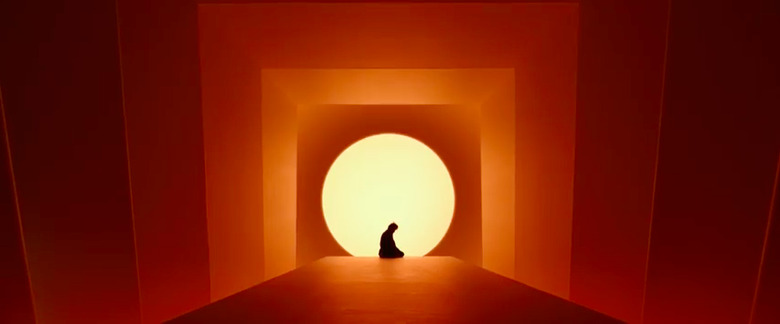 Filmmaker Ava DuVernay, the director of Selma and Middle of Nowhere, has a great grasp of drama that, arguably, not a lot of directors making $100 million movies possess. Her name on Disney's adaptation of Madeline L'Engle's 1962 novel "A Wrinkle in Time" has us excited. If one director could make Meg's journey through the universe have both emotion and spectacle, it's DuVernay.
Below, watch the A Wrinkle in Time trailer.
In screenwriter Jennifer Kent's (Frozen) adaptation of A Wrinkle in Time, Meg (Storm Reid), a 13-year-old whiz kid outcast, searches the universe her mother and father, Dr. Alex Murry (Chris Pine) and Dr. Kate Murry (Gugu Mbatha-Raw), with the help of Charles and Calvin (Levi Miller). Meg's parents are both physicists who went missing after making a huge discovery about space time and time travel. During the kids' adventure, they're helped by three fantastical beings – Mrs. Which (Oprah Winfrey), Mrs. Whatsit (Reese Witherspoon), and a character who quotes classical scholars and classic Jay Z to speak, Mrs. Who (Mindy Kaling).
We've already seen a few of them in costume in the first look, including Mrs. Which, Mrs. Whatsit, and Mrs. Who, looking rather cool and powerful. Even Dr. Alex Murry's simple look was great, too, blending perfectly into one strange, bright orange environment. A Wrinkle in Time looks like it might be one visual feast for the eyes, which the trailer seems to support.
Disney unveiled the trailer at D23, where DuVernay called the film "a family story wrapped in an epic adventure where you see worlds you've never seen before," and said that realizing anything is possible when seeking the good out of life is the message:
Cinematographer Tobias A. Schliessler's (Beauty and the Beast) and DuVernay's work together stands out in this trailer. It's always refreshing to see a big movie as colorful and exuberant as A Wrinkle in Time. The environments and costumes look truly unworldly and fun. The "Sweet Dreams" cover feels almost too reserved and at odds with how vibrant the film looks.
The star of the film, Reid, previously appeared in Steve McQueen's 12 Years a Slave and Sleight. The other day DuVernay said of her casting, "The first image [I had in my head] was to place a brown girl in that role of Meg, a girl traveling to different planets and encountering beings and situations that I'd never seen a girl of color in." DuVernay is making history with her adaptation: she's the first black woman to make a $100 million movie. The studio spent six months trying to bring her aboard the project. You can check out some of her great behind-the-scenes photos from A Wrinkle in Time here. The movie co-stars Zach Galifianakis as the Happy Medium, André Holland as Principal Jenkins, and Michael Peña as Red.
A Wrinkle in Time opens in theaters March 9, 2018.