Matt Reeves Wants To Make A 'War For The Planet Of The Apes' Sequel And Has Ideas For What It Would Be About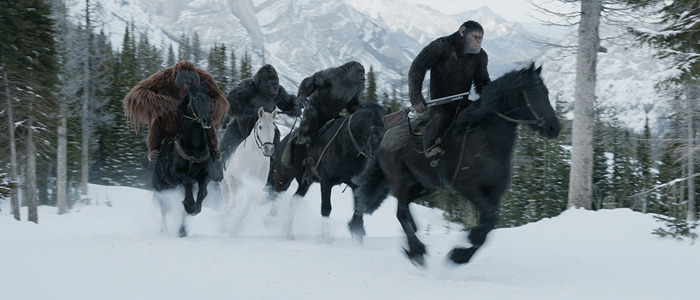 While The Batman is clearly the next priority for director Matt Reeves, the filmmaker behind Dawn of the Planet of the Apes and the upcoming War For the Planet of the Apes isn't ready to leave that franchise behind. He wants to make more movies set in that universe and already has ideas for what they'd be about.
In an interview with Fandango, Reeves spoke about how Caesar's (Andy Serkis) trilogy (which began with Rise and concludes with War) is on a trajectory toward the original 1968 Charlton Heston movie, and how he's still excited to see other parts of that journey before these prequel stories catch up with that movie on the timeline:
"But the world that's described in each film is different from the world that we know from the '68 film, and it becomes an opportunity to explain how we get there, and that becomes an opportunity to hold a mirror up to human nature. And really, when we're looking at this ape nature, we're looking at ourselves as reflected in these apes, that's why we identify with them."
That reflection is what makes Reeves' entries in this franchise so powerful, and why War For the Planet of the Apes is one of my favorite movies of 2017 so far. But this isn't just one of those comments from a filmmaker like, "Oh, sure, I'd like to come back if the opportunity presents itself." It sounds like Reeves has solidified some ideas of what he'd like to do in a War For the Planet of the Apes sequel.
Very light spoilers for War coming up, but the film features a new character named Bad Ape (played by Steve Zahn) who's featured in a lot of the marketing, and when we first meet him, we realize he was not a member of Caesar's clan. I'll let Reeves take it from here:
"When [co-writer] Mark [Bomback] and I came up with the idea for Bad Ape in War, that was to imply the idea that there would be apes out there in the world that Caesar and his apes knew nothing of, and that they wouldn't have had the benefit of Caesar's leadership and the values that he had instilled in his community. Future conflicts in this kind of epic journey [may] take us toward the '68 movie without necessarily ever getting there [and] could be about conflicts between apes, not just conflicts between humans and apes. And so, to me there are many more exciting stories to be told, and I would love to tell those stories."
Reeves has an excellent track record of balancing blockbuster storytelling with deep thematic resonance, so if he wants to make more movies set in this universe, I'm all for it. It's one of those things that might sound like a bad idea on the surface, but then again, this whole Apes reboot sounded like a bad idea before we realized it would become a surprisingly moving riff on the Exodus story. And while some may ding Reeves for exploring the same sort of material over and over again, I'd much rather see him tell stories within this universe than see him fall prey to what Ridley Scott is doing with his Alien prequels. Scott has his thematic and philosophical ambitions down, but I've felt like his past two Alien movies have fallen short of providing a satisfying narrative; meanwhile, Reeves has discovered a storytelling universe in which he can tackle all of the above in a profoundly fulfilling way.
War For the Planet of the Apes arrives in theaters on July 14, 2017.