Disney's Live-Action 'Aladdin' Movie Struggles To Find Stars Of Middle Eastern Or Indian Descent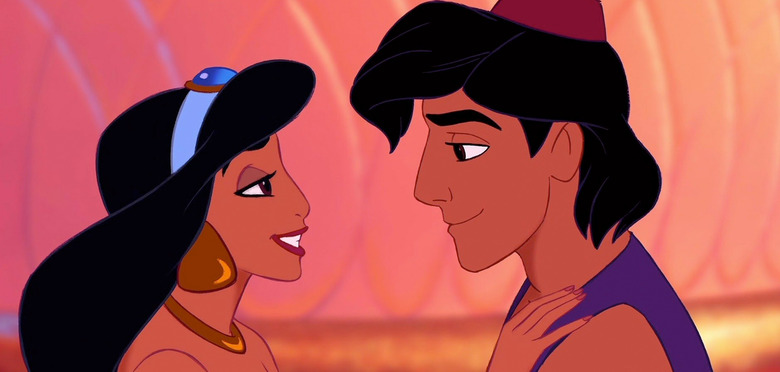 Disney is in a whole new world of trouble. The live-action adaptation of Aladdin is reportedly struggling to cast its lead roles of Aladdin and Jasmine, the street rat and the Arabian princess who stole each other's (and our) hearts in the classic 1992 animated film.
Disney and director Guy Ritchie are intent on finding an unknown actor and actress of Middle Eastern or Indian descent, as the animated movie takes place in the fictional Middle Eastern city of Agrabah. However, because Aladdin will continuing Beauty and the Beast's trend of adapting the musical elements of the animated films, Disney and Ritchie are having trouble finding stars of color who can act and sing.
Disney, Ritchie, and casting director Randi Hiller launched a massive global casting call in March to find the stars of the live-action adaptation of Aladdin, but 2,000 actors and actress auditions later, the team have been unable to find leads in their 20s who can sing and act.
According to The Hollywood Reporter, the original casting call had planned for production to begin in July, but Disney and Ritchie have been forced to go back to the drawing board.
"The test process was a mess," a casting agent told THR, commenting on the several rounds of tests that took place in London, with actors coming in for up to two weeks at a time.
Though Ritchie is intent on finding his diamond in the rough for the lead roles like Lily James for Cinderella or Neel Sethi for Mowgli in The Jungle Book, THR reports that the studio at one point was eyeing Dev Patel or Riz Ahmed. Ahmed would have been an inspired choice because he is a musician who has featured on the Hamilton mix tape — albeit a rapper that goes by the name Riz MC — when he is not an actor. The team presumably doesn't want to take away too much of the star focus from Will Smith, who is playing the buoyant, supernatural wish-granter Genie, who was played by the scene-stealing Robin Williams in the animated film.
The long and troubled search has compelled the casting crew to reach out to movie-musical veterans Marc Platt, who has produced musicals and worked on Disney's upcoming Mary Poppins Returns, and Chris Montan, an established executive music producer for Disney's animated films, to consult on the project. There are a few names on the shortlist for Aladdin, THR reports.
Who Is Being Considered?
Aladdin: Dutch actor Achraf Koutet, Canadian actor Mena Massoud and American actor George Kosturos.Jasmine: Naomi Scott, a half-Indian actress who played Kimberly in the new Power Rangers, and Indian actress Tara Sutaria.
Some Suggestions
There is a whole movie industry in India that is dedicated to musicals. While Bollywood musicals actually dub most of their actors, there is plenty of talent there who could feasibly play Aladdin or Jasmine who are relative "unknowns" in America. Bollywood actors like Irrfan Khan and Priyanka Chopra have successfully made the leap to Hollywood, and a big-budget Disney musical like Aladdin would be a great way to introduce already-established, talented actors. Plus, dubbing is underrated (Emma Watson in Beauty in the Beast could have done with some Audrey Hepburn in My Fair Lady level dubbing).
Or look to television.
Indian-Canadian actress Karen David was the insanely talented female lead in the musical TV show Galavant (with songs coincidentally composed by Disney stalwart Alan Menken), and even played Jasmine in the ABC fairy tale show Once Upon a Time. It may seem lazy to have someone reprise a role they played on TV, but David is talented enough (and "unknown" enough) to make it work.
Shooting for Aladdin now planned to start in August.