Christopher Nolan Is Remastering 'The Dark Knight' Trilogy In 4K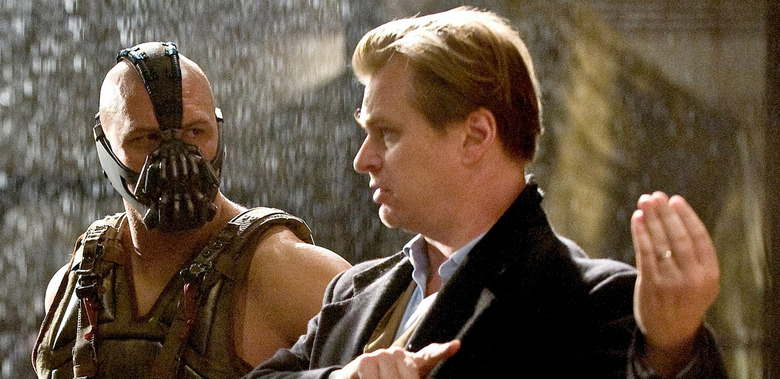 Christopher Nolan's acclaimed Dark Knight Trilogy was a testament to the superhero genre, and arguably, cinema in general. The Dark Knight is still widely considered the best Batman film of all time, and a stunning example of what genre movies are capable of — and even influenced how the Academy Awards picked its Best Picture line-up.
Their impact is thanks, in no small part, to Nolan's adherence to film stock over digital photography. All of Nolan's films, from The Prestige to Inception, to even Interstellar, have a steadfast, classic quality because of Nolan's insistence on using 35mm (and sometimes larger) film. But even though he is a traditionalist, Nolan is still open and encouraging of new technologies. You can see it in his embrace of IMAX technology for his action sequences and his newest film Dunkirk. And soon, you can see it in the 4K remaster of his previous films, including The Dark Knight trilogy.
Nolan told BadTaste.it that he is working on remastering his old films in 4K, including his renowned Dark Knight Trilogy, which includes Batman Begins, The Dark Knight, and The Dark Knight Rises.
"The wonderful thing about 4K technology is it gets closer to the resolution that we shot the films in. Finished films or 35mm have at least 6k resolution, IMAX films have 18K. So as home video formats keeps evolving, 4K — particularly 4K with HDR — it allows us to give somebody at home an experience that's much much closer to the what it was like to see the original film process as projected on film. And I think that's a very exciting prospect."
4K, otherwise known as Ultra HD, is a high resolution format with a total resolution of 3840 pixels by 2160 — almost three times the resolution of the traditional HD format. The screen allows for higher detail and a wider format. Although 4K technology sounds like it has all the trappings of the digital photography that Nolan supposedly abhors, it's actually in line with his loyalty to a cleaner, more accurate image.
Nolan told BadTaste.it that he is "very much" personally involved in the 4K remaster process, which bodes well for the final product. I'm always wary of remastered versions, as it sometimes loses the intent of the shots or lighting. Nolan being involved means that the remastered versions will stay true to his vision — though we know from prior experience with George Lucas and his Star Wars remasters, the director being involved is not always a good thing.
We won't be seeing that final edition anytime soon however, as "it's a long and complicated process," Nolan said. "But I think the results I'm seeing are very pleasing and very spectacular," he continued.
See Nolan's full comments about The Dark Knight Trilogy 4K remaster in the video interview below.
Nolan is currently making the press rounds to promote his latest film Dunkirk, a World War II epic that hits theaters July 20.