LOL: 'Game Of Thrones' Star Kit Harington Auditioned For More Than Jon Snow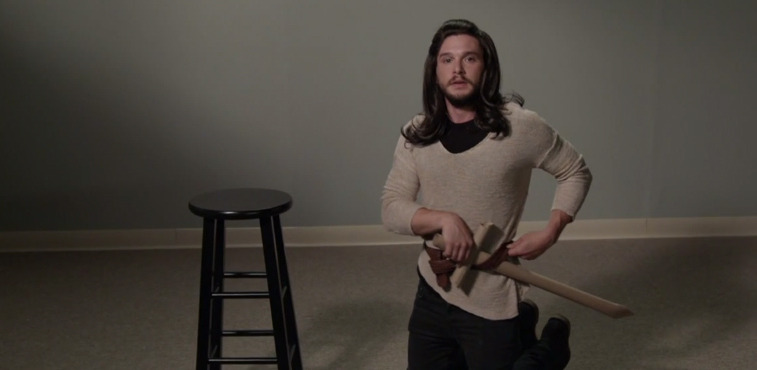 By now everyone knows Kit Harington best as Jon Snow, the bastard son of Eddard Stark, on HBO's hit fantasy series Game of Thrones. Though that might be the part he ended up landing on the show, it turns out he actually auditioned for many more parts on the series, just to cover his bases.
Jimmy Kimmel Live was fortunate enough to get their hands on Kit Harington's other auditions thanks to showrunners Dan Weiss and David Benioff reaching back into the archives for these amazing screen tests.
Watch the Kit Harington Game of Thrones audition tape below to see his other tryouts.
Listen, I know that everyone has a crush on the Mother of Dragons, but I think it's safe to say that Kit Harington would give Emilia Clarke a run for her money if he ended up with the part. Also, could you imagine if Kit Harington got the role of the wildling named Ygritte and the part of Jon Snow? He'd have an awful hard time getting frisky with himself if that were the case.
Perhaps what's more surprising is how little of a budget HBO was working with so many years ago before Game of Thrones made it big. They couldn't even afford real props for their auditions and instead game Kit Harington a plastic bow and arrow and a wooden sword. It looks like they spent all the money on the costumes instead.
The good news is now Game of Thrones has all the budget they need, s much that the final season might have feature length episodes for its entire run. But until then, we'll just have to enjoy what's coming this summer when Game of Thrones returns for its seventh season on July 16.