The Man Behind Kermit The Frog Leaves The Muppets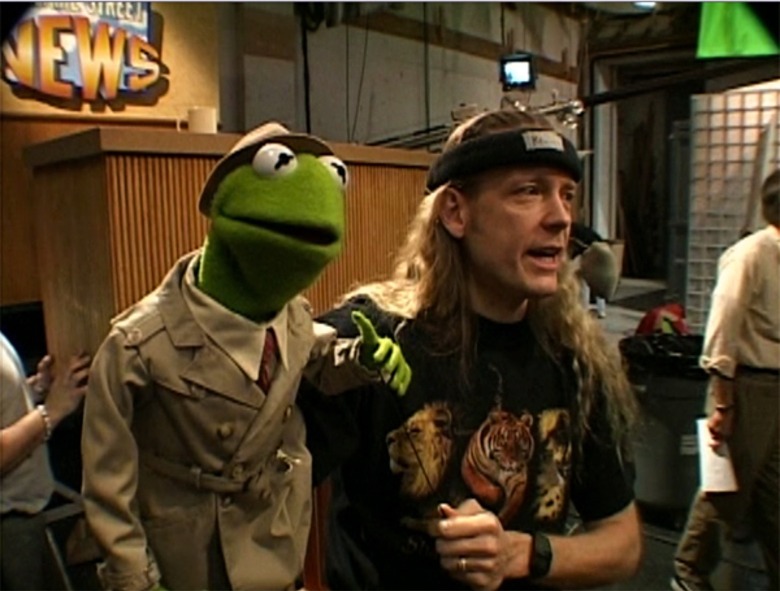 Steve Whitmire, the performer who has been playing Kermit The Frog since 1990, is leaving The Muppets. Whitmore started with the Henson Company in 1978 on The Muppet Show. After the death of Jim Henson, he inherited the roles of Kermit the Frog and Ernie. For the last 27 years, Whitmore has been the performer and voice behind the iconic character, but he is leaving The Muppets. Find out more, after the jump.ToughPigs confirmed the news with Muppet Studio, and there are no more details behind why Steve Whitmire is no longer working with the Muppets. We do know that Muppeteer Matt Vogel will be the new performer for Kermit the Frog, and we'll be seeing Matt's first footage as Kermit in a "Muppets Thought of the Week" video next week.
Matt Vogel has been working for Muppet Studio since 1996. On Sesame Street, Vogel started out as the assistant puppeteer for Ernie, performing either one or both hands while Steve Whitmire performed the head and vocal. He has performed as Big Bird, and took over Jerry Nelson's characters, on the recommendation of Nelson himself. Vogel has been playing Floyd Pepper, Lew Zealand, Crazy Harry, Robin the Frog, and Camilla the Chicken since 2008. He also took over the Sesame Street character Count von Count, as well as Sweetums, '80s Robot and Uncle Deadly. Ironically, Matt performed as Constantine in Muppets Most Wanted, a frog character who tried to impersonate Kermit the Frog.
For the last film, Muppets Most Wanted, Steve Whitmire performed as Kermit the Frog, Foo-Foo, Statler, Beaker, Lips, Rizzo the Rat, Link Hogthrob, The Muppet Newsman, Andy Pig and more. He was also the man behind the character Waldo C. Graphic who appeared in the Disney attraction MuppetVision 3D. He worked on nearly every tv show and movie produced by Henson, including Sesame Street, Fraggle Rock, The Dark Crystal, and Labyrinth (the four guards).
No one knows the reasons for Steve's departure or what will happen to the other characters he performs. I was lucky enough over the years to interview Kermit The Frog in character a few times while on the set of the last two Muppet movies. Whitmire is not just a great puppeteer but an amazing performer, very quick on his feet. When I was on the set of The Muppets, he took a personal photo of his hand next to my t-shirt which showed an X-ray of Kermit the frog, revealing human hand bones inside.