'The Deuce' Trailer: James Franco And Maggie Gyllenhaal Bet On The Porn Industry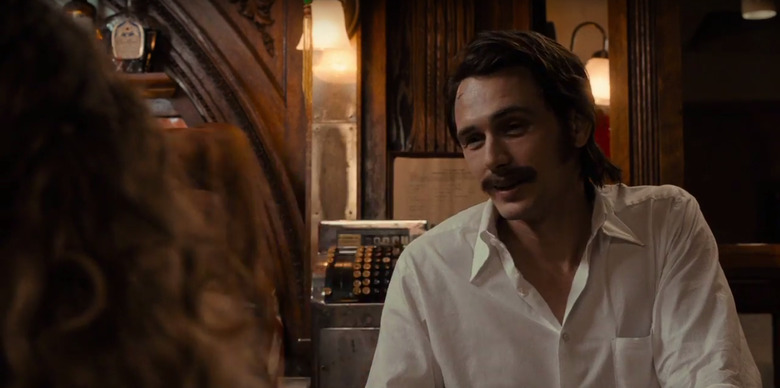 James Franco seems to be continuing the trend of Hollywood actors making a splash on the small screen by playing double with his role as two brothers in The Deuce, HBO's upcoming TV series from The Wire and Treme creator David Simon.
Franco is joined by Academy Award nominee Maggie Gyllenhaal in the prestige drama series about possibly one of the least prestigious (but oh so tantalizing) topics: the porn industry. Deuce chronicles the rise of the porn industry in 1970s New York and how the famous porn film Deep Throat came to be.
For all the gratuitous nudity that HBO is known and criticized for, it's a shock that they haven't yet tackled the topic of the porn industry, and its legalization and transformation into a (kind of) mainstream success.
But The Deuce trailer is here now, to give you HBO at its finest — with a show full of ambitious, complex characters navigating through the seedy underbelly of New York's prostitution and porn in the 1970s. Franco, following Ewan McGregor playing brothers in Fargo to rave reviews, plays twin brothers — one a gambler, the other a bartender — who become fronts for the Mob at Times Square, and team up with Gyllenhaal's sex worker "Candy" to pioneer the legal porn industry.
Here's the synopsis of The Deuce below:
"Created by George Pelecanos and David Simon (The Wire) and starring James Franco and Maggie Gyllenhaal, The Deuce follows the story of the legalization and subsequent rise of the porn industry in New York's Times Square from the early 1970s through the mid-1980s, exploring the rough-and-tumble world at the pioneering moments of what would become the billion-dollar American sex industry. George Pelecanos, David Simon, James Franco and Nina K. Noble executive produce."
The Deuce is created and written by David Simon, who continues his frequent partnership with HBO after his cultural landmark show, The Wire, as well as recent projects like Treme and Show Me a Hero. The first season is eight episodes long, and features directing talent like Michelle MacLaren and possibly Franco himself. The series is written by Simon, Pelecanos, Richard Price, Megan Abbott, and Lisa Lutz.The Deuce will premiere on HBO on September 10.