'Mission: Impossible 6' Takes A Cast Photo As New Zealand Filming Ends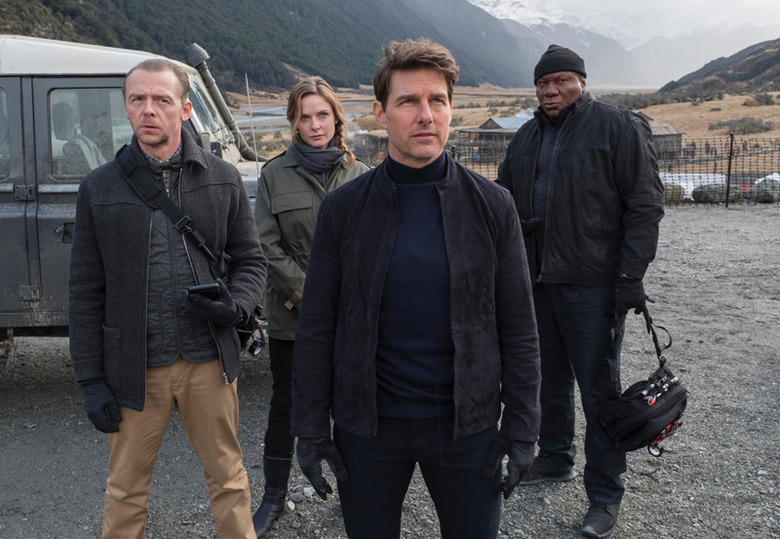 Tom Cruise teased the return of old and the introduction of new faces in Mission: Impossible 6, the next entry in the saga of Ethan Hunt and his death-defying stunts.
The spy action film commemorated wrapping production in New Zealand with a cast photo of the team gazing pensively off in the distance, the New Zealand wind whipping through their hair. It's a visually pleasing photoshoot — helped by the fact that they're all gorgeous actors — that gives us a peek at what to expect for the still untitled Mission: Impossible 6.
Official filming for Mission: Impossible 6 wrapped Monday in New Zealand, and moves back to London according to ComingSoon.net.
Cruise tweeted a photo of himself with cast members Simon Pegg, Rebecca Ferguson and Ving Rhames with the caption, "Thank you to the amazing people of New Zealand! I've had a great time filming the next Mission: Impossible here."
While the cast celebrated wrapping with some magazine-worthy photoshoots, they also goofed around a bit — Rebecca Ferguson with a cute lamb, Simon Pegg with a hot water bottle and a straw. See the photos below:
In addition to Cruise's return as the now-mythical Ethan Hunt, Mission: Impossible 6 features the return of fellow agents played by Simon Pegg, Ving Rhames, Rebecca Ferguson, Sean Harris, Michelle Monaghan, and Alec Baldwin. There will be a healthy amount of newcomers to the series as well, including Henry Cavill, Vanessa Kirby, and Angela Bassett. One notable cast member who won't return is Jeremy Renner's Brandt, due to the actor's prior commitments to Marvel films, including Avengers: Infinity War. I'll admit, his absence makes me less excited for this film — even though he's being replaced by another superhero actor in Cavill — as his introduction in Mission Impossible: Ghost Protocol inexplicably made me infatuated with him. (I can't explain it, he has nice arms okay?)
But the return of Rebecca Ferguson's Ilsa is a welcome surprise, as the Mission: Impossible films generally don't bring back the female leads for more than one film, and she was an absolute scene-stealer in Rogue Nation. The exception to this rule is Michelle Monaghan, who also returns to the series as Ethan Hunt's wife — presumably re-emerging from hiding after Ethan faked her death to protect her.
Christopher McQuarrie is back to direct and write after helming Mission: Impossible – Rogue Nation, marking the first time a director has returned for more than one Mission: Impossible film. The first Mission: Impossible film hit theaters more than a decade ago in 1996, and was a big-screen reboot of a long-running 1960s CBS spy series. Led by star Tom Cruise, Mission: Impossible has gone on to become one of the biggest blockbuster franchises in history — and it's still going strong.
Plot details are vague for Mission: Impossible 6, though we know that it will naturally feature bigger and more dangerous stunts than anything we've seen before. Mission: Impossible 6 hits theaters July 27, 2018.