'The Umbrella Academy' Show Is Coming From Netflix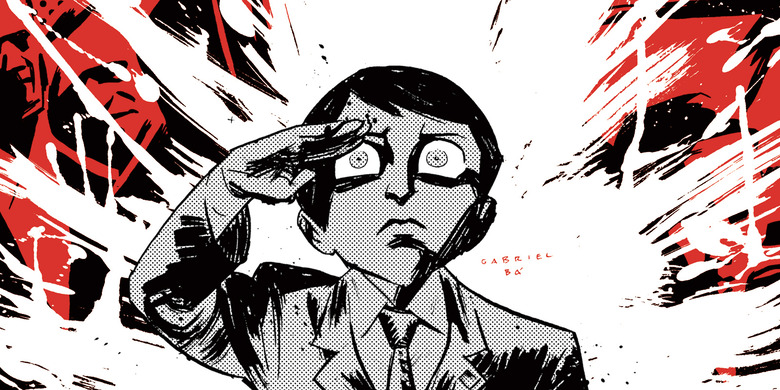 Netflix is working on an adaptation of a comic book from the frontman of the band My Chemical Romance, Gerard Way. The first issue of Way's Dark Horse comic, The Umbrella Academy, was released in 2007. Since then, there was some talk of a movie at Universal, but the story, which is set in 1977, is now in development as a series at Netflix with Way and Jeremy Slater (Fox's The Exorcist) involved.
Below, learn more about The Umbrella Academy show.
Way and artist Gabriel Bá's story is about a family of superheroes who possess strange powers. The comic is set in 1977 and is about a millionaire inventor – who's really an alien in disguise – who adopts seven super-powered children to form a team.  Nine years after they parted ways, they have to team up to save their world, an alternate universe in which John F. Kennedy was never assassinated. According to Slash Report, an official announcement for the series might get made by Netflix at Comic Con. This year, the streaming giant will have a presence in Hall H with Bright and Death Note. 
Here's the official synopsis for The Umbrella Academy from Dark Horse:
In an inexplicable worldwide event, forty-seven extraordinary children were spontaneously born by women who'd previously shown no signs of pregnancy. Millionaire inventor Reginald Hargreeves adopted seven of the children; when asked why, his only explanation was, "To save the world." Conceived and written by Gerard Way (of My Chemical Romance), Umbrella Academy features interior art by Eisner-award winner Gabriel Ba, and is a multiple Eisner-award winner itself, as well as a New York Tiimes bestseller!
There's some kooky stuff in the comic and hopefully Netflix and all involved will preserve that. For example, the leader of the group, Spaceboy, has his head is attached to the body of a Martian gorilla. Last year, Slater, who wrote the pilot, told Collider he did not want to "sand down some of those weird edges":
I was really adamant about taking the job, but the only way I was going to do it was if I could make it weird and make it true to the spirit of the book. There's a lot of weird shit in The Umbrella Academy, and it would be very easy to sand down some of those weird edges and make it more familiar to American audiences. I'm fighting very hard to not let that happen. We're shopping around the pilot, at the moment. We're trying to find the right home for it and trying to find someone as excited as we are.
Apparently, Netflix is as excited as they are. The initial six-issue limited series won a 2008 Eisner Award for Best Limited Series. Since then, a few notable writers have worked on the project, including Mark Bomback (War for the Planet of the Apes) and Dodgeball director Rawn Thurber. Universal developed the movie after signing a three-year production deal with Dark Horse, which led to R.I.P.D. Way is involved in the Netflix series, which will use Slater's script.